Kelli J. Armstrong '86
President, Salve Regina University
Duxbury, MA
Years of Service: 2022-2027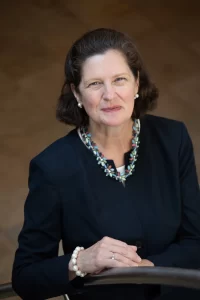 Kelli J. Armstrong '86 was appointed the eighth president of Salve Regina University in 2019, joining the Rhode Island institution after many years of leadership roles at Boston College, including vice president for planning and assessment. Her career spans enrollment management and research roles at a variety of public and private institutions, including associate vice chancellor for enrollment management at the University of Massachusetts Boston, director of institutional research and enrollment services for the UMass system and the Massachusetts Board of Higher Education, and research analyst for Tufts University. She began her career in higher education at Bates College as an assistant dean of admissions.
A Phi Beta Kappa, cum laude graduate of Bates, Armstrong earned high honors in English and received the Gilbert-Townsend Graduate Fellowship. Armstrong was named a Dana Scholar and her leadership on campus included serving as president of the Campus Association and as a junior advisor and resident coordinator. A member of the College Key, the college's honor and service alumni organization, she is a former member of the Alumni Council.
She has a master's degree in English from the University of Virginia and a Ph.D. in higher education administration from Boston College. She holds an executive leadership certification in management from Massachusetts Institute of Technology.
Armstrong and her husband, Brian Griffin, live in Duxbury, Mass., and have two children, David and Jake.