Green Bike Program
The Bates EcoReps and the library have teamed up to create a Bates bike library. We have revamped the Bates Green Bike program so that you may check out a bike for a week, similar to checking out a book.
The Ladd front desk will be able to set you up with a bike by issuing you a key which matches one of the bikes outside the entrance. The Bike ID on the keychain will let you know which bike you have – they are identified according to the bike bells on the handlebars. After that, you are all set.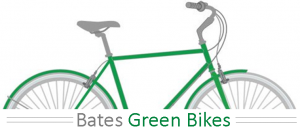 We strongly suggest wearing a helmet, especially if you are heading off campus. Please treat the bikes nicely, so that others may enjoy them as well. Also, there are stiff fines for not properly returning the equipment, just in case goodwill isn't a strong enough motivator. We hope this setup will make the bike sharing program more accessible to all students –
We have a limited number of bikes which will be assigned on a first-come, first-served basis. Each student receiving a bike will be responsible for:
Keeping it locked (the bikes will come with cables & locks)
Riding safely & lawfully
Returning it in a timely manner
Bikes can be stored only in the provided designated bicycle storage locations. Here is a helpful list of both indoor and outdoor locations. If students would like to donate their bikes to the Clean Sweep reuse program in May, please email Sustainability Manager Tom Twist at ttwist@bates.edu.
The Green Bike program will hold open shop hours at the bike garage (10 Frye St.) for general maintenance issues. Students can learn how to fix a flat tire, tighten brakes, and other basic bike maintenance skills. Here is a virtual repair shop tutorial for those that may not be able to make it to our bike shop hours.
Thanks, and enjoy!