Bates College an active array of student-run organizations in the arts. Below is a list of theater, dance, and arts-specific clubs that often interface with the department. To see descriptions of all student clubs please go to Student Organizations A-Z.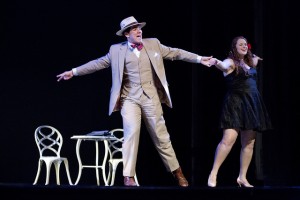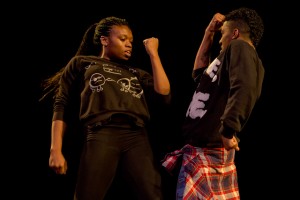 ---
Our faculty / staff primarily support productions by
The Robinson Players is the one and only Bates College student theater organization. Founded in 1922, the club takes pride in being all-student run. From casting to directing, designing to stage managing, the students work independently to produce between six and ten productions a year. For more photos and information click here.
The department also helps facilitate performances by
The Bates Dance Club aims to connect more Bates students, faculty, staff, and members of the Lewiston-Auburn community with the world of dance. Specifically, we want members of the Bates community to experience styles of dance not offered through the college. Our club gives students a way to maintain or discover a love of dance in a way which is not dependent upon being a dance minor or a member of the Modern Dance Company. Based on input from Bates students and academic departments, we bring guest artists to campus to give workshops, performances, and lectures throughout the year. We also take advantage of performances going on in Lewiston, Portland, and Boston; and invite anyone interested to contribute to a student run/choreographed show put on during short term. Any and all levels of experience are welcome; the club environment is very laid back and friendly; we are always looking for people who like to dance! Visit our Facebook page!
2B.E.A.T.S. is the only club on Bates Campus that covers Hip-Hop style dancing. We are centered around learning the different forms of Hip-Hop dancing, the culture behind it, and just having fun bustin' a move. Open to anyone, regardless of experience, who is willing to teach, choreograph, learn, or just have some fun doing Hip-Hop! Those who choose to will also be able to perform throughout the academic year. There will be opportunities to hold classes for both the Bates and Lewiston/Auburn communities and to take master classes with professionals. So come join 2B.E.A.T.S. because everyone has a little Beyoncé in them!
The Bates Ballroom Team is open to anyone who would like to learn how to ballroom dance. All levels of experience are welcome and no partner is necessary. The team practices rhythm (cha cha, rhumba, swing) and smooth (waltz, tango, foxtrot, Viennese waltz). The team practices two to three times a week, focusing on preparing students to compete at the inter-collegiate competitions. We attend about five competitions a year. We also go to ballroom social dances in Portland, bring in professional ballroom dancers for workshops, and host small social dances on campus. The team also sponsors a beginner class once a week for 1.5 hours, for which PE credit can be earned. For more information see: batesballroom.wordpress.com, http://abacus.bates.edu/people/orgs/ballroom/ or visit our Facebook Page!
The Bates Bollywood Team is focused on introducing Bollywood dancing, a unique and exciting culture of dancing inspired by the huge film industry, to the Bates campus and nearby community. We provide numerous workshops for Bates students and community members, and have performances throughout the year which are open to any student regardless of their dancing background. In this way, we hope to foster an energized and open dancing space, while sharing a cultural experience.
Bates Circus Arts Club aims to bring the newly flourishing art form of circus to Bates College. We explore different areas of circus including, but not limited to, juggling, aerial silk, aerial hoop, unicycling, acrobatics, tumbling, and poi spinning. Through weekly meetings, we will work on strength, flexibility, and other circus skills in a relaxed but focused setting tailored to the interest of club members. In the future, we will bring in outside instructors to further our skills. Ultimately, the club will strive to support every member's individual aspirations and goals.
"Dynasty" Step Club is a student group that enjoys expressing themselves through dance and steps. We focus on incorporating afro-beats, hip-hop, and steps to bring a different atmosphere to the performance realm at Bates. This group focuses on development of all steppers from novice to veterans. As a club we work closely together to incorporate everyone's ideas to come up with dynamic performances incorporating traditional and modern stepping in our pieces. Beyond the club aspect we are a group that zones on supporting one another, which further increases our level of comfort with each other on stage.
Latinos Unidos is organized as a threshold of diversity. The club seeks to create opportunities for the Latino students of Bates College and facilitates a place to embrace their culture while continuing to learn about the new environment around them. Latinos Unidos is active both on the Lewiston and national level through community service. The entire Bates community, whether Latino or not, are invited to all meetings and activities. At Latinos Unidos, our main goal is to inform the Bates community about the beauty and richness of countries in South America, Central America and the Caribbean and further explain the relationship of these countries with the United States at the national and Bates level. Additionally, in order to include non-Spanish speaking members, all meetings are held in English.
Sangai Asia: "Sangai" means "togetherness" in Nepalese, which is a founding purpose of this club. Sangai Asia was created to promote Asian and Asian-American awareness, identity, and fellowship on the Bates campus as well as in the greater community. Sangai Asia has held and cosponsored events such as dinners, cooking classes, film series, annual fireworks displays, and lectures focusing on Asian and Asian- American identity and cultures. In addition, Sangai Asia also produces the annual "Asian Performance Night," which typically features an outside professional performance group, and highlights the diverse Asian cultural backgrounds of its members and Bates students through the performing arts.
Sankofa is a student led cultural organization which seeks to explore the vibrant cultures of the African Diaspora through music, dance, poetry and prose. Students explore the meaning of "Blackness" by reflecting on personal experiences; researching and identifying historical and contemporary events that continue to influence the development of people who claim Black and/or African heritage. The goals of Sankof include fostering social and political awareness about issues that affect communities and individuals claiming African ancestry; embracing numerous cultural differences found throughout the African Diaspora; in addition to community building beyond campus borders and barriers. The group is open to students, faculty, staff as well as members of the Lewiston community.
The Strange Bedfellows is the one and only improvisational comedy group at Bates. They perform both short-form as well as long-form improv and continually explore and experiment with different types of long-form improv structures. The Bedfellows perform bimonthly at different venues all over campus as well as at venues in Lewiston such as She Doesn't Like Guthrie's. They also perform at other colleges such as Skidmore College for the annual National College Comedy Festival that Skidmore hosts every year. The Bedfellows bring professional improv and sketch comedy groups to Bates, who in the past, have included The Upright Citizens Brigade Touring Company and The Late Night Players. The main goal of The Strange Bedfellows is to bring laughter to the Bates community and the surrounding areas of Lewiston and Auburn using the increasingly popular art form of improvisational comedy as a tool and a medium. Auditions for The Strange Bedfellows are held once a year at the beginning of every fall semester and are open to everyone– experience not necessary!