What are our dancers up to now?
---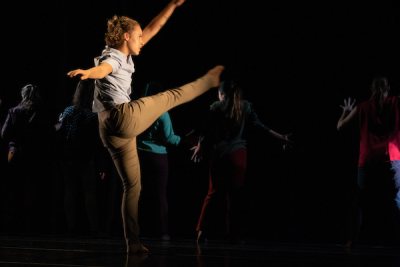 Johanna Hayes '19
I recently graduated Bates in December of 2018. I am hoping to build a career in performing and teaching. As a new Bates grad I am on the hunt for a great dance community to become a part of.
---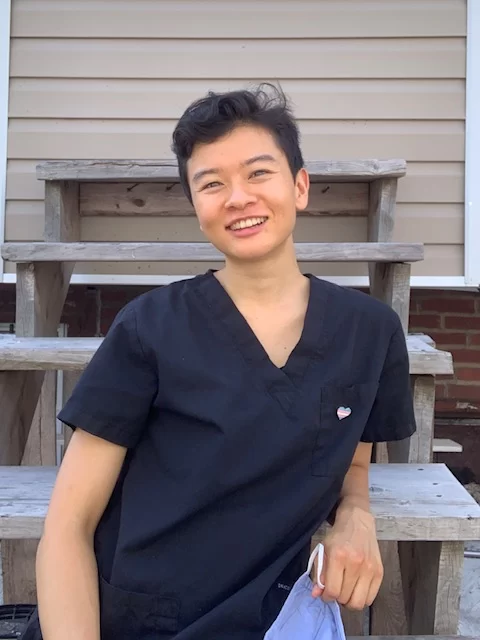 Rowan K Ching '18
Currently based on Lenape land in Philadelphia, Rowan K Ching (they/them) is a queer, neurodivergent, Asian-American artist and academic. Since Bates, Rowan has worked as a teaching artist and performer. Rowan has toured with Sandglass Theater and First Generation Ensemble, and has been working as a teaching artist and consultant with Interfaith Philadelphia. They have also spent time as an Equity & Access Facilitator at Earthdance's seasonal Contact Improvisation retreats.
In Rowan's undergraduate thesis, Somatics as a Practice of Freedom for People of Color, Rowan researched how the understanding of one's own anatomy can be a transformative experience for marginalized bodies suffering under white supremacy. Understanding the human body's capacity for healing has been a passion and a vocation of Rowan's for many years, thus they were led to pursue a Doctorate in East Asian Medicine. Rowan aspires to connect with ancestral knowledge to decolonize and queer the dance and wellness field.
---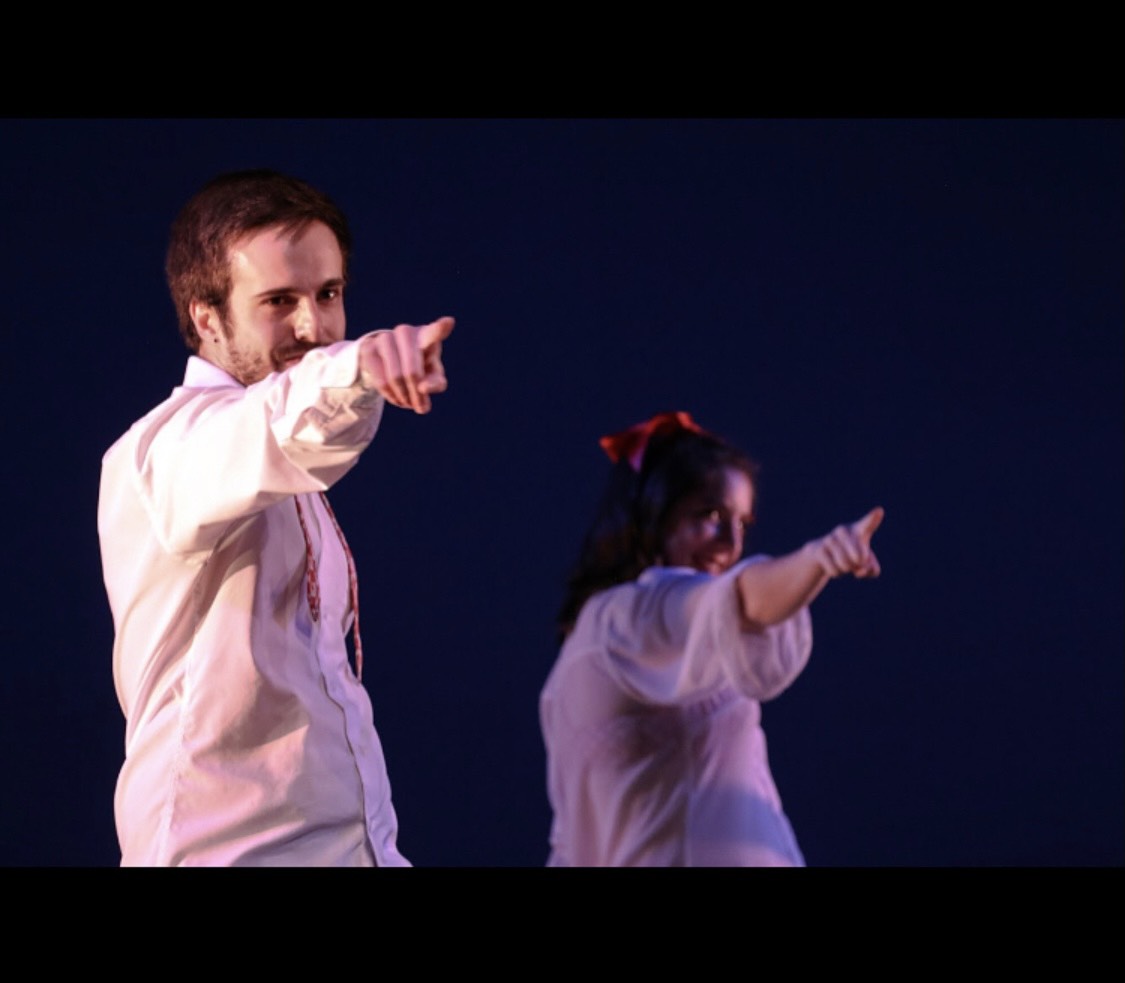 Peter Cottingham '18
Peter Cottingham graduated in 2018 with a major in Biology and minors in Dance and French. Prior to attending Bates, he did not have a background in dance, but while exploring potential options for his "plus two" academic requirement, he met Carol Dilley at the Academic Fair who convinced him to try out Intro to Dance Composition. This course sparked a new interest in dance, and he began his progress on a Dance minor. Throughout his time at Bates, he participated in a variety of classes, dance pieces, choreographed his own piece, and participated in a dance thesis. Studying dance gave him a totally new perspective on art and life that he takes into all his endeavors.
He now works at Intellia Therapeutics in Cambridge, Massachusetts, where he is using the technology CRISPR/Cas9 in order to create cures for rare genetic diseases.
---
Jorge Piccole '18
Jorge Piccole is a 2018 Bates college graduate, majoring in psychology and dance. Primarily trained and specializing in hip-hop, Jorge also took modern and ballet classes while at Bates. his thesis was year long, with a paper about cultural appropriation in hip-hop dance and culture and an accompanying 7 minute hip-hop dance piece. Currently, Jorge is a Behavioral Health Professional and Direct Support Professional at Affinity, a small organization in Portland Maine that helps adults and children with developmental disabilities via community integration and one-on-one support. Jorge will be teaching a dance class at Affinity for adult clients starting in May. Jorge also hopes to go to graduate school to pursue psychotherapy, with a hope to include dance in his future psychotherapy practice.
---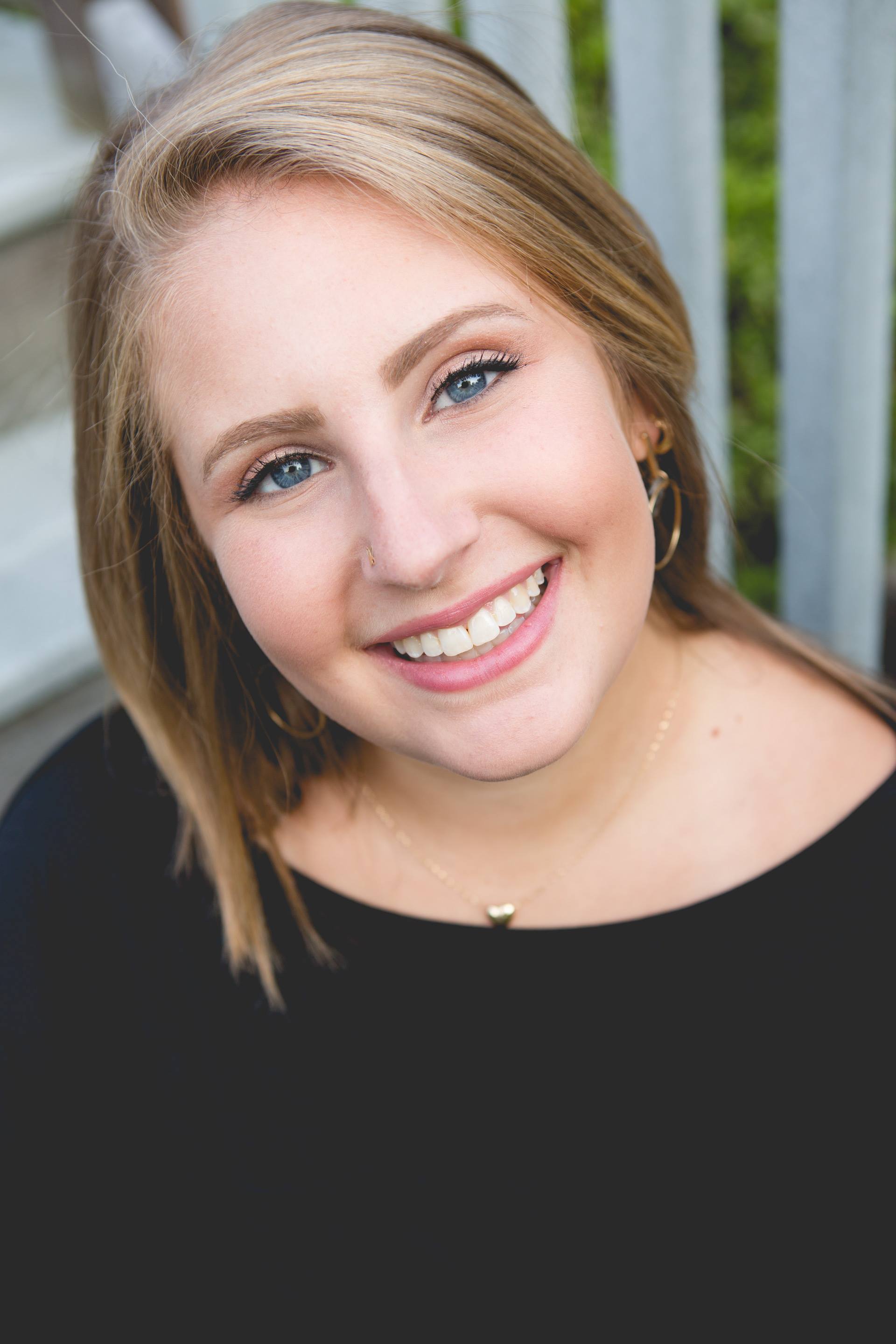 Mallory Cohen '17
Mallory is a dance/movement therapist and counselor in the Philadelphia area. After earning her degree in dance and sociology at Bates, she moved to Philadelphia to earn her Master's degree in dance/movement therapy and counseling at Drexel University. She is currently working with children with severe trauma backgrounds and a psychiatric diagnosis and their families. As a compassionate, warm, and energetic individual, she is helping those with little access to resources and support to integrate their minds and bodies further, using dance and movement to help individuals to achieve non-movement goals. While at Bates, she developed dance education programming in the L/A area for children, helping them to gain confidence, healthy outlets for expression, and encouraging community dialogue through dance technique, creation, and performance.
---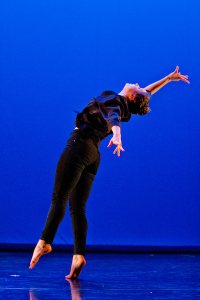 Mary Anne Bodnar '16
Mary Anne Bodnar is a choreographer, mover, writer and arts administrator based in New York City. After graduating from Bates, she trained with the Vertigo International Dance Program in Jerusalem, Israel where she performed works by Rina Wertheim and Shizuka Yamaguchi. Since moving to New York City, she has choreographed for Brouhaha Theater Project's immersive devised theater work Heydays, and shared solo work exploring the intersection of stand-up comedy and modern dance in the 2018 Estrogenius Festival. As Media and Communications Manager for Movement Research, she continues to cultivate her love for small communities unified by a passion for the investigation of movement-based forms.
---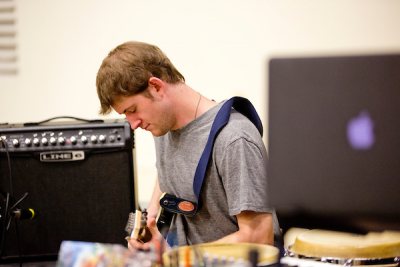 Benjamin Cuba '16
Benjamin Cuba is a Boston based accompanist, multi-instrumentalist, performer, and composer who hails from Worcester, MA. He studied at Bates College ('16), where he obtained a BA in English and Music, and started his training composing and accompanying for dance. Ben currently works as an accompanist for the dance programs at Boston Conservatory, Emerson College, and Jose Mateo Ballet Theatre.
He attended ACDA 2018 and performed on stage for Boston Conservatory's Limitless 2018 (Red Walls) as a guest artist. Ben has composed music for Moving Steps Dance, and most recently for Heather Brown Dance at NACHMO Boston 2019.
---
Leroy Barnes '15
Leroy is from Brooklyn, NY. After graduating in 2015 he stayed in Lewiston working as an Artistic Director for Warehouse 550. In the Spring of 2017 he moved back to Brooklyn in hopes to pursue a career in media. Currently, Leroy is working as a Researcher/Post Production Assistant at Jigsaw Productions. In his free time he loves to create music and connect with other creatives. He is hoping to continue his pursuit within film and music.
---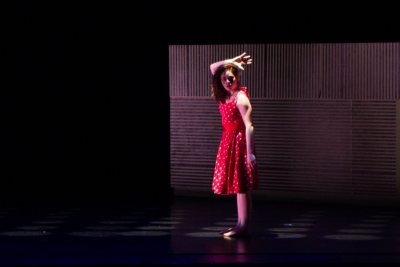 Talia Mason is a dancer and choreographer interested in the intersections of kinesthetic and verbal language. Talia holds a BA in Dance and Francophone Studies and Education from Bates, a post-baccalaureate in performance from Headlong Performance Institute, and an MFA in Experimental Choreography from UC-Riverside where she was the recipient of numerous graduate and research fellowships. Talia is currently pursuing an M.Ed at the University of Maryland with a French K-12 certification. She wholeheartedly believes in dance education and is eager to find more ways to integrate dance into the public education system with foreign language instruction.Talia taught Movement full-time at Greene Towne Montessori in Philadelphia and served as a freelance graphic designer and marketing assistant for Headlong. She adjuncts and helps facilitate community-oriented engagements for Dance Exchange. Talia studied at the Liz Lerman Dance Exchange and Kibbutz Contemporary Dance Company. Her choreography has been presented at the Philadelphia Fringe Festival, Movement Research's Open Performance, Fringearts's Scratch Night, Bartram's Garden, UC-Riverside, and Dance Exchange. She has performed in work choreographed by Belle Alvarez, Nicole Bindler, Rachel Boggia, Dance Exchange, Sean Dorsey, Lily Kind, Shreshth Khilani/Sarah Marks Mininsohn, Cassie Meador, Tiffany Rhynard, and Mira Treatman. Her work with collaborator Christina Catanese, Field Notes on Remembering, premiered at Bartram's Garden with the oldest ginkgo tree in North America.Her MFA research, Water Lines, looks at process/performance as sites of memory in understanding her Jewish American Midwestern ancestry and the role of memory and remembering in autoethnographic multidisciplinary interactive work.
For more information, visit: http://www.taliamason.com/news
---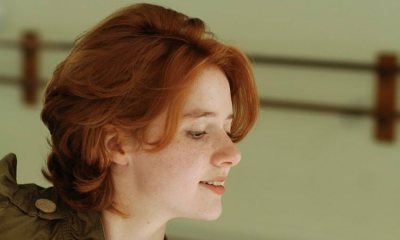 Regan Radulski '15 is a current student at Boston University where she is pursuing her masters in arts administration. Regan is passionate about all genres of dance and can be found practicing competitive ballroom dance, modern, ballet, jazz, and much more in her spare time.
When not in the dance studio, Regan can be found as a graduate assistant at the Metropolitan College's Alumni Relations & Development department or as a graduate assistant at the Arts Administration department. In her free time, Regan enjoys consulting at The Dance Complex on their Winter Wonder Dance Festival.
---
Jonathan Schwolsky '15
Jon Schwolsky is a multidisciplinary artist whose works have been considered "thought-provoking, intense, vivid, and meticulously researched". Working primarily as an independent filmmaker, theatre director, and performer specializing in creating streamlined and nuanced original content, his adaptation of "The Rounds" by Justin Moriarty— an experimental dance-theatre performance about the War on Drugs, –was acclaimed as "horrifyingly accurate…employing genius traffic patterns" (Entertainment Hour NYC). During his residency as Artistic Director of Warehouse 550 in Lewiston, ME, Schwolsky premiered his first adaptation of "The Rounds" as the headlining performance in "The 272 Lenses" multimedia art show, which featured wall-to-wall murals, interactive sculptures, and a small video installation also curated by Schwolsky. The event was named after the 272 lives lost in Maine in 2015 solely from heroin overdoses. In the fall of 2017, Jon co-produced the Off-Broadway world premiere of "The House of Charity" by Andre Degas at the 2017 Dream Up Theatre Festival at Theatre for the New City. Shortly after, Jonathan was invited back in 2018 to premiere "The Rounds" Off-Broadway. Schwolsky has worked extensively as a videographer, photographer and freelance performance educator. He has created original performance and media content with a myriad of NYC-based artists including grammy-award winning musicians, groundbreaking visual artists, and exceptional actors, all while finding time for personal artistic exploration and discovery.
---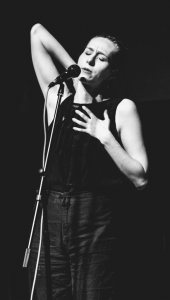 Katie lives in Edinburgh, Scotland, where she has devoted her career to contemporary spoken word poetry. She is currently completing a PhD at the University of Strathclyde in Glasgow focused on the performance of authenticity in UK spoken word. As part of this research she interviewed 70 spoken word poets across the UK about their craft and is archiving this material at the Scottish Oral History Centre, creating the largest archive of information about this genre in the UK to date. In 2014-2015 she completed an MRes in English at Strathclyde on a US-UK Fulbright Award, focusing on poetry written for the 2014 Scottish independence referendum. In 2015 she co-organized the Poetic Politics Conference at the National Library of Scotland and in 2016 co-edited the anthology Aiblins: New Scottish Political Poetry (Luath Press).
Katie also performs and publishes her own poetry. She placed second in the 2015 Scottish National Poetry Slam, and her poem "Outwith" was featured in the Best Scottish Poems of 2016 list by the Scottish Poetry Library. With the collective Loud Poets, she has toured the UK, performed for three years at the Edinburgh Festival Fringe, and toured to Prague Fringe for two years. She was selected through St. Mungo's Mirrorball to be mentored by previous Scottish Makar Liz Lochhead as a part of the 2015-2016 Clydebuilt cohort. Her work has been published in the Glasgow Women Poets anthology (2016), The Herald (2016), the House of Three series (2016), and in the upcoming A Scottish Poem a Day (2019).
---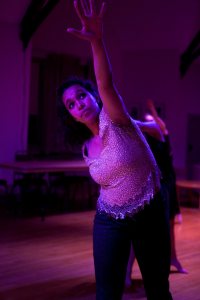 Colleen Fitzgerald '14 is living in Buenos Aires, Argentina where she studied abroad and conducted dance/anthropology thesis research during her time at Bates. In September of 2014, she made her international debut of a solo choreographed at Bates entitled "Aqui estoy, esto que ves es lo que soy" at the Festival Arte al Cubo. She is currently immersing herself in the diverse dance scene of Buenos Aires, learning new techniques and approaches to movement while further developing her own. She is studying under international artists such as Gustavo Lesgart, Emanuel Ludueña, and Lucas Condro, among others. This fall (spring up north) Colleen will start a graduate program in the "Contemporary Trends and Tendencies in Dance" at the Universidad Nacional de Arte in Buenos Aires.
---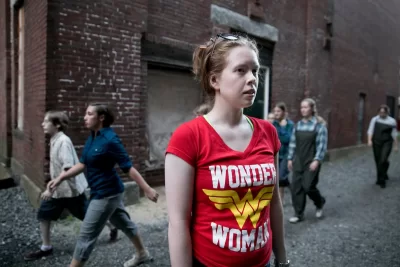 Hannah Miller '14 (she/ella) is a Maine-based program manager and community health worker with the Maine Mobile Health Program. She graduated from Bates College in 2014 with a double major in Spanish and Women and Gender Studies. From 2014 to 2017 she researched and developed an educational text focused on community, place, gender, and life on the border between the United States and Nogales, Mexico. Currently unpublished, Miller wrote a collection of poetry and short stories in Spanish with Claudia Aburto Guzmán, PhD and Yarisamar Cortez, titled "Para contar las historias de una comunidad: Colonia Bellavista, Nogales." Miller also is a theater technician, stage manager, arts administrator, and dancer. Her stage management credits include Sara Juli, Rachel Boggia/Carol Dilley, Roberto Forleo (Bangor Ballet), Stephan Koplowitz (Bates Dance Festival), Dinah Minot (Creative Portland), Justin Moriarty, and Katalin Vecsey/Reza Jalali. Her producer credits include several years of F.A.B. Winter Dance Showcase, a collaboration between Bates College and the Gendron Franco Center to present artists from the Maine dance community and beyond. Her goals include creating embodied community through healthcare and art.
---
Liza Dewitt '13 works as an instructional aide with special education students at Gabriella Charter School in Los Angeles and also teaches Zumba at Everybody Dance!, a nonprofit that serves low income families.
---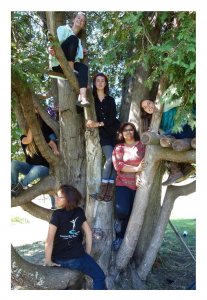 Upon graduating, Zoë Fahy '13 signed on for a year of AmeriCorps service at a Community Action Council in rural Washington state. She worked in nonprofit program development doing advocacy work for low-income families. As of a month ago, she is back in Maine working in Freeport as a Residential Teaching Assistant at a semester school called Coastal Studies for Girls. The school focuses on place-based, interdisciplinary marine science and leadership education for 10th grade girls. Along with local history and environmental literature, she teaches a beginners dance class and some yoga! In March she is shipping off to Brazil for a Fulbright ETA where she will be placed with a team of English teachers at a university and will be conducting dance documentary work outside of teaching.
---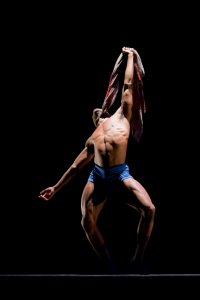 Yasin Fairley '12 is currently pursuing an MFA in modern dance at the University of Utah, with master's thesis research focused on performativity of race, gender and sexuality through a critical theory lens. This embodied movement research informs other interests in social dance forms, pop culture and contemporary literature. While in Salt Lake City, Yasin performed at The Rose Wagner Center, choreographed, guest lectured in gender studies and dance, and participated in three screen dances. After the MFA, Yasin is interested in pursuing an open career trajectory that involves performing, teaching and choreographing in a learning community, similar to Bates.
---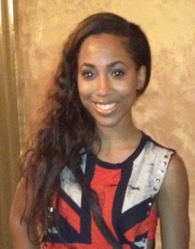 Victoria Lowe '12 graduated from Bates College with degrees in American Cultural Studies and Dance. She was a member of the Bates Modern Dance Company, co-founder of the Bates Step-Team, and one of the first two students to take part in the Tacchi-Morris Internship in Taunton, England. Victoria's success at Bates culminated with the conferment of a B.A. in Dance, making her along with 3 other students, the first Batesies to graduate with Dance Degrees. Victoria currently resides in New York City where she continues to dance and teach. She has rekindled her love with Salsa dancing and Modeling, two new ventures she hopes to add to her professional endeavors.
---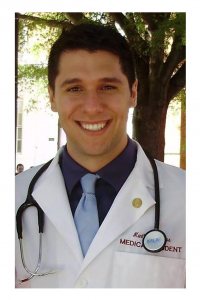 Monthe Kofos '11 is a competitive ballroom dancer who currently attends medical school in South Carolina. At this point, he is unsure which medical specialty he will be pursuing.
While at Bates, Monthe first began competing in ballroom as a way to supplement the rigor of varsity track. He served both as the Ballroom Team's president and lead choreographer. Monthe currently competes in the highly- competitive Advanced Gold Level in 19 of the 21 offered ballroom dances, where he places frequently. He has also been lucky enough to compete alongside his brother Zachary '13 and sister Leah '15 who are also Bates alums. In addition to dancing, Monthe has designed and made many of his and his partner's various competition outfits and jewelry – including the costumes seen in the attached picture.
---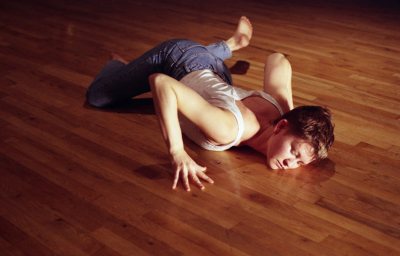 Lindsay Reuter '11 is a dancer and dance-maker who builds sparse, conceptually-driven performances that usually occur in proscenium settings, but don't have to. Her work is motivated by questions about identity and agency—how we do what we can—and in a recent introspective turn, this interest has extended specifically into (dis)ability. Her work has been presented in New York by Movement Research at the Judson Church, Spoke the Hub at the Gowanus Arts Building, and by New York Live Arts as a Fresh Tracks recipient 2014-2015.
Lindsay attended Bates from 2008-2011, where she was a transfer student who graduated Phi Beta Kappa with her BA in Women and Gender Studies and a minor in Dance. In addition to making performance, Lindsay works as a collaborator with Katy Pyle and the BALLEZ and with Marissa Perel, for which Lindsay was recently hailed "boyish" by the New York Times.
Lindsay organizes communities around dance that promote alternative economic structures. From 2011-2013, she co-curated the President Street Performance Series at her home in Crown Heights, Brooklyn, which employed a barter system for entry. She is now a curator and co-organizer for CLASSCLASSCLASS 2014 and 2015. Lindsay is based in Brooklyn, New York.
---
Lindsay Swan '11 is a movement and theater artist from Brooklyn, N.Y., with a 10-year foundation in modern dance. She discovered improvisational movement while at Bates and has since been a lifelong student of radicalization, embodiment and conscientization through Contact Improvisation, Authentic Movement, and BodyMind Centering®. In 2013, she discovered Grotowski's physical theatre and trained with Acrobatics of the Heart in New York, N.Y., as well as Double Edge Theatre in Ashfield, Mass. She developed her first theatrical piece while in residence at Earthdance Creative Living Project in Plainfield, Mass., and joined the theater ensemble Children of the Wild in 2014. Children of the Wild's mission is to make original works of theater and film that further the rewilding of industrial spaces and the human spirit as part of a common struggle for social and environmental justice. Together, they are developing The Wastelands Project, a multi-pronged, multi-year effort that will bring audiences to sites of environmental devastation along the Great Lakes in collaboration with the Great Lakes Commons Initiative in 2016.
---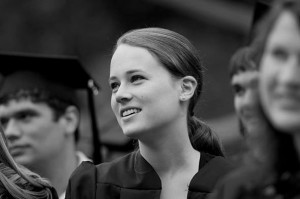 Ebbe Sweet '11 is a New York City-based photographer. Ebbe's photography draws upon her years of experience as a dancer and dance photographer to capture life in motion. She developed a passion and technique for dance photography while studying both dance and photography at Bates. During her time at Bates, she especially enjoyed photographing performances from the wings and the back of the audience in Schaeffer Theatre.
In New York City after college, Ebbe founded her own photography business specializing in wedding and family photography. She continues to incorporate dance photography into her work through fine art photos of children jumping and wedding guests dancing. Ebbe frequently returns to the Bates campus to photograph dance shows and to teach dance photography workshops, and her photography has been featured in numerous Bates publications such as the Arts Calendar, The Bates Student newspaper, and as the splash page for Bates.edu. Her work has also been published in Dance Teacher Magazine, New York Times online, The Gothamist, National Geographic Energizer, Energetiks Dancewear of Australia, and on the cover of Dance Magazine's college guide.
---
Marlee Weinberg '10 has spent the last 10 years of her life refining the crafts of being a performer, choreographer, improviser, figure model and yogi. Upon graduating from Bates with a degree in sociology and dance studies, Marlee has danced with professional companies in Florida, Philadelphia and New York City. In 2011, Marlee bought a one-way ticket to India and spent six fulfilling months, teaching English and dance to underprivileged students, strengthening her Ashtanga yoga practice and sitting with the Dalai Lama. In between traveling and performing, she attended the Bates Dance Festival, where she trained, performed and created work for the past six summers. Marlee has been a visiting artist at various colleges and high schools in New York, Maine and Florida. She is based in Brooklyn, creating a series of structured solo pieces alongside Dante Brown|Warehouse Dance, John Hoobyar and Alissa Horowitz. Marlee also teaches yoga and studies energy healing and bodywork.
---
Kate Reilly Thorson '10
Kate Reilly Thorson, 2010, is conducting postdoctoral research in social psychology at New York University, after earning her PhD there in 2018. She studies social interactions, with a focus on how people from different social groups communicate with and influence one another. Living in NYC, she loves having the opportunity to see so many excellent dance, music, and theater performances but wishes she herself got to dance more! Kate lives with her husband–a fellow Batesie who even appeared in one Bates dance production–and their son. She misses being a student at Bates very much and loves returning there to dance with her best friends!
---
Sela Fermin '08 graduated in May 2014 from Yale School of Nursing as a family nurse practitioner. She now lives and works as an FNP in Northampton, Mass., with her husband, Jake Grindal '06.
---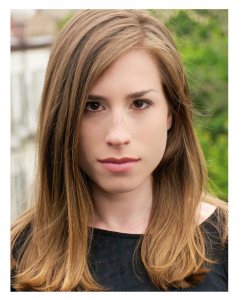 Alissa Lazaro '08 is a dancer, choreographer, teacher and editor living in NYC. She currently performs with Barbara Mahler, and has also worked with Heather McArdle, Regina Nejman and Yina Ng. Alissa choreographs for her company, Red Dot Dance, as well as for short films and music videos, and enjoys collaborating with her husband and Steadicam Operator, Victor Lazaro, as well as fellow Batesie dancer, Marlee Weinberg. Her work has been shown at such venues as Dixon Place, CPR, Triskelion Arts, Gibney Dance, Coney Island Film Festival, Dance Film Lab, The Art of Brooklyn Film Festival (NY), Provincetown Film Festival, Cape Cod Filmmaker Takeover (MA), Bates College (ME), and the Langston Hughes African American Film Festival (WA).
Alissa studied Bharatanatyam both in the US and India, where she performed at Madurai's Sarveswarar Temple. Alissa currently teaches all styles of dance to young dancers at the Park Slope After School Center at PS 107, and the Westchester Ballet Center for the Performing Arts. Alissa is also a video editor working on short films, promotional videos and commercials. One of her most recent projects, a commercial for a local dance studio, was aired on ABC Family and Nickelodeon.
---
Emily Maistrellis '08
Emily Maistrellis '08 is a public health researcher at Columbia University's Program on Global Health Justice and Governance. Her work focuses on identifying, dismantling, and mitigating against social and political structures that undermine sexual and reproductive health and human rights at home and abroad. On the side, Emily practices as a doula, for which she draws heavily on her experience as a dancer. She currently lives in Brooklyn, and is frequently in touch with her Bates Dance family.
---
Monique Brown '07
Since dancing at Bates, I have been able to dance with faith-based ministries in Boston, Mass., and Richmond, Va. I am currently looking for opportunities in Tampa, Fla. Apart from my dance efforts, I am currently an epidemiologist and research assistant professor doing HIV research in the College of Behavioral and Community Sciences at the University of South Florida in Tampa.
---
Adrian Cohen '07
I'm living in Brooklyn, New York, with my fiancé and our two cats. After graduating from Bates, I worked for community-based organizations in Portland, Maine, before attending graduate school at University of Michigan, where I studied public policy. I am currently working in city government in NYC, where I plan and implement social welfare and employment programs. I'm excited to come back to Bates and dance with old friends.
---
Meredith Sallee '07 lives in Seattle, Wash., with fellow Bates dancer, Fisher Qua '06. Thanks to their fellow Batesie and matchmaker Sarahbelle Marsh '05, Fisher and Meredith have enjoyed creating a life filled with exploration, art and a whole lotta love. Meredith is a dancer and rehearsal director with Khambatta Dance Company (Seattle, Wash.) touring (inter)nationally to perform and teach with the company. She is an instructor at Spotlight Dance & Performing Arts Center (Renton, Wash.) and also assists with running the studio. Following her passion for a life dedicated to art and caregiving, Meredith also works for a nonprofit, CAREGIFTED, which provides respite vacations to long-term caregivers. All our love to Carol and Marcy and Bates Dance!
---
Lauren Kawana '06
After graduating from Bates, Lauren went to Fukuoka, Japan, to teach English for one year. She returned home to Honolulu, Hawaii, a year later and worked as an editor for a local magazine company and happily returned to her hula group, Na Pua Pilialoha. Along the way, she was able to work on a documentary film about the first woman of color in Congress, Patsy Mink, a state representative from Hawaii. That experience inspired her to attend the Univ. of California Berkeley Graduate School of Journalism documentary film program. She graduated from the program in 2014, and her thesis film, Live, Breathe, Hula, was a portrait of Native Hawaiian musician and hula instructor Mark Keali'i Ho'omalu. Lauren is currently living in Berkeley and working in film on Mind/Game: The Unquiet Journey of Chamique Holdsclaw, a documentary about the stigma of mental illness in America. In her off time, she has continued her dancing adventures by learning salsa!
---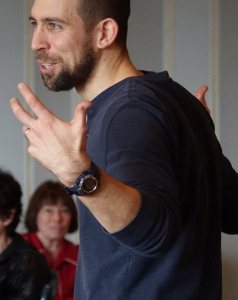 Fisher Qua '06
Fisher has been running his own consulting & learning practice for the past 5 years. His work involves applying many of the same principles (and at times, practices) he learned through dance. The primary focus of his work is on the (micro)structural configuration of our interactions and how that shapes what does or doesn't happen for groups. He's endlessly fascinated with the role of complexity in group dynamics. Recent highlights include teaching back at Bates during short term, working with the KaosPilots school in Denmark, and helping NASA research scientists discover new ways of working together across disciplines.
---
Alex Zelck Smith '06 is back in New England after eight years in the cornfields of Illinois, where he completed his master's in physics and music directed dozens of musical theater productions. He is excited to be starting a career in retirement planning, which affords him time for skiing, biking, kayaking and music.
---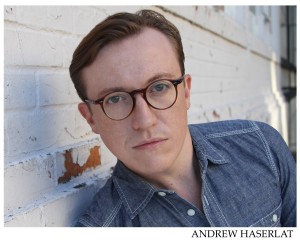 Andrew Haserlat '05 is an actor, director, choreographer, and scenic designer in New York City. A proud member of SAG, AFTRA, and AEA Andrew has toured internationally with MGM's 75th Anniversary production of The Wizard of OZ (Scarecrow) and My Fair Lady (US and Singapore). He is reoccurring on season two of Amazon's hit new political satire "Alpha House" and can be seen opposite Francis McDormand in HBO's new miniseries "Olive Kitteridge," written by Bates alum Elizabeth Strout '77. After graduating from Bates (where he majored in Biology and Theater), Andrew served for two years as Education Associate at North Shore Music Theater, directed numerous productions for Ogunquit Playhouses Department of Education, as well as directing and choreographing the 2012 production of Unity Stage Company's Bye Bye Birdie in NYC. As an actor in NYC he has appeared in productions with the York Theatre Company, Untitled Theater Co. #61, and the pre-Broadway reading of Empire: the musical. Regionally: Bill in John Pielmeier's World Premiere of Slow Dance with a Hot Pick-Up, Bob Cratchit in A Christmas Carol, Henry Ford in Ragtime, Will Parker in Oklahoma!, Fyedka in Fiddler on the Roof, Les Miserables, The Producers, Fiddler on the Roof, High School Musical, and The Full Monty (Ogunquit Playhouse), and Jesus Christ Superstar (North Shore Music Theater). Andrew has worked on "Law & Order: Criminal Intent," as well as the feature films "The Social Network" and Disney's "The Surrogates." As a scenic designer Andrew has worked with Bates Alums John Ambrosino '01 (Animus Ensemble's Once Upon A Mattress) and Saida Cooper '04 (Wizard Oil Production's Empire of the Trees) as well as the new music video "Soul on Fire" by Samia.
---
Sarahbelle Marsh '05
After spending many years in Boulder, Colo., where I received my master's degree and my Rolfing certificate, I moved back to Portland, Maine, in 2012. I got married to a fellow Batesie in 2013, and currently I have my own Rolfing practice and teach yoga in the Portland area.
---
Amy Burkhardt '04
Amy Burkhardt '04 lives in San Francisco and works as a Vice President of Human Resources at LaunchSquad, a strategic communications agency for tech companies. Outside of office life, she takes as many yoga, barre and dance classes as possible and is a follower / supporter / audience member of SF Ballet and several other dance companies around the Bay Area. She also writes fiction, which she studied at Bates and University of San Francisco.
---
Julie Gage '04 is the CEO of the James L. McKeown Boys & Girls Club in Woburn, Mass. The organization provides out-of-school opportunities for 2,000 youth and teenagers each year, engaging them in activities that foster their academic success, health and wellness, and good character and citizenship. (And, of course, they provide dance classes six days per week for those who otherwise wouldn't be able to afford the opportunity.) Julie is a graduate of the Institute for Nonprofit Management & Leadership at Boston University and lives in Somerville, Massachusetts.
---
Becca Dolan Oves '04
I'm currently living in northern Virginia, just outside Washington, DC, with my husband Matt and our 2-year-old son, Evan. I work as a nurse practitioner at the National Cancer Institute in Bethesda, MD, focusing on the care of bladder cancer patients. Dance has unfortunately taken a backseat in the last few years of my life, though I've become a dedicated runner and yogi in its absence. However, I'm looking forward to introducing my son to dance, and we will be taking a "Wiggletoes" dance class together this spring!
---
Claire Schneider Robarts '04
I am happy to be living in Maine for good-my Batesie husband (Daniel Robarts '04) and I bought a house in Brunswick two years ago where we live with our three sons (our five year-old twins, James and William, and our baby, Sam). In addition to being a mom, I am also a social worker (LCSW) and I practice child and family therapy through a local mental health agency twice a week.
---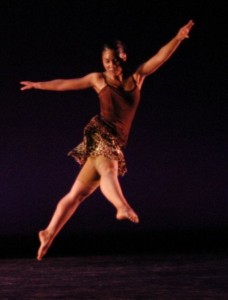 Devon Fitchett '03 received her early dance training under the direction of Jim Viera and Jeannette Neill at Boston Youth Moves. She continued dancing, under the direction of Marcy Plavin, at Bates College where she received a B.A. in American Cultural Studies with a secondary concentration in Dance. As a student, she performed works by Ronald K. Brown, Danny Buraczeski, Michael Foley, Betsy Haug, Katiti King and Gabe Masson. During her professional performance career, she has worked with Emily Beattie, Dana Fitchett, Liza Hostetler-Ingalls, Prometheus Dance, and Ben Munisteri Dance Projects, in venues including Boston Center for the Arts, Green Street Studios, and The Dance Complex. She has also performed at the Altogether Different and Lincoln Center Out of Doors festivals, Tanzmesse International Dance Festival, Jacob's Pillow Dance Festival, and Dance For Life Boston. Devon has taught master classes and performed at high schools and universities across the U.S. and abroad including Canty Dance Studio, Performer's Edge Dance Center, Powered By Dance Teen Intensive, Bates College, Central University of Ecuador, and Frente de Danza in La Casa de Cultura. Devon's most recent professional endeavor is a creative collaboration between dance artists, Dana Fitchett, Liza Hostetler-Ingalls, and herself called Avid Zeal Dances. The group premiered several works in 2014 in its first full-length concert, Entelechy, at the Artists for Humanity Epicenter in Boston. The evening was produced, choreographed, and directed entirely by the trio. With one member, Dana Fitchett, now residing on the west coast, the group hopes to begin to explore more aspects of multi-media collaboration including video and simulcast. Devon has been the Director of Dance at the Dana Hall School in Wellesley, MA since 2006. She feels fortunate to have a space to develop her creative ideas and to share her passion with students who are equally as passionate about dance and who have a substantial capacity for absorbing and processing movement and movement concepts. Witnessing the precise moments of progress her students experience in the studio and on stage is also one of the most rewarding aspects of her job. Devon is also currently on the faculty of the Jeannette Neill Dance Studio and continues to develop repertory for and with Avid Zeal Dances. Devon has previously served on the faculty of the Jeannette Neill Children's program and Boston Youth Moves teaching beginner, intermediate, and advanced children, teens, and adults in disciplines including ballet, modern, jazz, and hip hop.
---
Sara Miller '03
I am doing post-doctoral research in the field of gene regulation and chromatin modifications at Mass General Hospital in Boston. Being back on the East Coast is great in terms of proximity to family and friends. Also, it means having the chance to get together and sometimes even perform with other Bates Dance alums.
---
Laura Medina '02
After graduating in 2002, Laura lived in NY where she was able to explore dance joining a small modern dance company and dancing in a play as well as in a small movie production. She moved to Baltimore, MD and attended graduate school at University of Maryland to receive her doctorate in physical therapy combing her love for movement and the medical field. She moved to Maine with her husband Damon per guidance from Marcy Plavin and has been loving growing her family here. Her son Noah is the light of her life. He has gained a love for dance as well, for which she is very proud. She hopes to fill this year with more dance!
---
Kristin Pangallo '02
Kristin is currently an Assistant Professor of Chemistry at Salem State University, and lives in Salem, MA with her husband, Dominick ('03), and her two children, Aurelia (8) and Lucy (5). Although she was unable to convince her older daughter to try dance, Kristin successfully indoctrinated her younger daughter, who is now happily preparing for her spring recital.
---
Kate Nies Brigham '02 lives in Somerville with her husband Jordan, and daughter Riley. She teaches yoga at O2 Yoga and works at Smarterer. She's looking forward to choreographing again after a brief hiatus.
---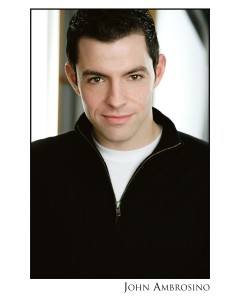 John Ambrosino '01 is a theater Professional living in New York City. After receiving his B.A. in Theater Directing from Bates College, John became an artistic associate at The Wang Center for the Performing Arts (now the CitiCenter for the Performing Arts), New England's largest non-profit performing arts center. While at the Wang, John was instrumental in creating American Voices–a reading series of classic American Plays at the Shubert Theater. The series connected the classic American cannon with such performers as Paul Rudd, Dennis O'Hare, Anthony Mackie, Charles Busch, Kerry O'Malley and Ruben Santiago Hudson. Also at the Wang, John served as an associate producer for Commonwealth Shakespeare Company the resident LORT theater that produces free productions of Shakespeare on the Boston Common. John oversaw Commonwealth Shakespeare Company's largest budget show in the company's history–Hamlet staring Jeffery Donovan. The 2005 production drew nearly 100,000 patrons over the 20 free performances. In addition, John worked with Vice President of Programming, Steven Maler, to develop a slate of product to fill the 3,600 seat Wang Theater and the 1,250 seat Shubert Theater. With Maler, John also served as associate producer of Wilde Nites LLC, which produced Academy Award winning comedienne Whoopi Goldberg in An Evening with Whoopi Goldberg at the Wang Theater.
In the fall of 2005 John left the Wang Center in order to focus more directly on his own theater company, Animus Ensemble, which he founded in 2001 directly following his college matriculation. Over his five years with Animus, John produced and directed 10 productions at the Boston Center for the Arts. The mission of the company was to create a dialogue with audiences using music, movement and drama. His production of Burt Bacharach's Promises, Promises earned the company an IRNE nomination for Best Musical Production and also earned him an IRNE nomination for Best Director of a Musical.
John left Boston to pursue artistic opportunities in New York City in 2007. Upon his arrival, he worked as an actor in the development of The Musical Adventures of Flat Stanley. Through a series of workshops the classic children's story was adapted for the musical stage. He toured the United States in the title role in the production's first national tour. Upon his return, John joined the Las Vegas company of the hit Broadway show, Jersey Boys.
John is currently a principal producing partner for U Rock Theatricals L.L.C. a New York based theatrical production company.
---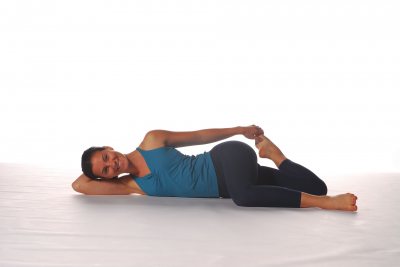 Laura Beare '01
Laura is a yoga and Pilates instructor practicing in Fairfield County, CT. In addition to teaching at wellness studios and private homes, Laura has also taught dance conditioning and injury prevention workshops for various university dance programs, including Bates College, Fairfield University, Florida State University, Emmanuel College and Salem State University. After graduating from Bates, Laura completed in MA in dance at Florida State University, where her graduate research focused on dance conditioning, kinesiology and women's fitness practices. More recently, Laura has enjoyed leading anatomy and injury management workshops for yoga teacher trainees, and directing a therapeutic yoga program at Spaulding Hospital Outpatient Center in Cambridge, MA. She is hoping to bring her two dancing kids, Hannah and William, to reunion this time round!
---
Carrie Noel Richer '01 lives in Jackson, Wyoming. She is the development associate for the Jackson Hole Center for the Arts and dances with Contemporary Dance Wyoming under the direction of Babs Case. Carrie is the director and co-founder of Hole Dance Films, a dance film production company that makes site-specific dance film work in the greater Jackson area. Many HDF films have played in international festivals and galleries. Stay tuned for their newest work, Housewarming, in spring 2015. After graduating from Bates in 2001 with an independently designed major in cultural anthropology and dance, she earned an MFA in cinema from San Francisco State University. She recently gave birth to her daughter, Hazel, on March 17, 2015, and hopes to make it back to Bates sometime soon!
---
Sarah Putnam Budney '00
Thanks to the last Dance Reunion a few years ago, I'm back to dancing on a regular basis. At the last reunion I reconnected with fellow alums Kate Nies Brigham '02 and Sara Miller '03 and have enjoyed performing a few pieces around Boston since then. I took a brief break from dancing when I had my son, Finn, in November 2012, but was back to dancing when he was 4 months old. Thank you to my husband, Alex! He continues to support my dancing as we work to find a healthy work/family/self balance!
---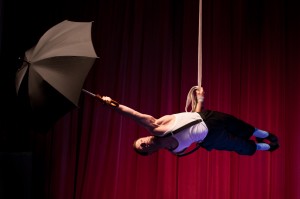 Andrew Adams '99 began his circus career at the age of 12 with Circus Smirkus in Vermont. Upon graduating with a theater major from Bates, he went to Chicago and began performing with the Midnight Circus. He has performed with Teatro Zinzanni in Seattle and San Fransisco. For the past year, he has been with Cirque du Soleil "Zumanity" in Las Vegas. He specializes in aerial straps.
---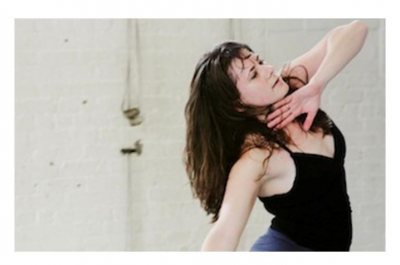 Erin Gottwald '98 has performed and choreographed throughout the United States, most notably at Dance Theater Workshop/ New York Live Arts, St. Mark's Church, Dance Unlimited in Juneau, AL, Conduit Dance in Portland, OR, The Cowell Theater in San Francisco, CA, Dancer's Workshop in Jackson Hole, WY, and the Philadelphia Fringe Festival in Philadelphia, PA. She has had the pleasure of dancing in companies throughout the country including David Parker & The Bang Group, Sokolow Theatre Dance, Digby Dance, Hole Dance Films, Nicola Hawkins Dance Company, Prometheus Dance, Paufve Dance, EgoArt, Jody Weber Dance, Dandelion Dance Theatre and Erin + John. She has participated in dance residencies at The Yard in Martha's Vineyard, MA, at the Putney School in Putney, VT and at the Greensboro Ballet in Greensboro, NC and has choreographed for film and television including USA's Royal Pains, Logo TV's Eden's World, The Gap and Macy's. Originally from Stoneham, Massachusetts, Erin received her formal training for 11 years at the Boston Ballet School and with choreographer Holly Fairbank in her mountaintop summer studio in Franklin, NH. She holds a BA in Theater from Bates College and a BA Hons from the London Contemporary Dance School in London, England. She has taught dance for over 15 years at Peridance, Bates Dance Festival, Boston Ballet, Berkeley Ballet Theatre, National Dance Institute of Santa Fe, Julia Morgan Center for the Arts and The Dance Complex. Since 2005, she has taught at Spoke the Hub Dancing in Brooklyn, NY, where she is Co-Director of the Young Artists Program and Producer/Curator of the annual performance series, Gowanus Guest Room, which features performances of nationally recognized artists.
---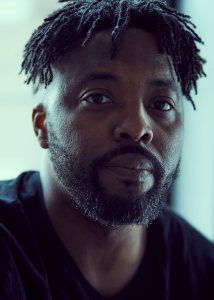 Postell Pringle ('98) is an actor, playwright, rapper/singer/producer, stage director, and choreographer hailing from Decatur, GA. He earned a BA in Theater, with a concentration in acting and playwriting. He spent junior year abroad in London, studying acting at the conservatory Holborn Center for Performing Arts, an annex of the Royal Academy of Dramatic Arts. In his tenure as a Bobcat – when everyone called him 'Jay' – he studied extensively in the Dance and Music departments. He was a recipient of a Benjamin E. Mays scholarship and a proud alum of the Bates Deansmen.
As an actor, Postell appeared on Broadway in A Free Man of Color by John Guare, directed by George C. Wolfe (Lincoln Center Theater). Off-Broadway he has a slew of credits, including Othello: The Remix (Westside), The Urban Retreat (Public Theater/NYSF); The Seven directed by Jo Bonney, choreo by Bill T. Jones (NY Theatre Workshop); Romeo & Juliet (Lucille Lortel); Hoodoo Love (Cherry Lane) and Song for New York (Mabou Mines) directed by the late, great Ruth Maleczech. Others include The Matchmaker (Goodman Theater), Broke-ology (Kansas City Repertory); The Old Settler (Triad Stage); The Seven (La Jolla Playhouse), and A Soldier's Play (Arkansas Rep). Film work includes The Hudson Tribes, 14085, Unknown Soldier, Edge of Town, and Orange Bow. Television includes Unforgettable (CBS), Law & Order (NBC), Law & Order: Criminal Intent (NBC) and a recurring role on Denis Leary's series Rescue Me (FX). As a voiceover artist, he provided voices for countless Gen-Z Media podcasts and VO/motion capture for Rockstar Games' Grand Theft Auto IV, Red Dead Redemption 2 & GTA: The Lost and Damned. Recently, during the theater shutdown of 2020-21, he's had the privilege to perform in the lauded online productions of The Misanthrope and pen/man/ship. Presented by Moliere In The Park and directed by Lucie Tiberghien.
Postell's a member of Q Brothers Collective, the award-winning and internationally acclaimed theater and music artists who generate original work fusing hip hop and theater, adapting classic stories to wholly original, entertaining, often comedic, and fast-paced style shows. Q Brothers conceived the term add-RAP-tation. With QBC, Pos has toured the world – from New Zealand and Australia to South Korea and throughout Europe. As a playwright, creator, co-composer, and sometimes performer – his QBC collaborations include Othello: The Remix, Funk It Up About Nothin', Bomb-itty of Errors, Q Brothers Christmas Carol, ms. estrada, Rome Sweet Rome, Long Way Home, and the forthcoming Rami & Jaliya.
As a music/recording artist, Pos is a founding member of the band The Rap Pack (fka The Tars) possessing a catalog of a half dozen albums and more than a hundred music videos. They recently launched a live stream music show called Tuesday Night Live with The Rap Pack, where they create a new song every week with a featured music artist (RapPackComedy on FB). In addition, as a collaborative solo artist he has several albums and mixtapes, including his 2020 full-length release, Hot Sauce From Hell. All his music can be found at postell.bandcamp.com. He resides, with his family, in Bed-Stuy, Brooklyn NY. [postellpringle.com] @posLuv
Bates News: "Pringle '98, star of hip-hop 'Othello,' tells Time Out Chicago how Bates theater helped his rap artistry"
---
Carolyn BonDurant Wack '97
Hello, Lovely Bates Dancers! How I wish I could be there to celebrate Marcy's amazing legacy, but, alas, I must do so from my home in Bavaria (with German husband and 4 and 7 year-olds; we are here to stay). Have a wonderful time and sending my warmest regards. Viel Spass!!
---
Sarah McKnight Steinberg '96
Living happily in Maine with my husband, Scott '86 and our girls, Katie, 14, and Abbey, 11. Loving my creative job as a custom kitchen, bath and interior designer. I opened my own firm, Steinberg Custom Designs, in 2007.
---
Emily Jackson Sanborn '94 is a part-time Reference Librarian at Fogler Library at the University of Maine at Orono, and the president of Orono Partners In Education, a nonprofit focused on getting grant money and projects into my kids' school system. In her spare time, she hangs out with my family, runs, bikes, plays games and generally enjoys life : )
---
Jen Green '93
I live in Somerville, Mass., where I own and operate a small massage practice in Davis Square called BlueFern Massage Therapy. I'm also involved in the music festival industry, managing food vendors for large festivals all over the country. Most of my movement pursuits these days involve running (very slowly!) and a regular yoga practice. Sad not to be able to join you all at this reunion!
---
Heidi Johnson '93 and Neil Bray '93 live in St. Paul, Minnesota with their kids Jonas (almost 12) and Eliza (6). Neil teaches Chinese at St. Paul Academy, and Heidi is an Assistant Principal in the Minneapolis Public Schools.
---
Alison Oakes Charbonnier '92
Alison received BA in Anthropology with a Secondary Concentration in Russian Language while at Bates and holds an MA in Dance and Dance Education from Teachers College, Columbia University. While living in New York, Alison taught at Iona College for ten years and in the New York City public schools with New York City Ballet and Creative Arts Laboratory. She also ran two summer camps, one at Teachers College and a second in New Jersey. She has been choreographing and performing with Liliana Amador-Marty, fellow Bates alum, since 1999. Together, their work has been performed in New York, New Jersey, Connecticut and Maine. Currently, they meet, work, show and collaborate weekly via video messenger while Lily is living in London. Since moving back to CT, Alison has taught at a local dance school and worked at the Kate's Camp for Kids at the Katherine Hepburn Cultural Atrs Center. She currently teaches modern dance and composition to teens and adults. When not dancing, she works alongside her mother, Linda Oakes('67) at her store, Celebrations, in Deep River, continues her grandmothers small candy making business and lives with her husband and two children in Essex.
---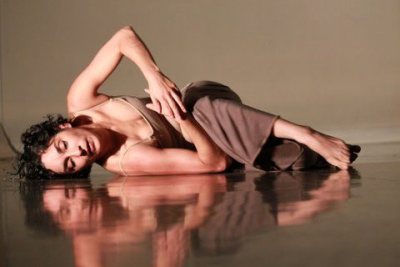 Liliana Amador-Marty '91 began her dance and theater training at The Inner City Ensemble in Paterson, NJ, received her BA in Theater with a concentration in Dance from Bates College and her MFA in Acting from the University of Minnesota. Liliana worked professionally as an actor and appeared in the Public Theater's production of, Henry VIII at the Delacourt Theater. Amador-Marty taught Theater, Creative Dance and Playmaking to children in grades K-8 at the Lab School in the Bronx from 2000-2005. Liliana has worked with The 52nd Street Project in NYC over the years as a dramaturge/director as well as an instructor of their Dancemaking program and as an Adjunct Professor at Iona College in New Rochelle, NY. She has been with Bergen DanceMakers since 2001, a league of choreographers in Bergen County. Liliana Amador-Marty has worked with Bates alumna Alison Oakes-Charbonnier '92 since 1999 and together they created Amador/Oakes Dance Collaborative. Their work has appeared at the 92nd Street Y, Merce Cunningham Studio, Joyce Soho, WAX, and at the Riverside Church and Spoke the Hub. Amador-Marty has also collaborated with Nicholas Rodriquez & Dance Compass and is a founding member of the new Inner City Ensemble, Inc. in Paterson, NJ reinstated by alumni of the original organization that trained her as a youth to make a life in the arts.
---
Stacia Oakes Johnson '91
Several years after graduating from Bates, I attended Boston University and received my master's in clinical social work. I currently live in Deep River, Conn., with my husband, Kurt '94, and our three children. I work at my private practice, mostly with adolescents, and also spend two days a week at my mother's gift shop. Following my brief dance career at Bates, which consisted of Short Term my senior year, I have been taking dance classes taught by my sister, Alison Charbonnier, for the past eight years. I am an avid runner and triathlete.
---
Stephanie Brunson Matthews '91 has lived and worked in New York City for more than 20 years. She has worked for MTV, VH-1, the Food Network and Manhattan Theatre Club, to name a few. Currently, she is a stage manager for Blue Man Group, and freelances for numerous other productions as a designer and event planner. Stephanie has one husband, Josh; two sons, Satchel and Shiloh; and two awesome friends, Allison and Liliana, with whom she loves dancing.
---
Anne Pettigrew Woodruff '90
I have been living in west Michigan 10 years with husband Dan '88 and three children. (We spent 10 years in Alaska prior to moving here.) I work part time as a psychiatric registered nurse at a hospital. I enjoy skiing, hiking with my dog and just experiencing daily life as a mom and wife. I return to Maine fairly often to visit Dan's family. This time, however, I am looking forward to reconnecting with very special old friends.
---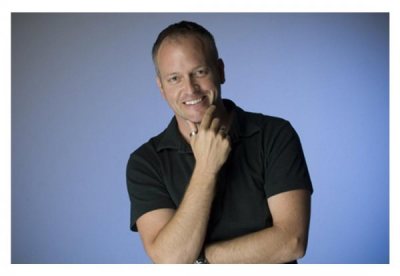 Michael Foley '89
Michael Foley has enjoyed a diverse career as a dancer, choreographer and teaching artist for nearly 30 years, but is most proud of the fact that he is a Bates Dance alum mentored by Marcy Plavin. He had the good fortune to perform with the companies of over two-dozen choreographers, including Doug Elkins, Kevin Wynn, Seán Curran, Donna Uchizono, Ruby Shang and Eun Me Ahn. Michael's own choreography has been commissioned by major international dance companies from the United States, Mexico, Ireland, France, Italy, Sweden, Cuba, Panama, the Dominican Republic, and by the Cirque du Soleil organization. He has taught workshops and master classes at over 100 universities, academic institutions, dance festivals and private studios around the globe, and has received numerous recognitions for his work in the Arts including a William J. Fulbright scholarship from the U.S. government for his research and teaching in Mexico with Delfos Danza Contemporànea, a Kennedy Center/American Theater Festival Award, and he was the Ruth Page Visiting Artist at Harvard University. Michael received his his MFA in Dance from the University of Washington and is currently a Professor of Dance at the University of South Florida, where he is also the director/creator of the USF Dance in Paris Programs.
---
Scott Balentine '89
Hi Dancers! Unlikely as it is, I am a director at BlackRock, a massive investment management firm, and curiously kind of love it. Running a corporate team is not that different from being a choreographer (except in the details). I'm in a wonderful relationship with James, an established art dealer and gallery owner in San Francisco, and I still love and support dance in all its glorious forms. Sending all my love to my friends and all the Bates Dancers and the incomparable Marcy Plavin.
---
Jo Ann Clark '89 is the author of poems, translations, and critical reviews. Her work has been anthologized in Hot Sonnets and Reactions4 New Poetry and has appeared in many online and print journals. Her book-length collection, 1001 Facts of Prehistoric Life, was published last month by Black Lawrence Press–and promoting Facts is now her "job." She pursued a writing career thanks to the encouragement of her teachers at Bates, and she attended Columbia's MFA program at the urging of Rob Farnsworth. Clark has taught writing and literature at Bank Street College, St. Stephen's School in Rome, and The School of the Art Institute of Chicago. Because it enabled her to embody lessons about phrasing, cadence, closure, and form, Clark credits dance with making her a better writer. Because of the example they set, Clark credits her fellow Bates dancers, Marcy & Leonard Plavin, and Marcy's faculty colleagues, with making her try to be a better person, teacher, and friend.
---
Catherine Briggs-Hale '88
Greetings! Although I cannot be there in person, I am with everyone in spirit. Colorado living still suits Chris '88 and I. I live and work in Woodland Park, elevation 9,500 feet. Currently, I serve Columbine Elementary School as the instructional resource teacher and coach. Parenting three teenagers, working, running and hiking keep me joyfully busy.
---
Kristen Purdy Russett '88
Kristen lives in Melrose, Mass. and teaches French at Marblehead Veterans Middle School in Marblehead, Mass. She is still attending dance classes in the Boston area. She also enjoys cooking, gardening and traveling with husband Mark '87 and son Jacob (Bates class of '21!).
---
Edmund Zuis '88
Hello! I hope to get down to the Reunion sometime this weekend, but I cannot be sure. May 2 marks my 49th birthday, opening day for little league baseball, opening day for little league softball, (assistant coaching both teams) and an indoor soccer game. Cathy Squires '88 and I have been married 22 years and have two children, Ed, 12, and Hope, 10. Besides getting the kids to all of their activities, Cathy and I recently participated in the North American Wife Carrying Championship at Sunday River. WE FINISHED!! (Enough said.) I have been teaching at Oak Hill High School for 20 years and love getting the help of a Bates student teacher now and then. Good luck everyone!!
---
John Blanchette '87
John's day job consists of working in Lewiston as a commercial insurance producer and manager for Champoux Insurance. In 2013, he realized his dream by opening Two to Tango Ballroom Studio, L-A's first ballroom dance instruction studio. After 16 years of competing as an amateur across the country and in Canada, John wanted to bring ballroom to L-A. He specializes in Smooth dances (Waltz, Tango, Viennese Waltz, Foxtrot and Quickstep, but also teaches Swing, Rumba, Cha-cha, Mambo and much more! Private and group classes are available, as well as wedding packages for brides and groom preparing for that special day.
---
Brooke Garrettson Carroll '87 lives in Gaithersburg, MD with her husband and two teenage kids. She is the Head of School at Seneca Academy, a preschool through 5th grade International Baccalaureate school. She is sorry to miss this reunion and send lots of love to Marcy and her Bates Dance buddies!!
---
Laura Giles Longacre '87 continues to work at Cheshire Academy, 23 years now! She is the International Baccalaureate Coordinator and teaches French. At various times throughout her teaching career, Laura has been able to teach a modern or ballet class. Laura and husband, Tim '86, reside in Cheshire, CT; daughter, Caroline, will be attending Connecticut College in the fall. To Marcy and the Bates Dance Program – we send our very best wishes and congratulations.
---
Karen Foster French '85
Currently based in Dallas, TX, and dancing as often as possible. Combining my special education background and my love of dance, I now teach Nia Moving to Heal, a gentle fitness practice that uses movement as medicine. Classes include diverse populations and individuals of all abilities, and the key ingredient is always joy in movement. I recall my senior year at Bates when Marcy urged me to teach dance, and I told her I just wasn't ready. She said someday I would be, and she was right. My website is www.karenfosterfrench.com
---
Michael Giannitti '84
Michael regrets not being able to attend this dance reunion and sends regards to Marcy and everyone there. Michael has been on the Bennington College drama and dance faculty since 1992, and has been Producing Director at the Dorset Theatre Festival in Vermont since 2010. He has designed lighting on and off Broadway and at many acclaimed theaters around the country, including the Shakespeare Theatre of New Jersey, Trinity Rep, Capital Rep, Chautauqua, Barrington Stage, Shakespeare & Company, Weston Playhouse, Indiana Rep, Portland Stage, George Street Playhouse, Yale Rep, Arena Stage, Old Globe, Huntington, Olney and The Studio Theatre in Washington, where he was resident lighting designer. New York dance lighting credits include Dance Theatre Workshop, Danspace Project, The Joyce, The Kitchen, and P.S. 122 for works by Susan Rethorst, Paul Matteson! , Everett Dance Theatre, Marta Renzi, and Cathy Weis; additional regional venues include the Library of Congress, Spoleto Festival, Walker Art Center and Bates Dance Festival. As a Fulbright Specialist Grant recipient, he has taught in New Zealand and Romania.
---
Artemis Susan Preeshl '84
I am director and choreographer. Since 2006, I have directed and choreographed in Australia, Bali, Canada, Croatia, India, Italy, Kosovo, Malaysia, Pakistan, Sri Lanka, Uganda, The Ukraine, and the United States. I teach Theatre at the University of West Georgia. Since 2004, I have directed and choreographed Shakespeare comedies and tragicomedies in a commedia dell'arte style. In 2010-2011, I studied facial gesture in India on a Fulbright-Nehru Senior Research Fellowship at Kalakshetra, the Juilliard of India. My multiculural approach to acting synthesizes action, voice and body to allow the actor to encounter the character in context in dynamic classical and contemporary productions.
---
Sharon Saltzgiver Wright '83
Sharon's sons will both be in college next year, and so she is looking for the regular salary of full-time work. She has been life and executive coaching with the assistance of her horses since 2002. She is the author of Getting Started in Bonds and Running to Stay Upright — A Novel.
---
Betsy Kennedy '81
I hate missing the Reunion! Life is keeping me in Wisconsin. At this writing, I've just had knee surgery to clean out torn meniscus. I'm doing fine, but I haven't danced since mid-January, so I can't wait to get better. I've been dancing with the Madison Folk Dance group. My daughter lives with me full time now, and I'm in court to get more time with my son. My business is taking off in the direction of laughter. I'm the next Patch Adams as a Certified Laughter Yoga Leader! I've been guest speaker at Meriter Hospital and done gigs from baby showers to church groups. Laughter is the best medicine! I've just re-built my website: www.betterfunctioning.com. Have a great time everyone! Have a good laugh for me!
---
Anne Shain Loewenthal '81
I'd be dancing with everyone if the show didn't conflict with my youngest son's college graduation. Thankfully, I still hold the passion and ability to be light on my feet. With grown sons, I get more time for sport and travel with my hubby, though responsibility for aging parents factors into our mobility. Something about middle age encourages us to connect more with friends and pursue things we truly enjoy. Life is to be celebrated at every stage, as well as on stages like Schaeffer. "Break a leg" to all of you who share in reunion fun! Remember, I live north of Chicago and love visitors.
---
Jean Wilson '81
Enjoying my work as senior vice president of information services at L.L. Bean. Proud parent of four (two are Bates grads). My husband, John Roberts, and I just became grandparents, which is beyond fun. And I am super excited to see all the Bates Dancers on May 2!
---
Lynda Plavin Fitzgerald '79
I'm now the coordinator, performing arts-dance and the artistic director of the AACC Dance Company. I developed the dance curriculum and the dance major at AACC and established a service learning component enabling the dancers to teach and give mini-lecture/demonstrations at many of the Anne Arundel County public schools. I have taught and performed across the country for the American College Dance Association and also performed professionally with the Great American Entertainment Company in Los Angeles and toured the United States. I hold a master's in education with a concentration in Dance from Stanford University and a bachelor's from Connecticut College in English and Dance.
---
Diane Georgeson '79
Still living in Oneonta, N.Y., working as an OB Hospitalist at Bellevue Woman's Center Hospital in Schenectady, N.Y., and continuing to serve as medical director of Family Planning of South Central N.Y. Daughter Sara is living and working in Portland, Oregon and son Patt, now working at Camp Glenbrook in N.H., graduated from Bates last spring. A highlight of Patt's tenure at Bates was the friendship and support Marcy provided him (as well as so many other kids of alumni), and I treasure having been able to spend time with her again when I came to visit.
---
Amy Gordon '79
Amy remains faithful to all of you dancers out there. Every performance artist needs an audience. That is why I'm here. And the ripple effect of the Bates Dance Company and Festival travels far. My mother, (a fellow dancer of Marcy's while at the Univ. of Wisconsin) is highly involved with Fuzion Dance Artists, the contemporary dance company based in Sarasota, Fla., over the past nine years. Many of their dancers have been to the summer Dance Festival over the years. There have been several Batesies who have performed with this company who are here at the Reunion and most recently, a guest choreographer! Again, every performance artist needs an audience. This is why I am here.
---
Susan Bove Kinney '78
I am currently living on Cape Cod and working from home. In my spare time, I am busy creating art: watercolor painting, paper collage and art quilting. Also enjoying walking on the beach and in the woods with our rescue puppy from Louisiana. Son Sam is living in Missoula, Montana, getting ready to graduate from college soon. Who knows — maybe we'll end up retiring out West sometime in the next few years.
---
Carolyn Genetti Menchel '78
Still living in Alexandria, Va., enjoying work as a fitness instructor and personal trainer. Beginning to spend more time traveling to see our three kids — one living in San Francisco, one local and one presently living in Japan, playing professional soccer. I am sorry to miss this reunion, but will be visiting our daughter in Japan. But luckily I have been able to keep up with Marcy, seeing her when she travels south to visit Lynda!
---
Dervilla McCann '77
Following graduation, I went to Tufts medical school on a Navy scholarship, trained in internal medicine and cardiology, and remained in the Navy for 9 years. My family and I moved back to Maine in 1996. In 1999 I joined a practice in Lewiston, and in 2014, returned to school and obtained a Masters degree in Public health. In 2015, I became the chief of Population Health at Central Maine Medical Center and continued as an administrator until 2019.
---
Landi deGregoris Turner '77
I'm a university professor and co-chair of a psychology department in Pennsylvania. I just retired from my private psychotherapy practice after 30 years, and have become a director of a gender studies program held in Maine for undergraduates in the early summers. At the university, I have many students who double major in dance and psychology, looking to go into dance/movement therapy, and it's such a thrill to work with our dance department whenever possible. I've been dancing through Zumba and funk classes, and have been choreographing children and youth musicals for fun. Can't stop dancin'!
---
Anne Jepson '76
After 37 years in the biotech industry, I retired in May 2017 and I am loving it!! My husband, Steve Romanoff, and I live in Falmouth Maine and enjoy gardening, taking care of our yard, walking and biking in the neighborhoods around us, boating, taking advantage of the area's thriving restaurant and cultural scene, and spending time with family and friends. Now that we are both retired, we are able to spend a few weeks in warmer climates during the winter months, and we have been known to get out onto the "dance floor" from time to time! I am looking forward to seeing folks at the 50th Reunion and in the years to come.
---
Hannah Bell-Lombardo '76
I am an official empty-nester. All three children (Scott, 28; Sarah, 25; and Emily, 23) are out of school, "off the payroll" and living independent lives in New York City. My life, however, is as busy as ever. I'm still teaching part time at Bryant University (and loving being with college kids), lending my marketing skills to several local boards and organizations, playing tennis, traveling (New York turns out to be a frequent destination … go figure!) and helping my husband out with occasional tastings and wine-education events at his retirement "hobby," a wine store in Providence. Though I'm not sure what I envisioned life at 60 (yikes!!) would be like when I was a Bates dancer, I have no real complaints.
---
Naleen Doughty Mayberry '76
Although I wasn't a performance dancer, I loved the workouts and the fellowship of the dance community. My husband, Bruce, and I live in Yarmouth, Maine, and our son, Cliff, lives and works in Boston. I am a licensed environmental engineer in Maine, with a specialty in the design of potable water treatment processes and facilities. Favorite activities include local contradance and table tennis.
---
Janet Albright Ruckel '76
Great to be back at Bates with my college dance buddies! Very happy in Phoenix with husband, Paul. My daughter is working in San Francisco, and my son is married and working in Dallas. I hope our Bates dance reunions continue to be a grand and blessed way to honor Marcy Plavin who put dance into the lives of so many students.
---
Deborah Weatherbee '76
I'm thrilled to be joining in the 50th reunion of BCMDC, as the company and my dancing friends were important to my time at Bates and my life since Bates. Career wise, I spent 38 years at Bloomingdale's, retiring in March '18 as SVP of Human Resources. After a trip to Hong Kong and mainland China to visit with daughter Lillie (Bates '17), husband Fred and I spent the summer in Maine in our first extended time at our lake house in Wilton. When September came around, it was off to a couple consulting jobs, with plenty of time left for yoga, pilates, ice skating, and spending time with our younger daughter Jennie, due to graduate from college in May '19. I'm looking forward to reconnecting with the dancers from the '70's and meeting the more recent grads!
---
Faith Fowler Brill '75
After 34 years of teaching high school biology in Cheshire, Conn., I retired in 2011 and still live in Cheshire. I have not been dancing in many years, but do quite a bit of choral singing, in a town–gown graduate-level choir at Yale University and at Immanuel Congregational Church in Hartford. In addition, I chair the Membership Committee at Immanuel Church and oversee an email list, which I created for the retired teachers and staff members from the Cheshire Public Schools.
---
Geri FitzGerald '75
"Will you, won't you, will you, won't you, won't you join the dance?" — Alice's Adventures in Wonderland and Through the Looking Glass by Lewis Carroll. I continue to dance my way through life in NYC and beyond, with wonderful friends and a loving family, including my 89-year-old mom and my first grandniece or nephew due to join us in July. Marcy Plavin opened the world to me when she cast me as a lobster in a Lewis Carroll-inspired program in 1972, and I've been a dancer ever since.
---
John Jenkins '74
John is an accomplished author, educator, trainer, leader and national public speaker and has more than 35 years of successful experience in promoting personal and professional development. Among other appointed and elected civic and governmental positions, he has served as mayor of Lewiston, Maine; mayor of Auburn, Maine; a Maine state senator; director of the Maine State Diversity Commission; and Glass Ceiling Commissioner for the U.S. Department of Labor. A member of the Lewiston-Auburn Sports Hall of Fame, the Maine State Sports Hall of Fame and the World Martial Arts Hall of Fame, he is a former Martial Arts International Champion.
---
Debby Radding Zawalich '74
I retired from my job as CFO and treasurer at a nonprofit in Cambridge, Mass., in May 2012. Rich and I will be celebrating 40 years of marriage this June. We are the very lucky parents of two sons, Benjamin, 31, and Adam, 28. Benjamin is an artist with two master's degrees in fine arts. He has traveled to Ghana, Indonesia, Beijing, Kyoto, Japan, London, Florence and Italy, and is currently in Santiago, Chile, for an extended visit. Adam graduated from Salve Regina in Newport, R.I., and went on to earn his master's in architecture at the University of Michigan. He is currently working with a Rhode Island furniture designer and lives in Newport. Rich is working for White Mountains Advisors, commuting several days a week to Guilford, Conn. He is a managing director and toys with the idea of retiring, but not for a few years. We travel whenever we can, having just returned from Rome and Florence, Italy, and enjoy a home in Little Compton, R.I., where we decompress and love the quiet life in this quaint town.
---
Pamela E. Johnson '73
My life since graduating from Bates has been filled with the thirst for knowledge and the commitment to service through volunteering on civic, corporate, arts and community boards. In the four decades following graduation, I have held numerous employment opportunities (in education, marketing, sales, economic development, community redevelopment and nonprofit), which have permitted me to make not only significant contributions to society but also often serve as a catalyst for both organizational community change. One might describe me as a Renaissance woman who asks the 'burning question(s)' of how does one make the situation better for others? Bates taught me never to give up the search or the will to make life for others better amid all odds. Currently, I am having a homecoming experience, having returned to the place where I began my professional career, knew as a second home and grew up as a Morgan brat, as my father served the Morgan community for more than 40 years until his retirement. Morgan State University has changed in those 40 years — more degree programs, more schools offering master's and doctoral programs; and of course more buildings and students. I serve in the Division of International Affairs, the Center for Global Studies and International Education as a study abroad counselor/advisor for the Caribbean, Latin America and South America. Most importantly, it is a privilege to provide a safe place and serve as a surrogate parent to our young people as Morgan is an urban university — they are our future and we, clearly, have become a global society in an ever changing world. Marcy and Leonard Plavin modeled how to be supportive and cocoon college students as they/we grew into adulthood. And they are a mighty tough act to follow. Other than the Morgan students and mentees, I have two four-legged kiddos, Skylar Witt and Lizzie Castine, both Portuguese Water Dogs, who are the loves of my life.
---
Mary Griffin '73
I retired in 2018 from a career in School Counseling in Scarborough, Maine. My last dance performance was in 2015 at Bates when alumni presented The Art of Living Through Dance to honor the legacy of Marcy Plavin. Living in Maine since 1976, I danced with various companies in Portland, Maine, including Random Moves in the late 70s and Ram Island Dance in the 90s. While working on an MALS from Wesleyan University in the early 80s, I also directed and choreographed for my own company, Danceformation, which included Nancy Salmon, known to many as the former registrar of the Bates Dance Festival. Yoga is my movement form presently. My life as a modern dancer is now expressed as an appreciative audience member and proud mama of Emma Judkins, a Bates Dance Festival alum, who dances in NYC with Tere O'Connor, Pavel Zustiak (Palissimo), and Anna Sperber. This year, I was also thrilled to see Twyla Tharp's Minimalism and Me at the Joyce and Night of 100 Solos at BAM. In May, Bill Matthews, Professor Emeritus of Music at Bates, and I will be wed. And we will dance!
---
Anne Baker Lewis '73
My husband, Bryan, and I have lived in Hebron, Conn., for the last 30 years. We are now both retired and are looking forward to the birth of our first grandchild in September. We are fortunate to have both our sons living in town so we will be able to watch our grandchildren grow up. I am active in our church and enjoy singing in the choir. I spend my time quilting, knitting and spending time with friends and my 91-year-old father.
---
Marty Collier Jackson '71
Marty is still dividing her time equally between Downeast Maine and North Carolina. In NC busy with volunteering, classes at the Y and Senior Center, book club, friends, lotsa reading, and gardening. In Maine, busy with family in Maine and Conn., watching the beautiful ocean, close neighbors and friends, again lotsa reading, and gardening. And in both homes, loving her beloved team of 3 cats and a dog, all rescues. Still dancing and loving it…
---
Lynn Poland '71
After Bates, Lynn Poland continued dabbling in modern dance during grad school (U of Chicago) and for several years after she began teaching, at Indiana U and Chicago, and other places. She has been in the Religion Dept. at Davidson College since 1990. Instead of modern dance she now dances with horses in dressage, and keeps 3 horses at home.
---
Marcia Weston Haas '70
I have been retired for 5 yrs. from banking after 43 years in the business. Have spent my time with husband Dick enjoying bird watching, working in our yard, taking long, leisurely walks and travels to see the Grand Canyon and Joshua Tree N.P. I have also remained involved with the Kiwanis Club of Springfield, serving on the board, helping with our cornhole tournament, chairing the monthly Loaves & Fishes soup kitchen project and reading aloud to first graders in a Springfield school. I remain involved (since 1976) with the YWCA of Western Mass., which provides shelter and services to teen mothers and their children, to victims of domestic violence, supportive housing for women who have left shelter, and, through our Youthbuild program, GED certification and job training in the construction & health care industries for young men and women who have dropped out of high school. Our YWCA celebrated its 150th anniversary in March 2019.
I enjoy coming back to Bates for class reunions, dance reunions and attended the dance festival's tribute to Marcy Plavin in 2017–a great weekend!
---
Linnea Haworth Hallee '70
Alan and I continue to enjoy retirement and wonder where the time goes. The only thing I do now that even resembles dance is a couple of Zumba classes every week, but it does remind me of the great times with Bates Dance. We enjoy spending time with our daughter, her wife, and their son, our 2-year-old grandson. He's growing and learning so fast! Our son is engaged to be married in France next fall. His fiancée is a wonderful woman whom he met through his work in Europe. We spent two weeks in France last summer and enjoyed everything we were able to do there and the time we were able to spend with them there. I continue to enjoy some volunteering, playing in a handbell choir, reading and traveling. Time flies by and we try to spend as much time with family and friends as possible.
---
Kathy Lynn Gorton Emerson '69
I wish I could be there, but Dance Reunion weekend always seems to fall on the same weekend that I attend my most important professional gathering, a convention of mystery readers called Malice Domestic. I've been writing commercial fiction and nonfiction, mostly mystery novels, since 1976, and my 51st book, Murder in the Queen's Wardrobe, was published in March. I write under my own name and also as Kaitlyn Dunnett and Kate Emerson. As Kaitlyn, I write a mystery series featuring an amateur detective who was a professional Scottish dancer until she blew her knee out. These days, sadly, I have more experience with knee surgery than I do with dancing. I'm still married to Sandy Emerson '69. He makes jigsaw puzzle tables as a retirement business, and together we own and operate a Christmas tree farm. No kids, but we currently share our rural Maine home with three cats.
---
Jane Hippe Reilly '68
Still working at Child Care Services here in Middlebury, Vt. In addition, I spend lots of time visiting grandchildren in Michigan, as well as the D.C. and Boston area. We have six grandsons and one granddaughter. I stay active with yoga, boot camp classes, running and chasing after grandchildren.
---
Many of these bios were submitted as a part of the 2019 Bates Alumni Dance Reunion. Interested in submitting your bio for the website? Contact theateranddance@bates.edu for details.