Lewiston, Auburn welcome first-years with downtown tour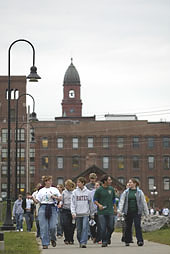 For the third year, students starting their Bates College careers will discover their new community up close and personal through a walking tour of downtown Lewiston and Auburn led by community leaders.
The tour starts in Lewiston's Kennedy Park around 5:15 p.m. Saturday, Aug. 27, and concludes roughly 30 minutes later in Auburn's Festival Plaza. Community leaders such as Paul Badeau, marketing director of the Lewiston Auburn Economic Growth Council, will lead groups of students through the twin downtowns.
About 300 students will take part, out of 511 expected to enter Bates this fall. That total includes 490 first-year students, 20 transfers from other schools and the annual visiting Hirasawa Scholar. (A conclusive total of entering students will be released later.)
Lewiston Mayor Lionel Guay Jr. will greet the students at Kennedy Park, and Auburn Mayor Normand Guay (Lionel's brother) will greet them at Festival Plaza.
The Growth Council and the college's Dean of Students office have organized the event, devised in conjunction with the council in 2003 by Minh Le, a member of the Bates class of 2005 from New Orleans.
The students on the tour are participants in the Bates Annual Entering Student Outdoor Program, designed to introduce first-years to Maine, to each other and to the Bates culture. Designed and led by upperclassmen, AESOP excursions range from community service programs in the Lewiston-Auburn area to wilderness canoeing, mountain-climbing and camping.
View Comments