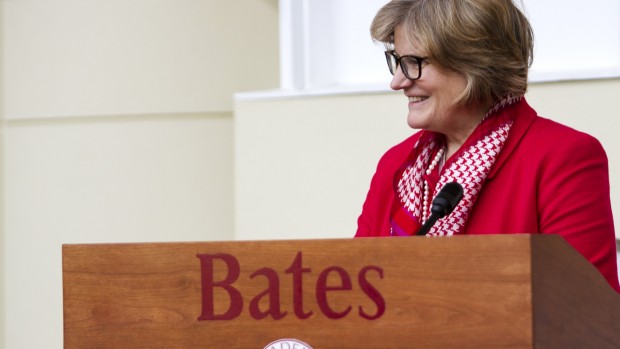 "We have ambitious goals for Bates, and I am inspired by this outpouring of support from the college community," said President Clayton Spencer.
Published on
Description

---

February 11, 2011
1:23 pm

Barbados native Cheri-Ann Parris '13 contributes an island attitude to Bates squash By Andy Walter The Barbados squash community is…

February 11, 2011
12:41 pm

• Click the thumbnails below to view the slide show Makeover complete, Garcelon Field re-asserts itself as prime Bates real…

February 11, 2011
11:30 am

On Sept. 23, 2010, at 5:42 pm, the Bobcat football team practices on newly renovated Garcelon Field, viewed here from…

January 4, 2011
4:05 pm

South Florida Gay News columnist Dan Woog profiles two-time NCAA champion hammer thrower Keelin Godsey '06, a biological woman who…

January 4, 2011
1:41 pm

Portland Press Herald columnist Steve  Solloway checks in on this week's U.S. Cross Country Championships, held at Rumford's Black Mountain…

November 2, 2010
3:01 pm

Mike Leonard, a former Portland Sea Dogs player and All-Big East catcher for the University of Connecticut, has been appointed…

November 2, 2010
10:23 am

If you think a Maine summer goes by quickly, take a look at this time-lapse video showing the installation of…

November 1, 2010
12:34 pm

"Reach out," said Larry Handerhan '05 during a Saturday-afternoon Homecoming panel discussion co-sponsored by OUTFront and Bates Alumni Pride. While…

October 19, 2010
2:52 pm

Joseph Woodhead, an exemplar of athletic success as a Bates College assistant coach of track and field for 25 years, died unexpectedly at his home in Old Orchard Beach on Monday morning, Oct. 18, at age 76.

October 11, 2010
12:26 pm

As dozens of smiling Garcelon Field donors stood by, President Elaine Tuttle Hansen and Director of Athletics Kevin McHugh cut a wide garnet ribbon held by Susanne Jarnryd '87 and Erik Jarnryd '87, whose gift provided the impetus for the $2.6 million, donor-funded renovation of Garcelon Field.