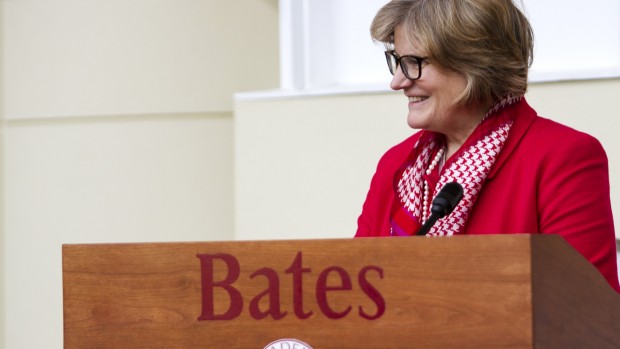 "We have ambitious goals for Bates, and I am inspired by this outpouring of support from the college community," said President Clayton Spencer.
Published on
Description

---

October 21, 2011
10:28 am

A best-selling author whose writing has explored Americans' relationships to faith, Jeff Sharlet examines anti-Islamism through the lens of this year's tragic massacre in Norway.

October 20, 2011
4:04 pm

The Civic Forum Series at Bates continues with four of the nation's leading social entrepreneurs, including a co-founder of the fair-trade coffee importer Equal Exchange, discussing their work at 7:30 p.m. Monday, Oct. 24, in the Edmund S. Muskie Archives, 70 Campus Ave.

October 5, 2011
10:04 am

The Civic Forum Series at Bates offers presentations about the Androscoggin River and about social entrepreneurship during October. Bowdoin College faculty members Michael Kolster and Matthew Klingle explore the Androscoggin River. The following week, a co-founder of the fair-trade coffee importer Equal Exchange is among four of the nation's leading social entrepreneurs who discuss their work.

September 7, 2011
5:45 pm

Led by Erik Barth '12 of Hanover, N.H., and Caroline Watson '13 of McLean, Va., AESOP students work on a…

August 15, 2011
9:35 am

Click on thumbnails, above, to view the slide show. Dean Emeritus of the College James W. Carignan '61, praised as…

July 21, 2011
8:51 am

Lewiston Sun Journal reporter Bonnie Washuk visits Tree Street Youth, a bustling downtown summer camp program for underserved youngsters founded…

June 3, 2011
1:41 pm

Simone Schriger '14 of Los Angeles, Calif., recently participated in a Habitat for Humanity project with fellow Bates students. Her…

May 25, 2011
4:04 pm

Through Commencement, we'll offer brief videos of Bates seniors reflecting on their Bates experience. Here, Simone Pathe '11 of Madison,…

May 5, 2011
4:10 pm

The Harward Center for Community Partnerships at Bates College has honored 15 individuals and organizations for their achievements in community collaboration. Rooted in the academic purpose of Bates, the Harward Center is a focal point for teaching and learning that connects academic and community interests. Reflecting this mission, recipients of Harward Center awards connect Bates with the larger community through collaboration, research and service.

May 3, 2011
11:47 am

The Bates College student group OUTfront hosts the first Bates Pride Festival, starting with an outdoor concert at noon Thursday, May 5, on the lawn at the student residence at 280 College St.