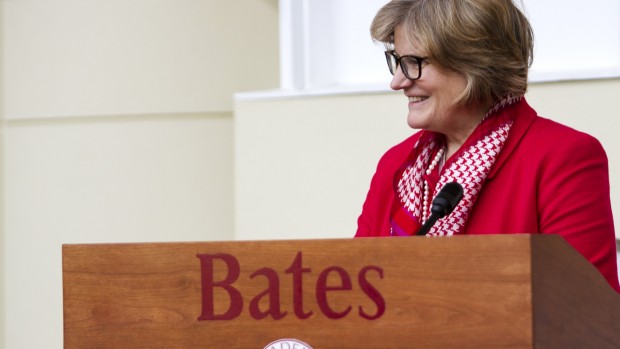 "We have ambitious goals for Bates, and I am inspired by this outpouring of support from the college community," said President Clayton Spencer.
Published on
Description

---

March 14, 2013
2:37 pm

For anthropologist Loring Danforth, helping students navigate their own cultural collisions is "important and interesting."

March 4, 2013
12:35 pm

Four alumni panelists discuss the connections between the classroom and their careers.

February 22, 2013
8:41 am

The annual F.A.B. Winter Dance Showcase takes place Saturday, March 2, at the Franco-American Heritage Center in Lewiston.

February 21, 2013
9:29 am

Two Bates sophomores are among finalists in a letter-writing competition designed to teach college students effective advocacy.

January 16, 2013
5:06 pm

Coach Al Fereshetian says expectations for Spofford are "very high. He put in a fantastic fall of training."

January 16, 2013
2:58 pm

The anniversary program featured Heather Lindkvist, special assistant to the president, and community organizer Sarah Davis '10.

December 5, 2012
2:22 pm

In November, Bates physics students toured X-ray, ultrasound and MRI facilities at a local hospital as part of a course on biomedical imaging.

November 12, 2012
6:49 am

Marshall Ganz, a public policy expert at Harvard, delivers the annual Andrews Lecture on Nov. 14.

October 31, 2012
4:29 pm

Bates is one of two higher-education institutions nationwide to be honored by the American Psychological Association for a distinctive culture of service to the field of psychology.

October 18, 2012
2:29 pm

How does the world inspire ideas? How do ideas like competition and collaboration play out in the world?