Campus Construction Update: Aug. 21, 2020
At the Bonney Science Center site, Aug. 17 was "a big day," says Chris Streifel, Bates project manager for construction of the center.
Cote Crane & Rigging sent cranes and a crew across the Androscoggin River from Auburn to hoist a variety of electrical and mechanical equipment up to the fourth story of the science center. That equipment included the building's emergency electrical generator (located in a mechanical well open to the sky), chillers and gas-fueled boilers to control the temperature of interior air and domestic water, and air compressors.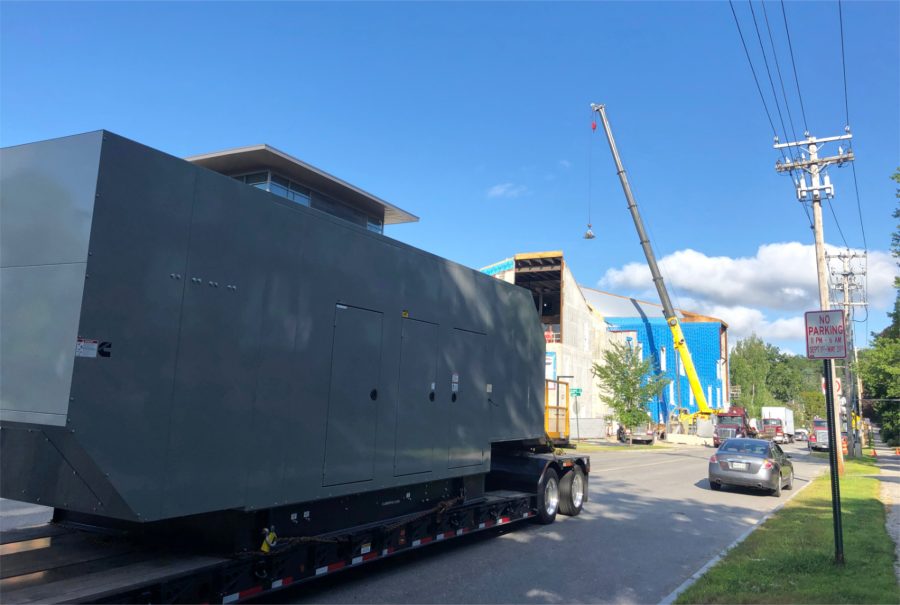 With that, virtually all the equipment destined for the so-called penthouse is now in place.
Elsewhere on high, roofers for Hahnel Brothers, of Lewiston, applied the final covering to a small section of the Bonney center's lid near Nichols Street. It's a sort of pilot project, as they topped part of a flat, level section of the roof with a rubber-like substance known as TPO — thermoplastic polyolefin.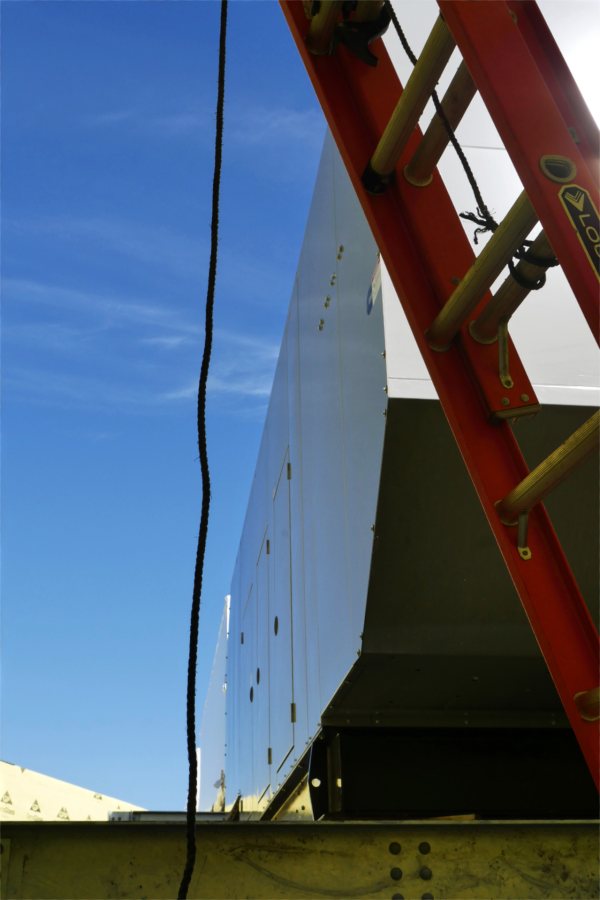 "They were putting together one-quarter of that section for review by various people, architects and others," Streifel says. That quarter-section was done by the middle of this week. (We would have taken a picture during our visit but were unable to climb the ladder from the penthouse to the rooftop on account of being big cowardly chickens.)
"Assuming that all that checks out and everybody's pleased with the workmanship and the details, then they'll go ahead and blast out the rest of that flat roof, and then move down into the mechanical well, where they'll do the remaining roof of that type," Streifel says.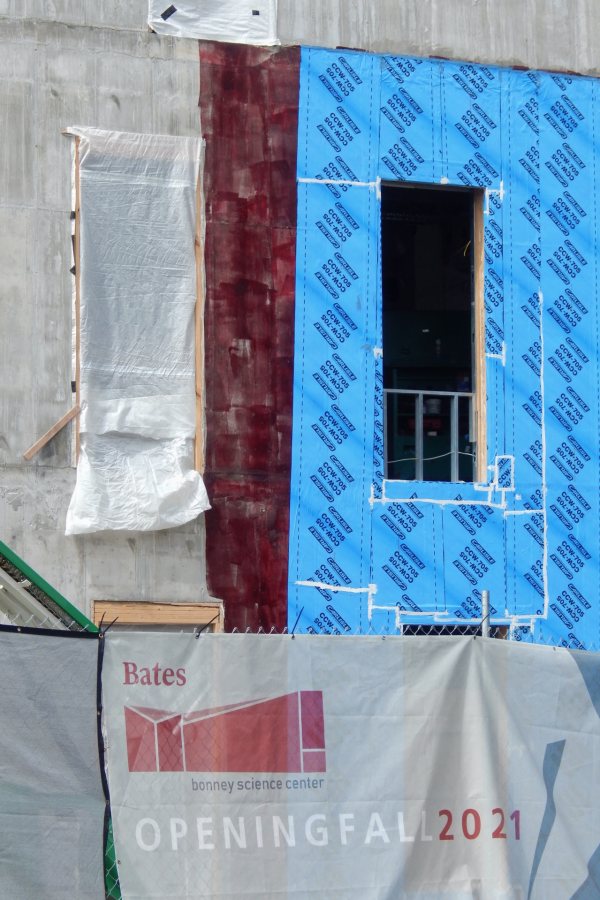 Thereafter the roofers will start the complex work of prepping for and placing the Revere Continental Bronze copper covering atop the sloped sections of roof. "There's plenty of work to build everything up, just to get to that point," Streifel says. The installation of copper will continue well into autumn.
Another step forward, not just figuratively, occurred last month as installation began of a signature feature of the building: the so-called Monumental Stairs. Though angular in shape, this main stairway will function as a spiral — orbiting around a central axis as it progresses vertically.
American Steel Fabricators of Greenfield, N.H., placed what Streifel describes as the first "spin" or complete cycle of steps. Similar to the glass-walled Beacon at the northwest end of the building, the Monumental Stairs will live behind a glass curtain and face Carnegie Science Hall across Campus Avenue.
Moving from the transparent to the opaque (which we do with some regularity), the creation of Bonney's brick exterior has begun. Starting on the wall facing west, toward Nichols Street, crews from Maine Masonry have been laying bricks for a couple of weeks.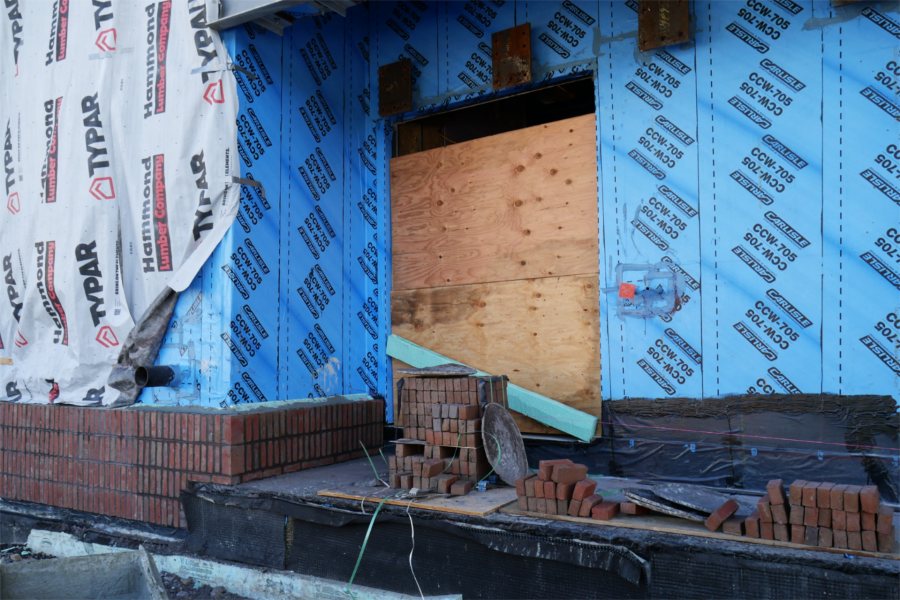 When we dropped by on the 18th, they had rounded the corner and were about halfway along the south side, placing "soldier courses" — runs of brick standing on end — along the base of the wall.
The crews include not only bricklayers but mason tenders, who mix mortar and supply it, as well as bricks and other materials, to the bricklayers, explained Bates construction administrator Jacob Kendall. A typical bricklayer can place 500 or 600 bricks per day, Kendall added.
Running two to six courses tall, those first and lowest bands of brick are solidly backed with grout that blocks moisture and strengthens the veneer. Farther up, a shallow airspace behind the bricks will allow moisture to seep down and exit via so-called through-wall flashing and weep holes.
Kendall also pointed out long runs of shallow steel channeling mounted on the walls, one set flush with the roof edge and others partway up the walls. The lower of these "bent plates," aka relief angles, support the brickwork above them, especially over openings like windows.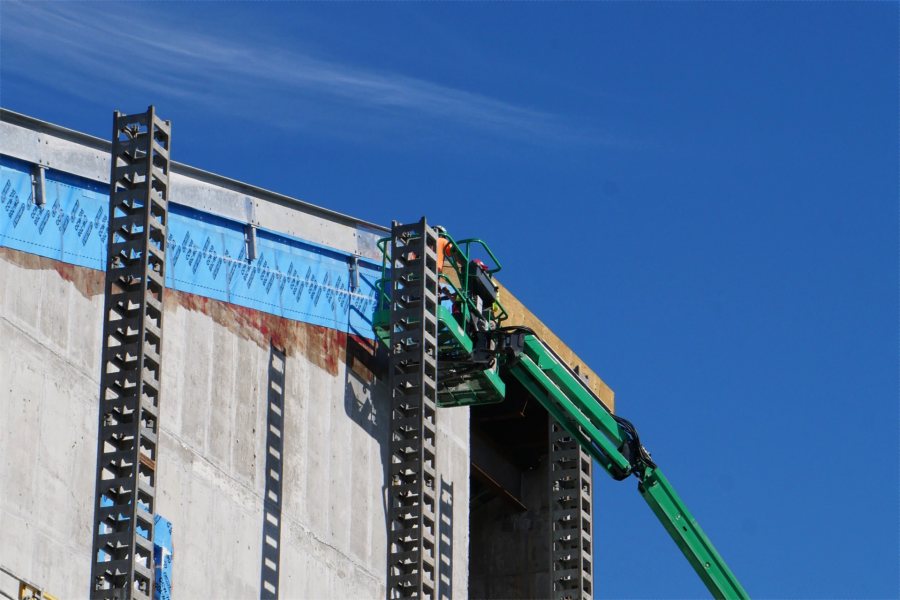 At the top of the walls, the plates not only keep bricks — beneath them, in this application — in place, but are part of the gutter system that we wrote about in July.
Window experts from the Augusta, Maine, firm of Oakes & Parkhurst are also around, fitting gray steel frames into window openings. And finally on the outside, with more than three-quarters of the "blueskin" air and vapor barrier applied to the exterior wall surface, Streifel estimates that there's about a month to go with that process.
"It's interesting the way they've divided it out," he adds.
"On one hand, you've got crews coming from the bottom up, and from left to right" across the expanse of wall surface. Then, he says, another operation is concentrating on coating the wall tops where that elaborate gutter system will be installed.
"So, working independently, there's an active front, if you will, on the gutters, and then there's an active front to support the masonry work and the window installation," Streifel continues. "It looks a little bit like a patchwork, but it's purposely done.
"That roof edge continues to be one of the more complex aspects of the overall job, just trying to figure out the best ways to be efficient."
Inside Bonney, it's business as usual — transforming wide-open space into a place for teaching, learning, and advancing science. On the third floor, spray-on fireproofing on the structural steel is complete, and you can tell that wall framing is about to start because of metal clips appearing overhead, and markings and metal tracks on the floor.
One level down, framing is well along and drywall hangers are at work, focusing for now on the tops of partition walls. Also overhead on the second level, the spray application of a material made by International Cellulose and called K-13 is complete. This is a miracle product that serves as both acoustic insulation and a decorative surface treatment (much the way Campus Construction Update has thumb-tacked egg cartons to our living room ceiling).
On the first floor, there are lots of walls in place, and utility rough-ins — installation of the pipes, conduits, ducts, cables, etc., that bring services close to delivery points like outlets and faucets — are essentially complete.
It's important to remember that in a science facility like Bonney, "utilities" means something different from what it might in a dormitory or administrative building. For instance, says Streifel, some systems are similar in kind between building types, but in the science center they'll operate "at an entirely different scale" — a much greater scale in the case of air handling and emergency generator capacity, for example.
As we've written, the nature of scientific work necessitates a continuous influx of outdoor air for safety's sake. Also, in Bonney there will simply be much more electrical equipment to keep powered up than you'd find in a dorm, even with all the eight-track players and lava lamps going full tilt.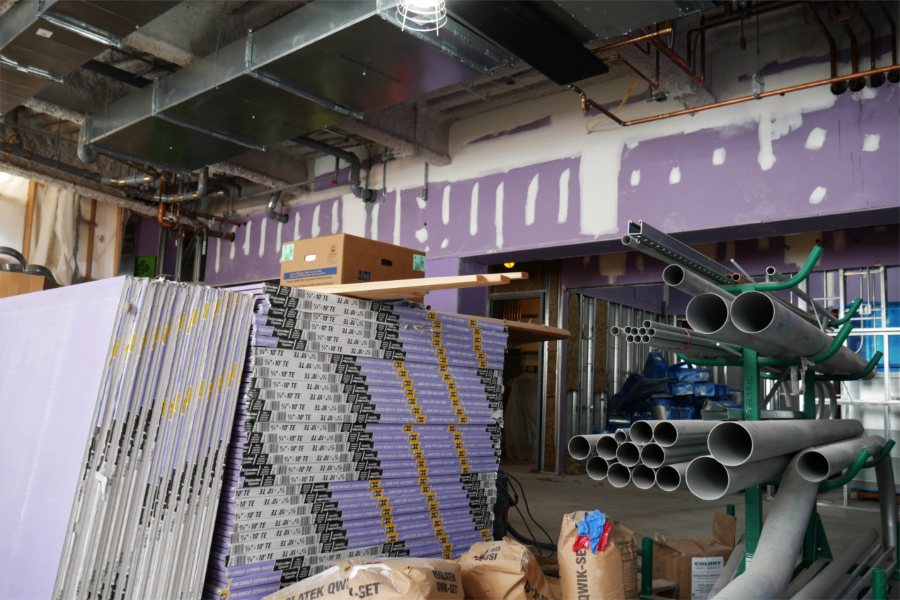 And on top of all that, the scientific mission demands building-wide resources unneeded in a dorm, such as compressed air, a specialized distribution system for natural gas, high exhaust-air capacity for fume hoods, etc.
"There's a pH neutralization system that treats water coming out of the lab sinks," Streifel adds. "There is a very large, for us, RODI system — reverse osmosis de-ionized water generating system — that's routed through the building." And so on.
Finally, Streifel notes that the process of inventorying equipment and supplies in Dana Chemistry and Carnegie Science halls is on track. It's an effort made necessary by the forthcoming reconfiguration of all Bates' science facilities, a strategic effort of which the construction of Bonney is one part.
"We've made huge progress in attic storage areas, chemical storage areas, weeding out things that aren't needed anymore, or that need a new home, or that otherwise aren't likely to go to Bonney," he says.
Now "we're moving into some smaller or less commonly used areas," with a major push likely during the college's COVID-extended fall break. "The more we can do now, the easier it's going to be later."
Can we talk? Campus Construction Update welcomes queries and comments about current, past, future, and aspirational construction at Bates. Write to hubley.ccu@gmail.com, putting "Campus Construction" or "Cardboard or foam egg cartons? Or free-range?" in the subject line.
Doug Hubley is a writer and musician living in Portland, Maine.