'Bobcat Box' Delivery and Pickup for On-Campus Seniors
In recent days, 460-plus Bates seniors around the world have received their Bobcat Boxes, filled with items for their Commencement on May 31, including gown, cap, tassel; a Bates pin from the college; and a 2020 class flag and Nalgene bottle, both selected by the senior class co-presidents.
The box also included a letter inviting parents and loved ones to take part in an annual tradition of Baccalaureate, that of blessings created for graduating seniors.
For the 23 Bates seniors who have remained in campus housing for a variety of reasons — including curtailed travel to their home countries due to the COVID-19 pandemic and on-campus thesis work — the boxes were given to them in Milt's Lounge in Commons.
The event was brightened with balloons and banners as Director of Dining Cheryl Lacey, seen in center photo below, presented their boxes.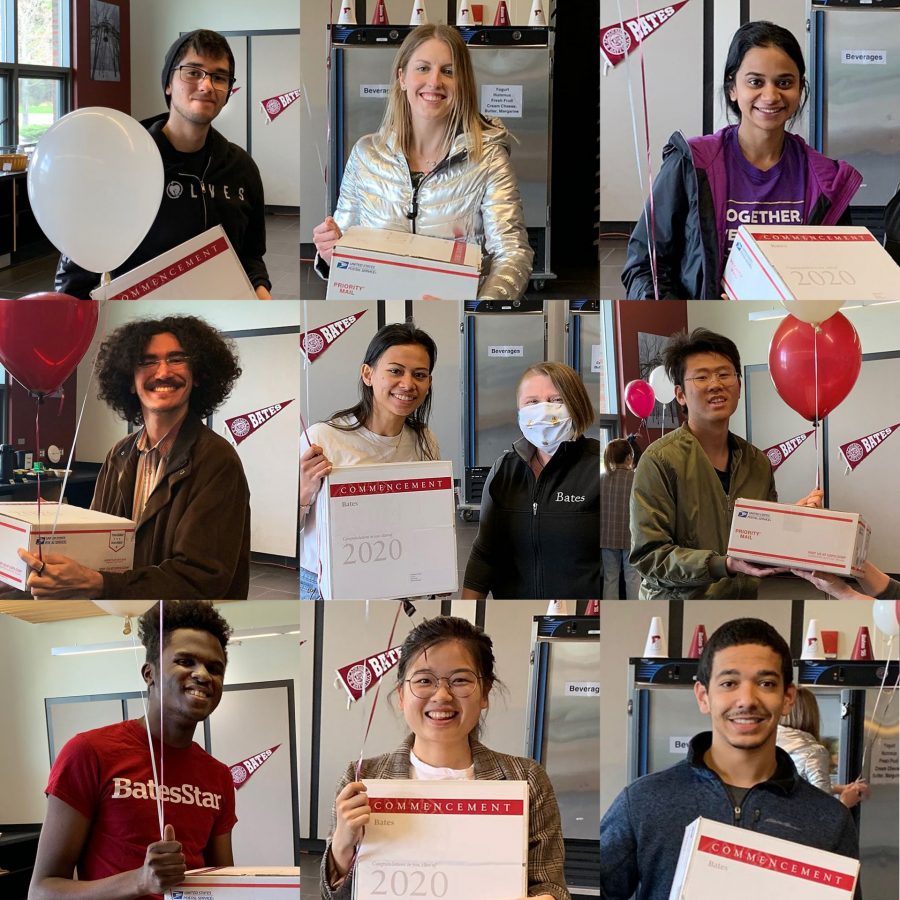 Among the seniors stopping by Milt's on May 5 were,  left to right:
Top row: Christian Bradna '20 of Guatemala City, Guatemala; Luca Polgar '20 of Budapest, Hungary; and Sukanya Shukla '20 of Dehradun, India.
Middle row: Ariel Abonzio Soares '20, Cuiaba, Brazil; Claire Deplanck '20 of Singapore (with Claire Deplanck '20, is director of dining Cheryl Lacey); and Xuchong Shao '20, Shanghai, China.
Bottom row: Senyo Ohene '20 of Accra, Ghana; Jiayang "Portia" Chen '20 of Wenling, China; and Anas Reda '20 of Casablanca, Morocco.