Senior Gift
The Senior Gift campaign informs seniors about the importance of philanthropy to Bates and invites them to start engaging in the annual alumni giving tradition. Through this program, the Senior Gift Committee hopes that their classmates will feel empowered to be a part of bringing the Bates experience to more students for generations to come.

Make a Gift!
Our goal is that 90% of the class will make a gift to Bates before graduation.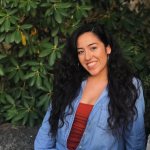 Anaïs González
, Co-Chair
I joined the Senior Gift because I was once misinformed about what it meant to give to the Senior Gift, whereas now, I aim to provide accurate information to Batesies who have been hesitant about giving back to Bates! Knowing that I have the potential to financially support teams, clubs, and departments that have positively impacted my Bates career, makes me want to give back to Bates and future Batesies!
---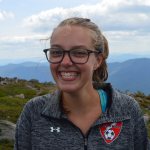 Lexie Jamieson, Co-Chair
I joined Senior Gift because I have loved my time at Bates and it has been so formative in the development of the person I am today. I feel as if it is only appropriate that we give back to the Institution that gave us so much, in order to help provide the same (and better) experiences for future generations of Batesies!
---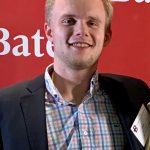 Cam Carlson, Vice Chair
I joined the Senior Gift because I have absolutely loved my time at Bates and wish to help share that experience with others. It's important to me that people understand why they should give to Bates and how that will help improve the school moving forward.
---
Christie Fatica, Vice Chair
I joined Senior Gift because I love Bates and I wanted to repay Bates students for everything they have given me while I have been here.
---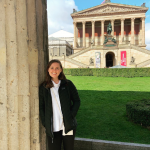 Abby Ford, Vice Chair
I chose to be a part of Senior Gift because I wanted to give back to the college that gave me so much and I wanted to contribute to bettering the college so that more future Bates students can have great experiences as well.
---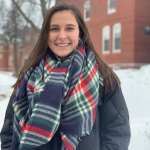 Alexa Jurgeleit, Vice Chair
I joined the Senior Gift Committee because I wanted to be able to help give back to the school which has provided me with so much. I want to help leave a legacy for Bates that will ensure that future students have wonderful experiences like the ones that I have had here. 

Patrick Beaton
Adena Bernot
Mel Binkhorst
Matt Chlastawa
Maya Church
Nolan Collins
Patrick Commers
Sam Cruickshank
Emmy Daigle
Cate Day
Abby Decter
Claire Deplanck
Sarah DiPillo
Holly Doyle
Matt Flanagan
Tyler Fuller
Max Gardner
Emma Gosselin
Priscila Guillen (Class Co-President)
Julie Hinton
Willky Joseph
Jacob Kauppila
MacKenzie Kelly
Beaufils Kimpolo-Pene
Olivia LaMarche
Ally Leahy
Ryan Lizanecz
Koyabi Mamam Nbiba
Vic McGee
Jack Monahan
Sara Moradi
Maddie Murphy
Daniella Pascucci
Lila Patinkin
Emma Polgrean
Paige Rabb
Melissa Rodriguez
Isabelle Rovinski
Gemma Rubi
Maya Seshan (Class Co-President)
Phil Simplicio
Will Sylvia
Gee Torres
Riley Turcotte
Julien Williamson
Phillip Wu
Committee Members must:
Attend monthly committee meetings and Senior Gift events. 

Solicit classmates directly and by staffing gift tables in Commons and at events.

Contribute to advertising efforts.

Lead by example and make a donation to the Senior Gift!
The average time commitment for a Senior Gift member is about 1 to 4 hours per month. The time commitment may be slightly higher during short term as your class tries to achieve its participation goal.
Being a member of the Senior Gift Committee will give you invaluable experience as a fundraiser with skills that are transferable to a wide variety of professions. In addition to gaining fundraising experience, you will also to meet some of Bates' most distinguished alumni and senior staff members during exclusive networking opportunities.
To join the committee, email Casey Andersen (randerse@bates.edu) or reach out to anyone on the Committee.
Because each gift provides crucial support in areas such as financial aid, athletic team support, academic programs, art programs, and internship opportunities. This is an opportunity to #PayItForward.
Because you will further enable the Bates experience for everyone, regardless of financial background.
Because you will be part of a community that believes in Bates and strengthens Bates for years to come.
Plus, did you know that when a lot of alumni give to Bates (regardless of the dollar amount), it helps Bates receive additional grant funding and influences Bates' position in national rankings!
Learn more here: https://www.bates.edu/giving/fund/