Bates Concert Series presents opera singers Kaduce, Gregory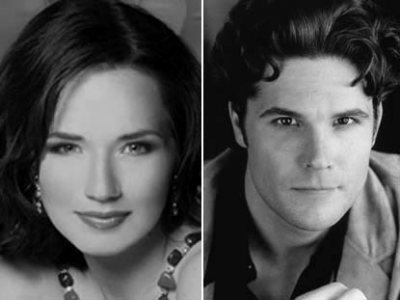 Up next in the Bates College Concert Series are acclaimed opera singers Kelly Kaduce, soprano, and Lee Gregory, baritone, performing at 8 p.m. Saturday, Feb. 9, in the Olin Arts Center Concert Hall, 75 Russell St.
The couple are award-winning rising stars in opera and are in demand on concert and recital stages throughout the United States. Their Bates program includes works by Granados, Debussy and Grieg, as well as operatic arias and duets.
Admission is $10 for adults and $3 for students. For reservations and more information, please call 207-786-6135 or visit the concert series Web site.
Kaduce is celebrated for her acting ability as well as her elegant, seemingly effortless singing. She has sung leading roles nationwide and in Europe, and also performs in recital and orchestral concerts.
For her creation of the title role in David Carlson's "Anna Karenina," which premiered in 2006, Opera News proclaimed Kaduce "an exceptional actress whose performance was as finely modulated dramatically as it was musically. . . . her dark, focused sound was lusty and lyrical one moment, tender and floating the next." Also last year, Kaduce won rave reviews for her Boston Lyric Opera debut, in the title role of Massenet's "Thaïs."
Lee Gregory is a gifted actor and singer with a beautiful, warm and ringing voice. Boasting a wide and varied repertoire, he is known for his ability to inhabit his characters. Opera News praised his Mercutio in Nashville Opera's "Roméo et Juliette" as "nearly ideal."
Gregory's recent performing highlights include his New York City Opera debut as Moralès in "Carmen" and his multiple roles in the Boston Midsummer Opera's production "The Marriages of Mozart." A regular performer with American Opera projects, Gregory has collaborated with new playwrights and composers. He added to his musical theater credits with a gala concert with the Pensacola Symphony Orchestra celebrating Richard Rodgers' centenary.
The Bates College Concert Series concludes on March 1 with the popular American roots band The Holmes Brothers.
View Comments