Global Lens series continues with Iranian film Those Three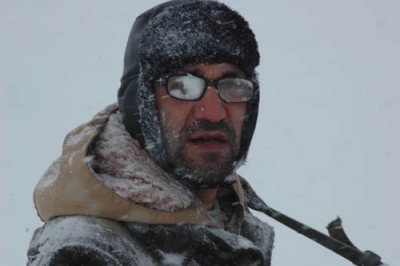 The Global Lens film series at Bates College continues with Those Three, by Iranian director Naghi Nemati, in 8 p.m. showings on Friday, Nov. 13, and Sunday, Nov. 15, in Room 105, Olin Arts Center, 75 Russell St.
Hosted by the Bates College Museum of Art, the series continues on Fridays and Sundays throughout the fall. Admission is $5. Those Three (80 min.) is in Farsi and Turkish with English subtitles. For more information, please contact 207-786-6135 or this olinarts@bates.edu.
The annual series is produced by the Global Film Initiative to promote cross-cultural understanding by showing American audiences little-known, skillfully made independent films. The initiative believes that "a powerful, authentic narrative can foster trust and respect between disparate cultures and mitigate the social and psychological impact of cultural prejudice."
Made in 2007, Those Three is about three conscripts in the Iranian Army who, just one day before completing their military training, desert their camp and attempt to survive in the unforgiving wilderness of northern Iran in the midst of winter.
Those Three is Nemati's first feature film. Born in Ardebil, Iran, in 1977, he studied film directing at Soureh College of Isfahan, Iran. He began making short films in 1993. His first film, Like the Umbrella of the Kids was screened at numerous film festivals around the world and received several awards.
Learn more about Those Three and the entire Global Lens series.
View Comments