Quips and quotes overheard during alumni dance reunion rehearsals
A visitor on the first floor of Chase Hall heard muffled footfalls coming from somewhere on the second floor. Climbing the stairs, we also heard intermittent music — Benny Goodman's "Swingtime in the Rockies" — and lots of voices.
"Jump, and pose, and five, six, seven, eight."
"This pose is so weird."
"Receivers to the outside."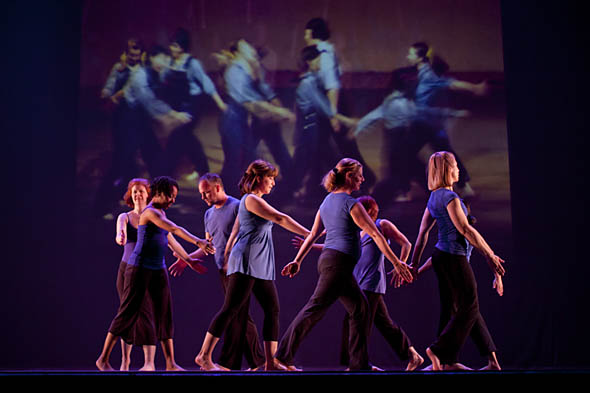 Across campus early Saturday afternoon, from the Plavin Studio in Merrill Gym to Chase and Pettigrew halls, nine cohorts of dance alums, loosely grouped by class years, set about choreographing short dances. That evening they performed their new pieces and others during a tribute concert in Schaeffer Theatre honoring the memory of Leonard Plavin, husband of Marcy Plavin, founder of the Bates dance company. (See a video clip of rehearsals elsewhere on campus.)
To inspire the choreography, each group had in hand a few historical dance photos — photos taken by Leonard Plavin over more than four decades — which were to be projected during the dances that evening.
"Advil and a shot of tequila."
Inside Skelton, the windows were wide open, chairs pushed back to the walls and carpets rolled up. That left the floor open to alumni dancers Lilliana Amador-Marty '91, Jo Ann Clark '89, Michael Foley '89, Tracey Kimball '88, Kristin Purdy Russett '88, Michelle Quagge Bennett '89, Susan Rooney '91 and Rachel Segall '91.
Here's what the dancers' creativity, friendship, and camaraderie sounded like, in their own words:
Anybody crying yet?
I didn't feel I had the timing right.
It's good, you guys!
This is what they're doing in the photo.
Let's do the Marcy thing!
Will she appreciate that?
Dig, dig, dig. We should say that!
It's the only way to remember.
Phrase, phrase, phrase, floor, floor, roll, roll.
He's holding it against you because you still have his Vermont reggae T-shirt.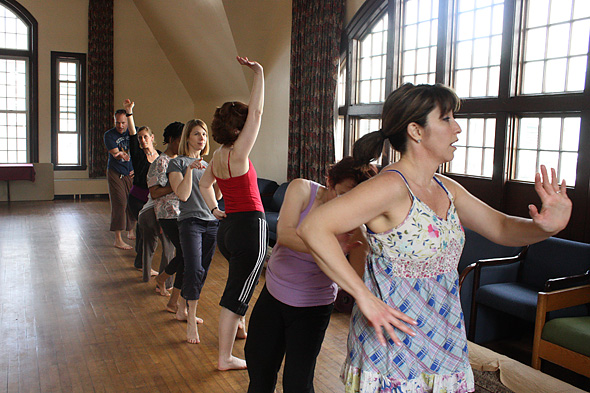 Should we form a pyramid?
We'll just be sweaty and slip off.
I don't want to go home with a broken leg.
My brain is full. What can we repeat that we already know?
What if we scallop to the middle?
Seafood references are always good.
This pose is so weird.
I can't hold it.
Do a different body part.
We are going to be so sore tomorrow.
I'll need an Advil.
An Advil and a shot of tequila.
Just one shot?
That's all I can handle now.
Kick ball change.
Should we have gestures?
Punch, kick, push, leg, leg, push, turn, dig, turn, dig.
Oh my god, I'm out of breath.
Very cute! If it were staggered, we'd all finish together.
I like that!
This is very Charleston-y.
Remember that VFW event where they actually thought we were strippers?
Five, six, seven, eight, turn.
It's hard.
It's not that hard.
Marcy could remember someone has a different class year because they took a semester off to study in Belize.
Yay! I love that.
I remember that guy. He always wanted to be naked in rehearsals.
Jump, and pose, and 5-6-7-8.
You know you want to touch my butt.
How you doin', Susan Rooney? Fine, Michael Foley!
You are awesome!
View Comments