Stacey A. Rizza P'20
Executive Medical Director for International Practice, Mayo Clinic
Rochester, MN
Years of Service: 2021-2026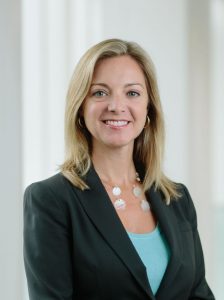 Dr. Stacey Rizza is the Executive Medical Director for International Practice at Mayo Clinic. She is an Infectious Disease physician at Mayo Clinic in Rochester, Minnesota. Dr. Rizza has been involved in laboratory based research, clinical research, educational initiatives, and has maintained a busy clinical practice. She is a Professor of Medicine and previous Chair of the Mayo HIV Clinic. Dr. Rizza currently serves as the Associate Dean of the Mayo Clinic School of Health Sciences, as well as previous President of the Mayo Clinic Staff, and previous Associate Director for Diversity and Inclusion, Mayo Clinic Transplant Center.

Stacey has held NIH grants and received a patent for her work on HIV and HCV mediated apoptosis. She is the Chair of the National Comprehensive Cancer Network (NCCN) / African Collaboration for the HIV and Cancer Treatment Guidelines Committee, a member of workgroups within The International Network for Strategic Initiatives in Global HIV Trials (INSIGHT), and has served on committees and held roles within the Infectious Disease Society of America, the World Health Organization (WHO), and the Center for Disease Control (CDC).

Stacey graduated with a degree in Biochemistry from Haverford College and received her Medical Degree from the Mayo Clinic Alix School of Medicine. She did an Internal Medicine Residency and Infectious Disease Fellowship at the Mayo Clinic School of Graduate Medical Education, followed by a Post-doctoral Fellowship in HIV and HCV Immunology at the University of California, San Francisco.

Her experience in international practice and academic initiatives provides a global perspective for healthcare collaborations.
Stacey has two children and lives in Rochester, Minnesota with her husband Andrew.  Her daughter was a member of the Class of 2020.