---
FAQs
Answers to Common Questions about the Bates Fund and Volunteering.
---

Q: Why should I use the Volunteer Online Tool, aka the Garnet Gateway system?
A: The Volunteer Online Tool is a great resource for volunteers to access information about their assignments. And because it is electronic, the online tool saves Bates the cost of printing and mailing paper information to class agents. Further, it allows class agents to have all of their information in one easy to use place online. Also, it provides you instant access to up-to-date information anywhere you have internet access.
In addition to its accessibility, the Online Tool also lets you know immediately when one of your classmates makes a gift. It also provides important information to Bates. For example, it allows Bates to instantly know the outcome of your contacts with classmates, including refusals, pledges, and other outcomes. It also allows Bates to easily answer any questions you might have quickly and easily.
Q: How is Bates Fund money used?
A: Far from a "black hole," Bates Fund budget-relieving gifts support the fundamental aspects of a Bates education: everything from faculty salaries and curriculum development to athletic team travel and dance performances. Examples of Bates Fund support for this fiscal year: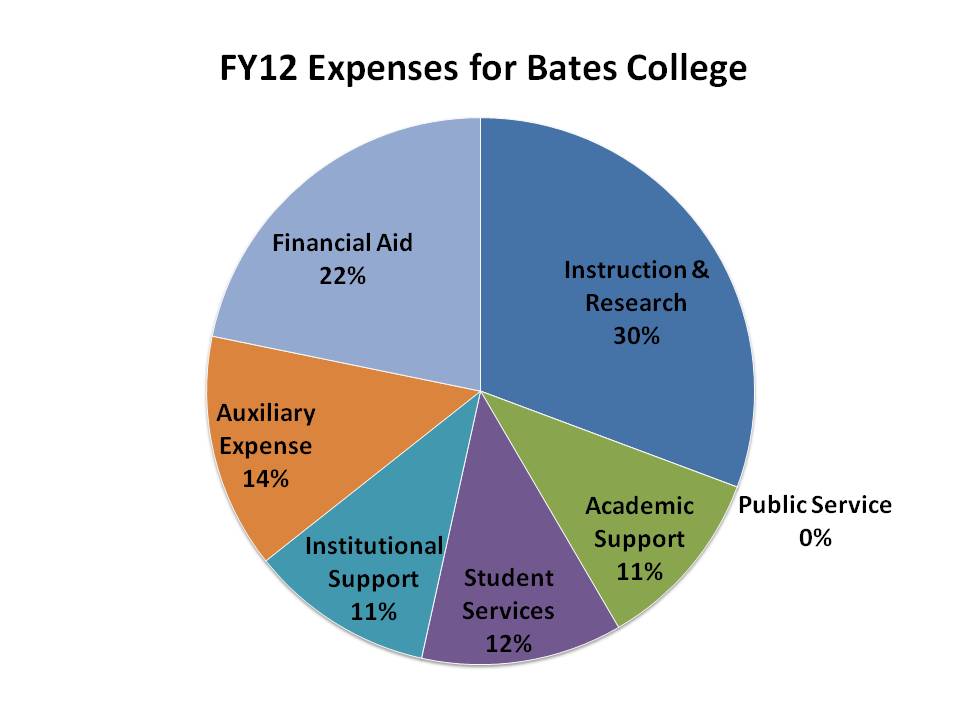 Financial Aid: Provides partial support for the 44% of students who receive financial aid. In FY12, the average college-administered grant was $34,823.
Instruction and Research: Helps compensate 200+ top-in-their-field faculty members, allowing Bates to maintain a 10:1 student to faculty ratio.
Academic Support: Goes toward necessary Library staffing, technology, and holdings to support 350,000 Library visits by students, faculty, and guests.
Student Services: Supports increased Career Development Center offerings and events—such as one-on-one counseling, Employer Information Sessions, internships, and workshops on topics ranging from networking to resume building.
Q: What types of gifts are included in the Bates Fund?
A: Currently, the Bates Fund includes all budget-relieving gifts that will be used for the following academic year. Not all gifts made to the college are counted toward the Bates Fund. However, all gifts made to the college count toward alumni participation, which is a very important measure of Bates support.
Most gifts that restrict usage are not included in the Bates Fund. Examples of gifts of this nature include donations made exclusively to the arts, the endowment or capital projects. Generally, Bates Fund gifts are donations that provide unrestricted support to the college. However, a few areas of "restricted" giving are included in the Bates Fund. These areas include: scholarships, faculty support, library, or student life. Donors who give $5,000 or more may name a current-use scholarship as a part of the Bates Fund's "Named Scholars Program."
Q: How does Bates count Reunion gifts?
A: Bates counts class gifts in Reunion years differently than in non-Reunion years. Donations made by the members of a Reunion class outside of Bates Fund giving and pledges to give in future fiscal years are some things the college considers when accounting for Reunion gifts. Here are some examples:
Your 25th (or other) Reunion is in 2017. If you make a pledge this year of $1,000 over five years ($200 annually in FY13, 14, 15, 16 and 17), your class will get credit for $200 per year in FY13-16, and during your Reunion year in FY17, it will get credit for the full $1,000.
Even better, if you also made a similar pledge in FY17 for the years FY17-21, your class would get credit in FY17 for this $1,000 as well as the $1,000 for future fiscal years. You would make a total gift of $500 in FY17 (year 5 of the first pledge, and year 1 of the second pledge), but it would appear as $2,000 in your 25th Reunion year.
Q: Why does a small gift matter to Bates? What's the big deal about participation?
A:  There are several reasons why participation matters! Here are some of the reasons that are most important to Bates.
Bates' national status is based in part on the participation percent of alumni in the annual fund, i.e. percent of alumni who make gifts. Strong alumni involvement is a key driver of how Bates is perceived.
Bates' stature as an "elite" institution benefits all alumni who are in the job market. Having Bates on one's resume helps open doors and opportunities. If Bates' stature declines, so does the value of all of our diplomas.
Federal and corporate grantors pay a lot of attention to the participation percent, so even a $1 gift helps since it increases our participation percentage.
Many Batesies go into education, medicine, research, public service, social services, etc. When I make a gift to Bates, I leverage my piddly amount of money, helping Bates develop a lot of folks who will go out and do great things in the world.
Q: Bates is asking me to "reconnect with my classmates and reconnect them with Bates." What does that mean?
A: Even though you are calling to ask for money, first and foremost, this is a conversation about Bates and building the Bates community. Try to be as relaxed as possible and of course, humor makes every conversation easier and more interesting for you and your classmate. Knowing what's happening on campus will make you more confident. Alumni who are knowledgeable about Bates are much more likely to support the college. You can visit the Bates Fund Volunteer Center or bates.edu/news to get updates before you contact a classmate.
Q: People I'm calling frequently bring up the cost of a Bates education and the articles about Bates being the most expensive school in the country. How should I respond to their concerns and questions?
A: Bates is a very costly school. Bates prides itself on providing the highest quality educational opportunities for students of all backgrounds. The article that was highlighted in 2011 compared Bates' comprehensive fee (tuition plus room and board) to the cost of other school's tuition – without including their room and board charges. It is an apples to oranges comparison. Bates is certainly not the most expensive school in the country. That said, to reduce Bates' tuition dependency, we need the support of alumni and parents.
Bates' selection of Clayton Spencer as the college's eight president will have a significant impact upon the role of financial aid. President Spencer has been one of the most dedicated policy makers and administrators in the reformation of financial aid. Chronicle of Higher Education blogger Richard Kahlenberg, who writes about innovation in higher education, names Clayton Spencer's appointment as Bates' eighth president a "best" moment for college equity in 2011.
Q: I assume that if folks pledge, i.e., say to me they will give $100 for Bates' current fiscal year – will they get any follow up mail from the college? And, if someone doesn't pledge but will "think about it," will they get a prompt in the mail, too?
A: For pledges with a specified amount (i.e. $100), once entered into the Volunteer Online Tool the alumni or parent will be sent a pledge reminder in the mail later in the year. Alumni or parents who make specified pledges will not receive any further solicitations, but only pledge reminders.
For pledges without a specified amount (otherwise known as unspecified pledges), once entered into the Volunteer Online Tool by a Bates Volunteer, the alumni or parent will continue to receive solicitation mailings regarding the Bates Fund. In other words, an unspecified pledge is treated as if no pledge were made.
Have a question that isn't answered on the Volunteer Center? Email volunteer@bates.edu and a Bates Fund staff member will answer your question.
---
Volunteer Groups
Contact Us