Campus Safety Team
Thank you for visiting our Campus Safety Team page. This page was the result of suggestions by students. The Campus Safety Team in partnership with many college departments strives everyday to provide the Bates Campus Community a safe learning environment. We encourage students, faculty, staff and visitors to contact Director of Campus Safety Paul Menice or any Campus Safety Team member with questions or suggestions on how we can better serve our community.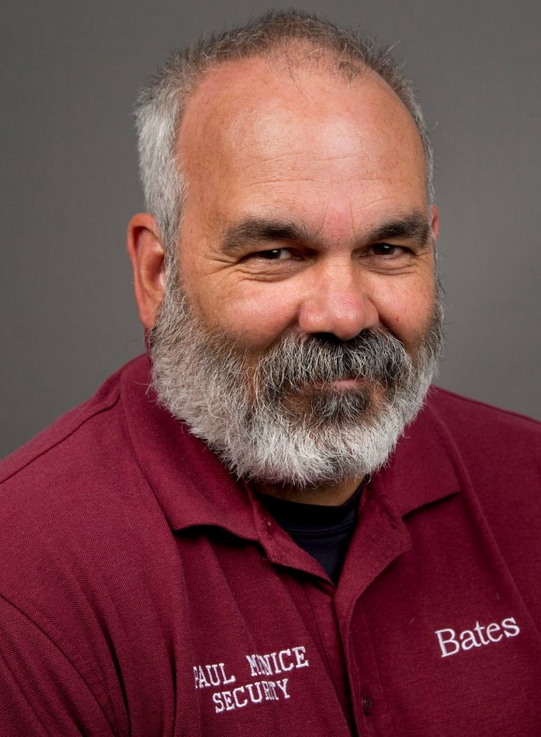 Paul Menice, Director of Campus Safety
Paul has been the Director of Campus Safety since February, 2020, in addition Paul is responsible for Clery Compliance. During his time at Bates College he has held a number of positions including officer, shift supervisor, assistant director, and RAD instructor. Paul arrived at Bates in 1989 from Curry College, where he was a Shift Supervisor for Public Safety.  Paul has a Bachelor of Arts degree in criminal justice from St. Joseph's College in Standish, Maine. Outside of Bates, Paul has been a long-time high school basketball and soccer coach. Over the years he has developed many lifelong relationships with students, which have carried over into their professional lives.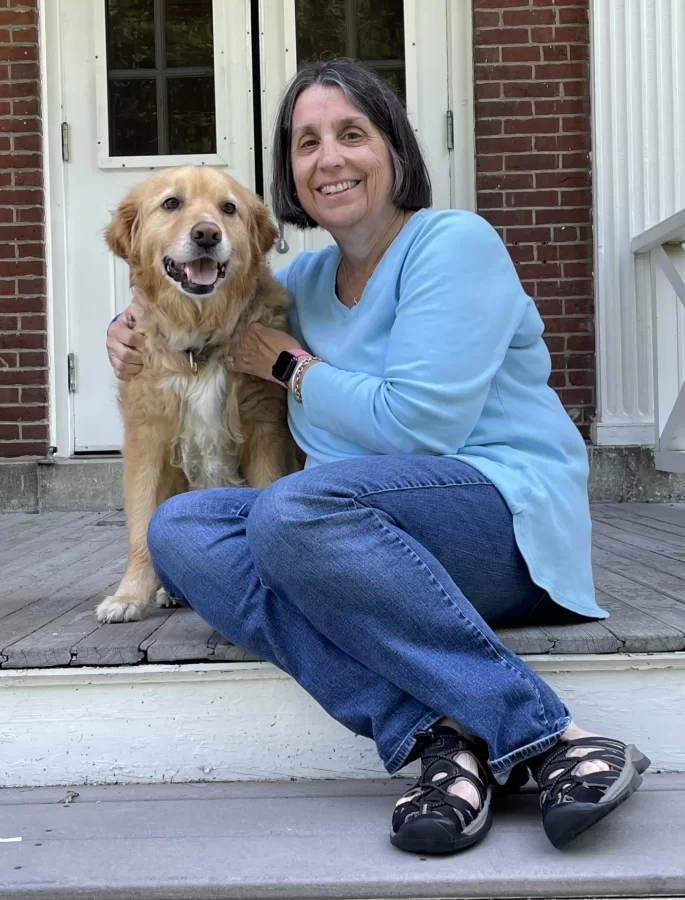 Suzy Nattress, Electronic Access System Manager
Suzy has worked at Bates for 43 years—first in Campus Advancement, then Administrative Computing (ILS), and finally in Campus Safety. Suzy has been involved in significant projects such as moving alumni data from eight-inch floppy disks to a central computer; bringing ethernet to the student residences; and establishing electronic access to on campus buildings. Aside from issuing ID cards and keys, Suzy is also known for her participation in Student Life's study break program with her golden retrievers. Suzy has volunteered with golden retriever rescue by transporting dogs, visiting prospective adopters, and fostering dogs. She is the former secretary and past president of the Maine Golden Retriever Club. Suzy participates with her dog, Cooper, in AKC obedience, rally, and scent events.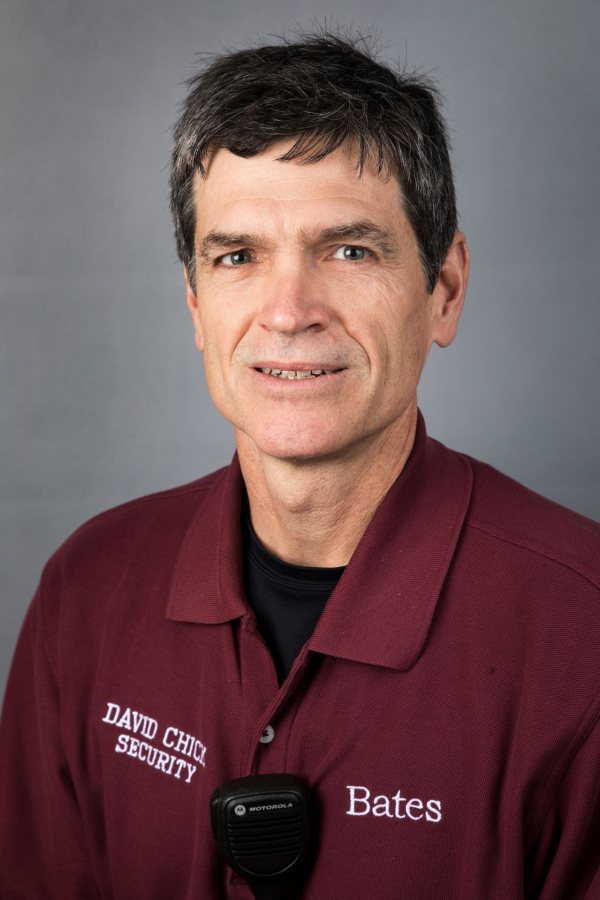 David Chick, Bobcat Express/Parking Coordinator
David has worked at Bates Campus Safety since October, 2016—first as campus patrol, and as of 2019, as Bobcat Express and Parking Coordinator. Before Bates, he was employed in the Lewiston Police Department for over 32 years. David worked in various roles for the Lewiston Police: as officer, detective, supervisor, and assigned to the Chief's office overseeing the professional standards associated with maintaining and promoting the accreditation of the department. He was responsible for the handling of four consecutive three-year review cycles with merit awards. David points to a long family connection with Bates College. His great-grandfather and grandfather were both alumni, as were a number of aunts, uncles, and cousins. He said that his father was proud when he retired from the police profession to come work at Bates. David enjoys getting to know and interacting with the students, staff, and faculty.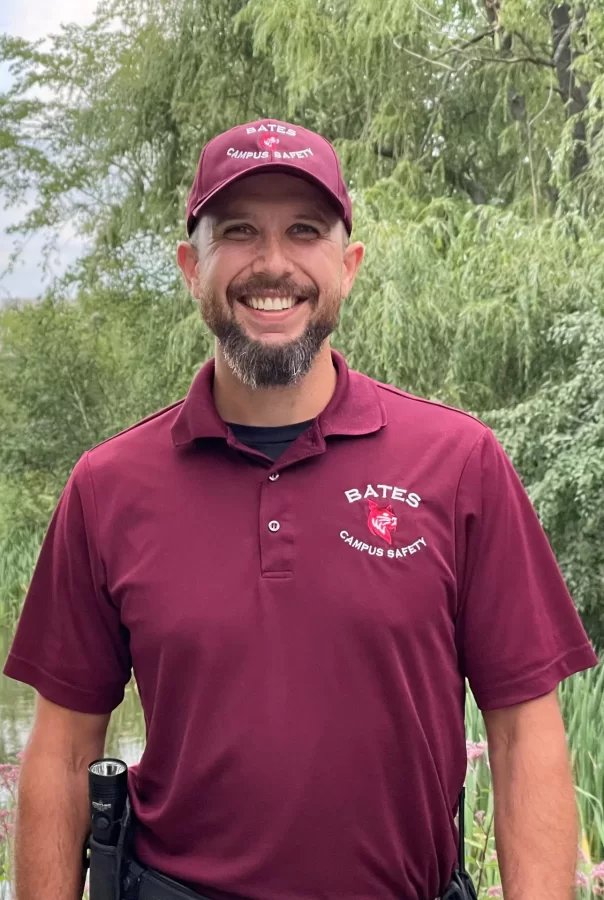 Sean Bilodeau, Shift Supervisor
Sean has worked at Bates Campus Safety since April, 2016.  Before Bates, he worked security in a psychiatric hospital and also worked in construction.  Sean is a 2013 graduate of Husson University in Bangor Maine, where he earned a bachelor's degree in Criminal Justice. A lifetime resident of Maine, Sean lives with his wife, two children and two dogs, and enjoys spending time with all of them.  He also enjoys the outdoors, hunting, fishing, and camping.  His days off are spent homeschooling his children, working around the house, cooking and watching family movies. He thinks of Bates as a welcoming place to work, and finds the staff and students friendly.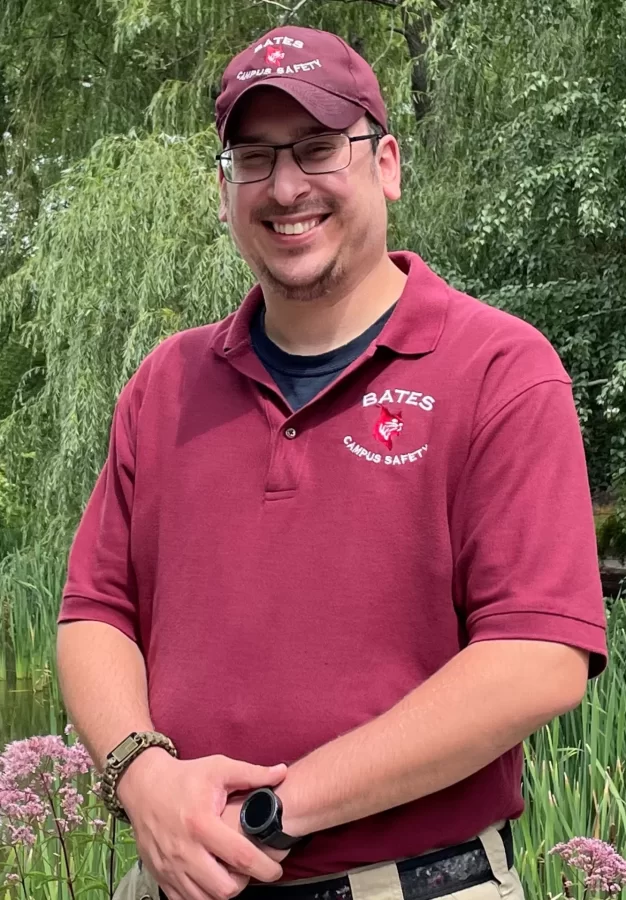 Jon Caron, Shift Supervisor
About Jon
Jonathan has been at Bates since January, 2020. Before joining the Campus Safety team, I previously worked at St. Mary's Hospital in the Environmental Services department, as a supply tech in the OR, and lastly as a Security/Crisis officer- the majority of which I spent in the Behavioral Emergency Department. I also worked for a time at Lewiston/Auburn 911 as a dispatcher. I attended college at Norwich University in Vermont, majoring in Criminal Justice.
I was very excited to make the transition to Bates and join this team. So far it has been a great experience. I enjoy making connections with the students and am eager to see the next generation of leaders succeed.
When not working I enjoy spending time with my family, playing disc golf, attending live sports (especially hockey), and traveling. If you see me around campus, don't hesitate to say hi!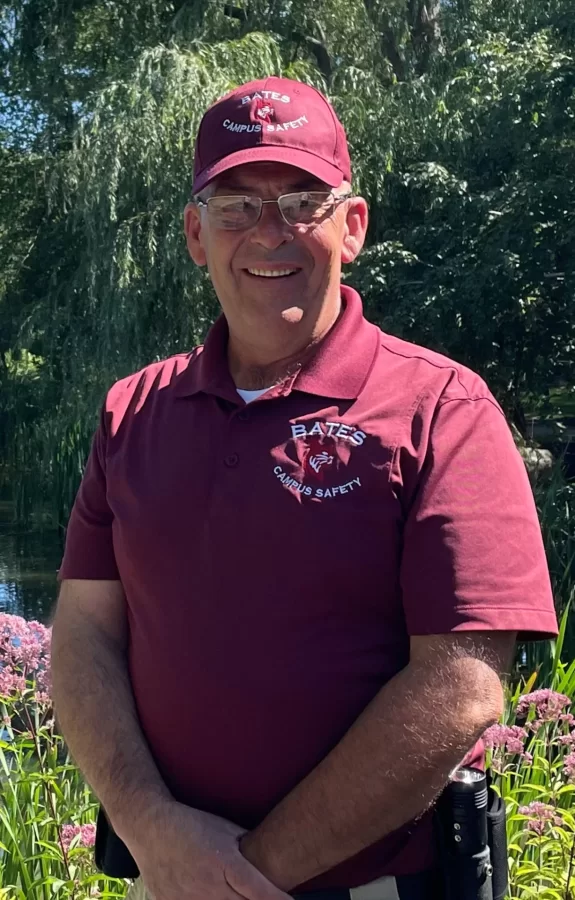 Mark Cayer, Community Engagement Supervisor
Mark has worked at Bates Campus Safety since January, 2022. Mark's two areas of focus are working with the department in our efforts to create meaningful student and faculty engagement. Secondly he works to engage both off campus students and neighborhoods around Bates to improve relations. Prior to Bates, Mark was a 20 year law enforcement officer who focused most of his career investigating crimes against women and children. Mark left law enforcement as a Lieutenant of the Criminal Investigation Division. Mark has served in every elected position for the City of Lewiston, including Mayor of Lewiston in 2020-2021. Mark comes to work each day, looking forward to connecting with some of the best students and faculty in the nation.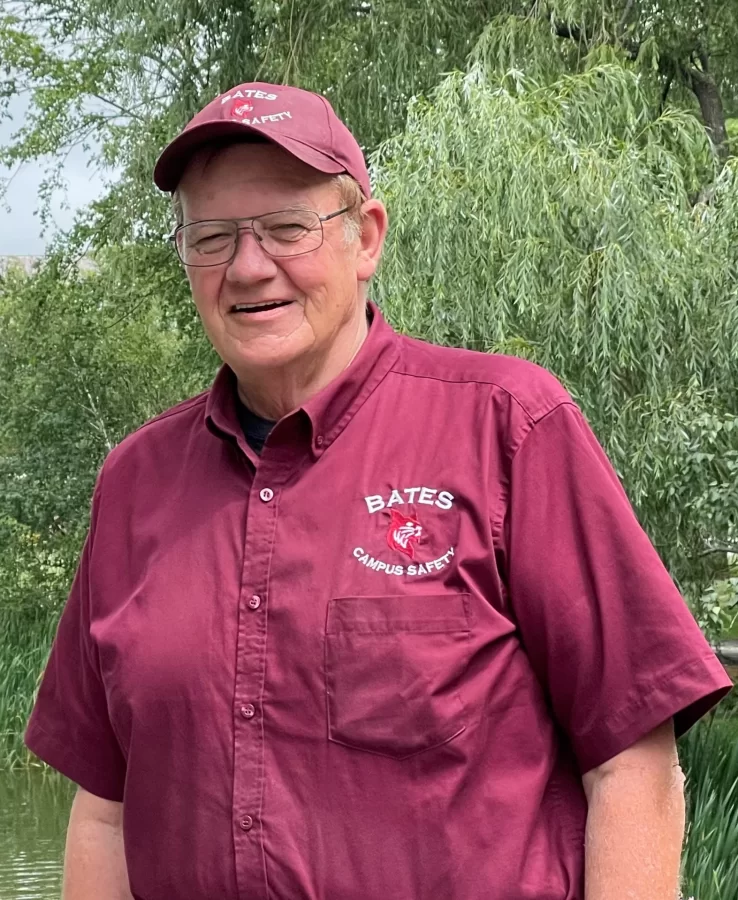 Paul Healey, Shift Supervisor
Paul has worked at Bates College since November 2011. He is currently the Shift Supervisor of the day shift. Before Bates, Paul worked at Bowdoin College Security for eight years as a Shift Supervisor. Paul spent twenty-five years in the New Haven Police Department working in the Narcotic Unit, Metro Unit, Investigative Services Unit, and as a Sergeant in the K-9 unit. Paul was a founding member of New Haven Police Community Based Policing. Upon moving to Maine, Paul spent time doing carpentry work for friends and has also started to do some hiking with his wife.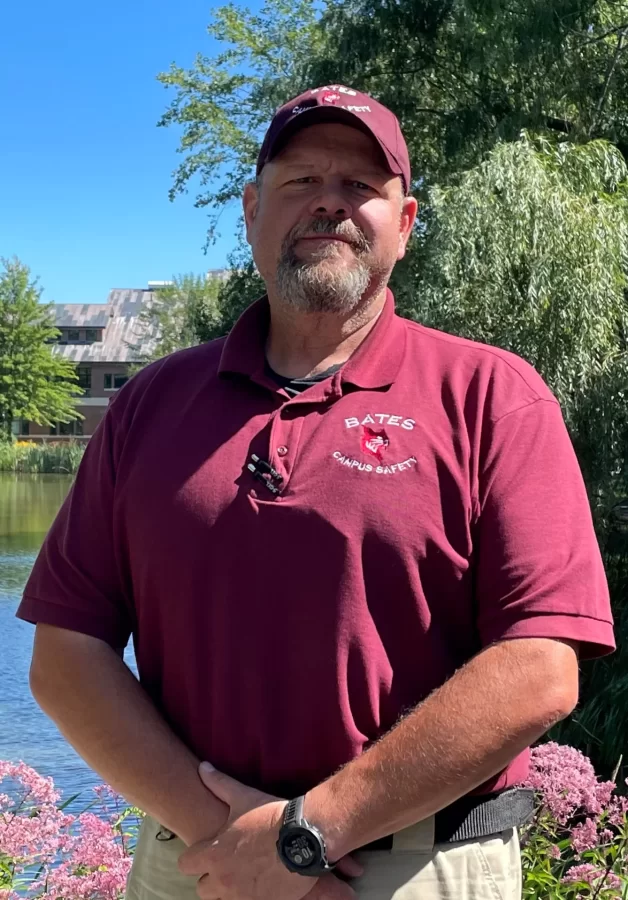 John Heutz, Shift Supervisor
John has worked at Bates Campus Safety since February, 1999.  He is currently the Shift Supervisor of the day shift and is also a member of the Bates Care Collaborative (formerly that Bates Intervention Team.  The purpose of the Bates Care Collaborative (BCC) is to determine if an individual poses, or may reasonably pose, a threat of violence to self, others, the Bates College community, or the greater Lewiston-Auburn community and to intervene in order to avert a threat and maintain safety. The team will review, assess and respond to concerning behaviors exhibited by students, staff, faculty and visitors in an effort to prevent violence and maintain a safe and secure learning and working environment. John has a bachelor's degree in Criminal Justice from St. Anselm College. John enjoys hunting, bass fishing, fossil/shark tooth hunting, miniature painting & BBQ.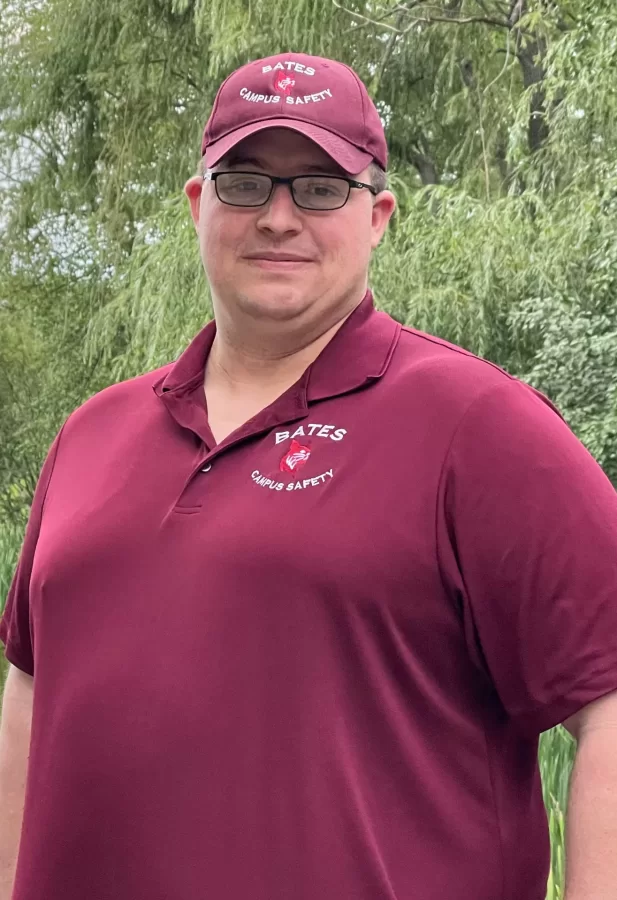 Warren Barter, Campus Safety Officer
Warren has worked for Bates Campus Safety since 2021. Prior to Bates, Warren spent five years at the Hyde School in Bath, Maine as the Safety and Security Coordinator. He was also a leader at Hyde's Wilderness School in Eustis, Maine. Prior to that, he was a US Marine for four years, visiting more than two dozen countries. Warren's time in the Marines fostered a deep love of history and geography, and he almost always has an interesting piece of historical trivia on hand to share. His hobbies outside of work include a wide variety of activities from outdoor sports like fishing and hiking to reading and playing video games.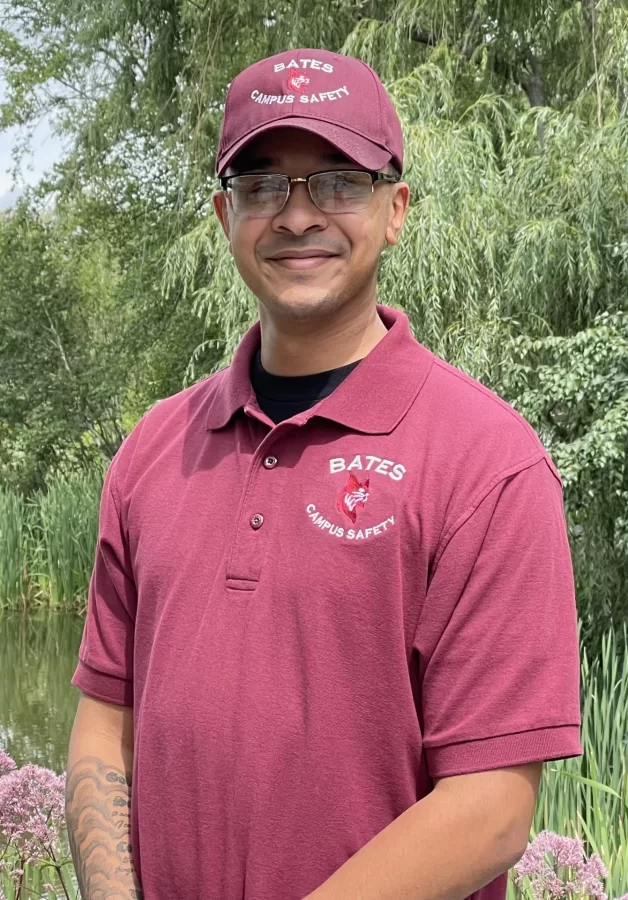 Deion Jenkins, Campus Safety Officer
Deion Jenkins has a total of four years experience with the Department of Campus Safety. Before coming to Bates College he attended Central Maine Community College, where he obtained his associates degree in Criminal Justice as well as an Advanced Certificate in Police Operations. While he was attending CMCC he was employed by their Security Team and achieved the rank of Lieutenant. In Deion's free time he likes to spend time with his wife and three kids.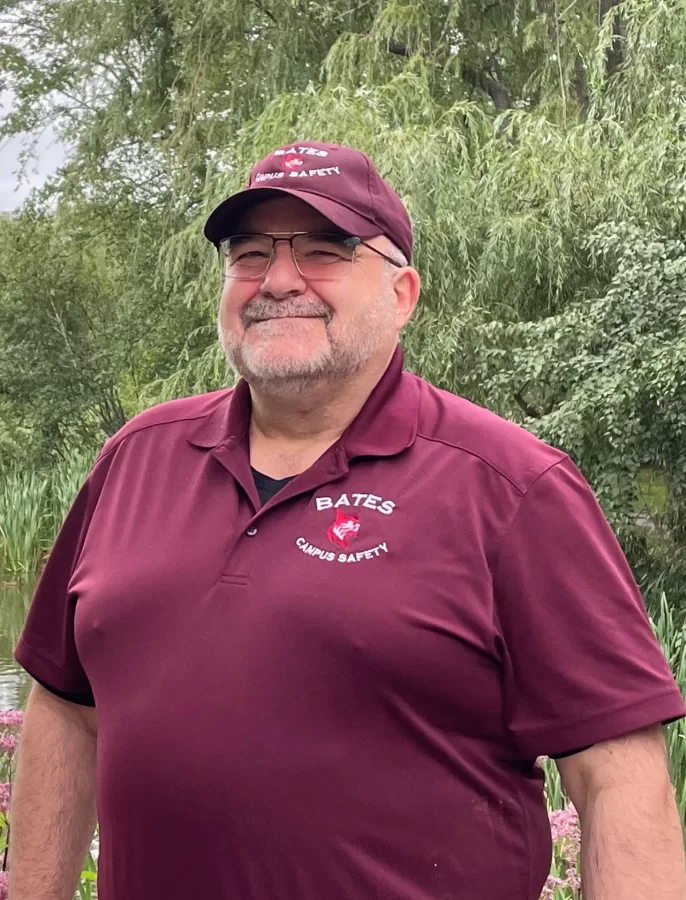 Ric McQueeny, Campus Safety Officer
Ric has worked at Bates since 2018 as a shuttle driver, testing center employee, Campus Safety dispatcher and most recently a Campus Safety Officer. Previously Ric worked as a tow truck driver, emergency dispatcher, photocopier technician and is proud to have served our country as a United States Marine for six years. In Ric's off time he enjoys spending time with his wife, working in his gardens, traveling and hiking. I am also a lifelong learner who enjoys interacting with the students, staff and faculty of Bates College.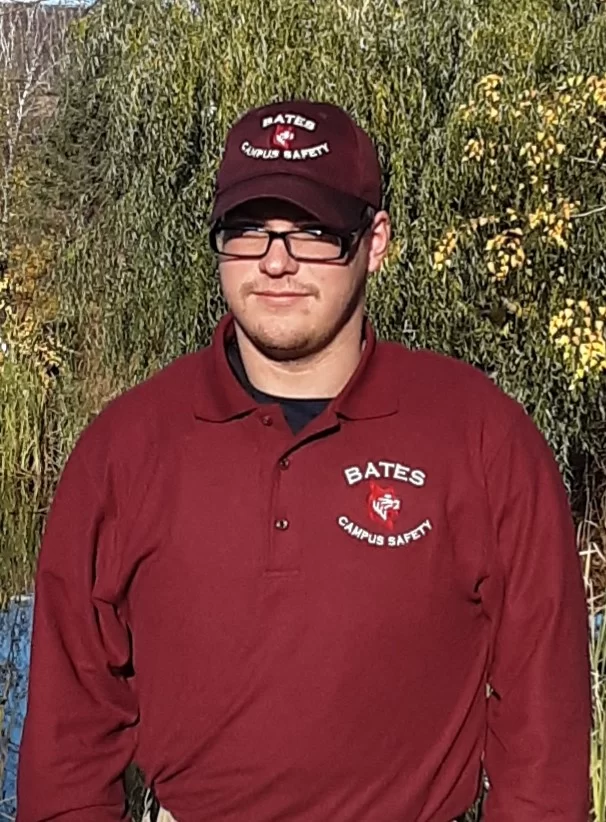 Uriah Merrick , Campus Safety Officer
About Uriah
I started working at Bates College in 2021 as a Temporary Dispatcher for the Campus Safety Department, then I was hired on as a Campus Safety Officer. I have been involved with the fire service for twelve years now. I currently work for both Mechanic Falls Fire Department where I started in 2018 my current role is Lieutenant ,and Hebron Fire Department as a Firefighter/Driver where I started back in 2021 . I have also been previously hired in a few different companies in a security role.
I graduated from Leavitt Area High School in 2015. Outside of work I enjoy doing outdoor activities such as hunting, fishing, and just being outside. I enjoy helping others out and having positive interactions with others. I also enjoy learning new things. I am very happy to be part of the Bates Community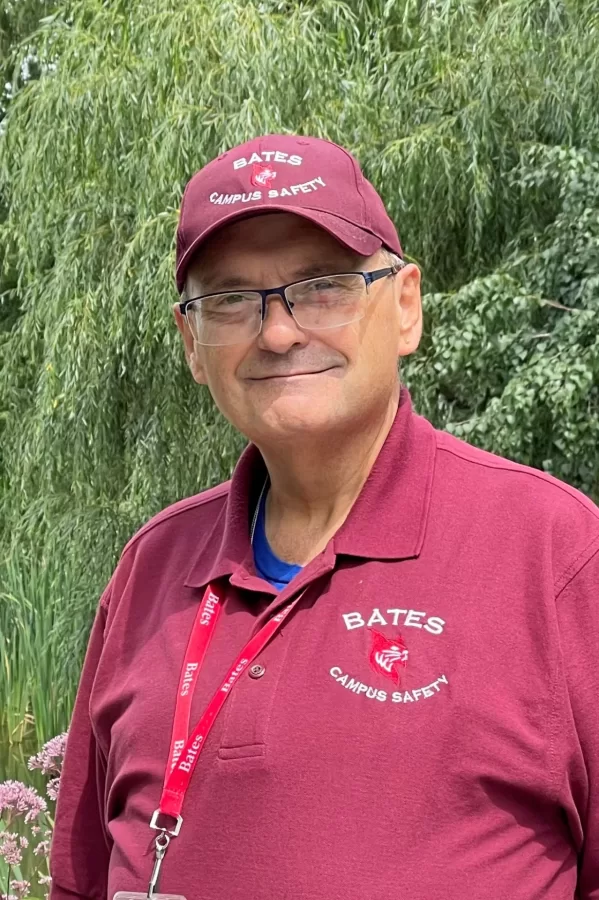 Kevin J. Michaud, Campus Safety Officer
Kevin has worked at Bates Campus Safety since fall, 2021. Yet he has been employed at Bates College for a little more than five years. Many Bates students will recognize Kevin from his work as a chef in Commons, where he was stationed either at the Pasta Bar or the Grill.  So, it is not uncommon for students to address him as Officer Chef Kev. Prior to Bates, Kevin spent over 19 years as the Dining Services Coordinator at the University of Maine at Augusta. Before that Kevin was employed as a Human Rights Delegate for the Red Cross. Kevin brings a wealth of talent to his role in Campus Safety and very much enjoys his daily interactions with our students, faculty and staff.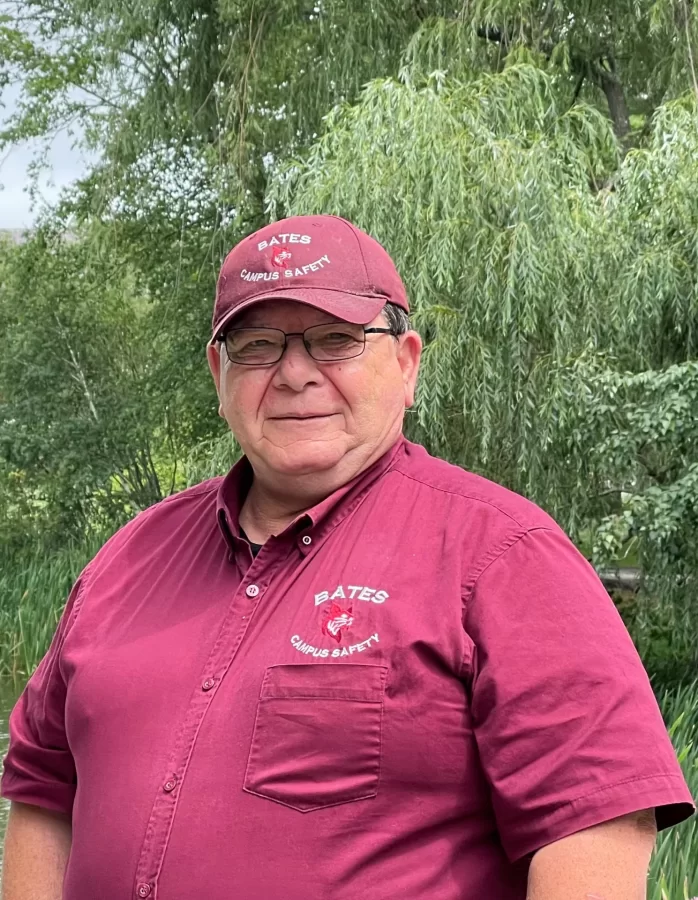 James Miclon, Campus Safety Officer
Jim has worked at Bates Campus Safety since 2018, which he enjoys immensely. As a people person, Jim takes pleasure in interacting with students, staff, and faculty. Recently Jim has taken on the role of the lead person tasked with following up on open campus investigations. Before Bates, and for three decades, he was a chief child and adult sexual assault investigator and a civil rights officer. Jim's final thirteen years in public safety was the director of a large county 911 dispatch center.  In Jim's free and spare time, he enjoys riding his ATV and teaching ATV safety classes with Maine Inland Fish and Wildlife. Fishing, making birdhouses, walking his forty-acre property enjoying the trees and wildlife. Jim is an American Civil War and history enthusiast.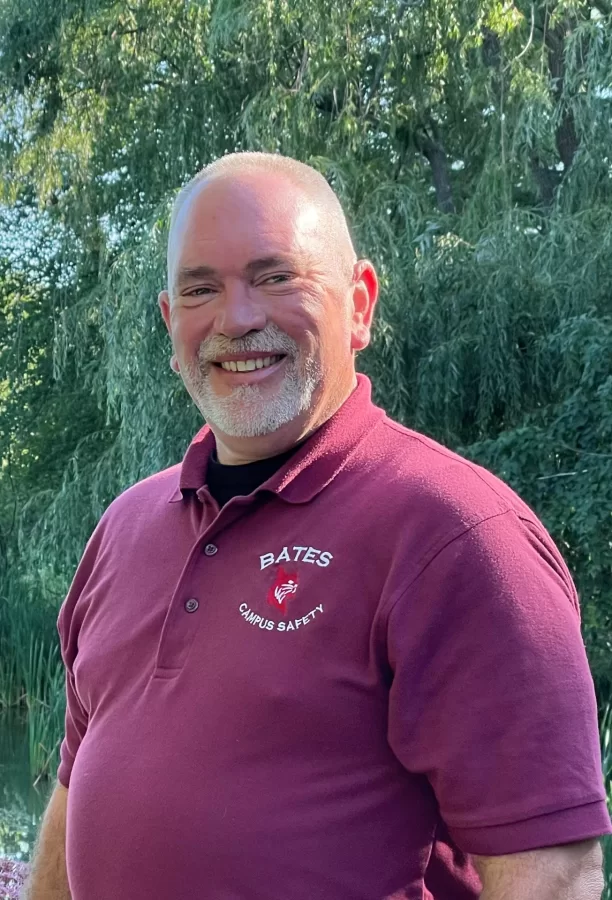 Michael Voisine, Campus Safety Officer
Michael has worked at Bates Campus Safety since 1997. He is the Campus Safety Officer on the day shift. Over his many years with Campus Safety Michael has served as a Training Officer, Parking Coordinator and organization of the department's evidence room.  Michael has always felt a strong connection to Bates College having grown up near the campus.  He greatly appreciates Bates's strong sense of community. During his off time Michael enjoys time with his family, camping and motorcycling.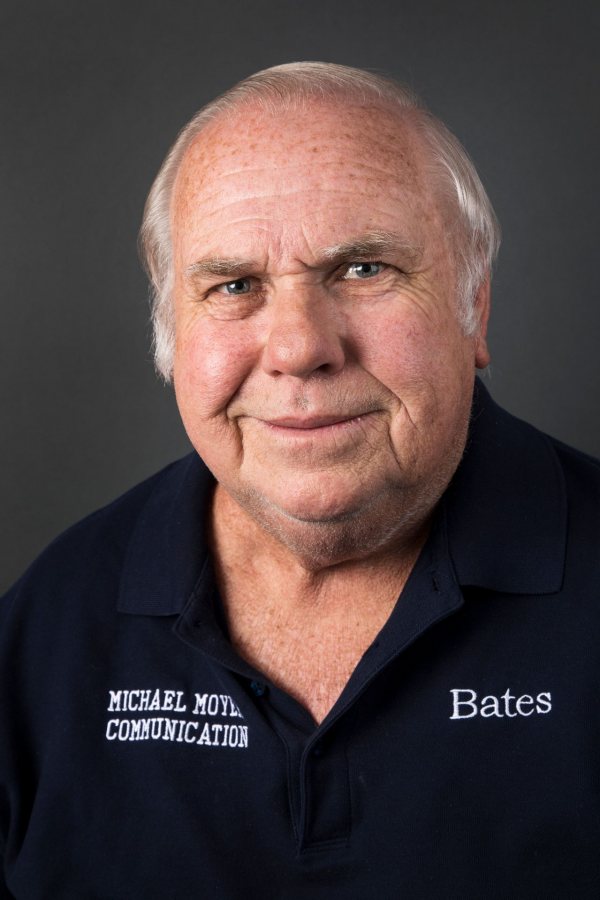 Michael Moyer, Communications Specialist
Michael began working as a shuttle van driver at Bates in 2004. He started as Communications Specialist for Campus Safety in 2006, working the night shift.  Before Bates, Michael worked for the Lewiston Police Department until his retirement in 1998.  Michael has an associate's degree in Criminal Justice from Suffolk County Community College, Selden, NY. During his off time Mike enjoys spending time with his family and friends.