Automated External Defibrillator (AED) Locations
Automated External Defibrillators (AEDs) are located throughout the campus.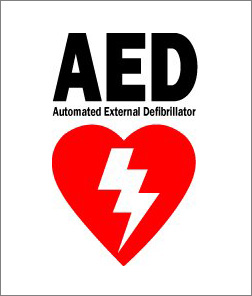 AEDs are emergency medical devices used when a person is experiencing cardiac arrest, delivering an electrical shock designed to return the heart to its normal rhythm.  Bates maintains a number of these devices in fixed locations on campus, as well as portable units in our Campus Safety vehicles and for use by our Athletic Trainers and Health Care Providers.
Readily accessible AEDs are located in many of the College's primary public venues, such as  museums, athletic facilities, and dining hall.
Please contact Campus Safety at (207) 786-6254 or Environmental Health & Safety at (207) 786-6413  with any questions.
Alumni Gym – 130 Central Ave

Athletics- Athletic Trainers – All Sporting Events
Bonney Science Center – 45 Campus Avenue
Campus Safety- Vehicle – 245 College Street
Cutten Maintenance Center –  147 Russell Street
Dana Chemistry Hall- 5 Andrews Road

Davis Fitness Center- 145 Russell Street

Bates EMS- Vehicle and Office- 56 Campus Avenue

Bates Health Services- 31 Campus Avenue

Merrill Gym- 141 Russell Street
New Commons- 136 Central Avenue
Bates Squash Center- 56 Alfred Plourde Parkway
Underhill Ice Arena- 145 Russell Street