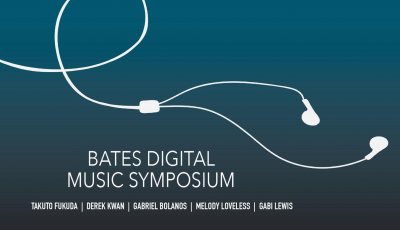 Friday, October 26, 2018
Bates College Olin Arts Center
75 Russell Street, Lewiston ME
Workshop/Presentations (all presentations will be in Olin 105 except for the last workshop in the Concert Hall)
1:00-1:30
Takuto Fukuda – Gamification of Human-Computer Interaction in Super Colliders
1:30-2:00
Derek Kwan – socketMusic: wireless
2:00-2:30
Gabriel Bolaños – The Grand Transparents: new paradigms for video sound art
Coffee/Tea Break
3:00-3:30
Melody Loveless – Music Technology as an Educational Tool for Nonstandard Music – Affordances/Constraints of Musical Frameworks
3:40-4:40
Gabi Lewis (Matthew Weisberg, Gabriela Baez, and Louis Hamilton) – Read the Air Choir – Playing with Voice through Evolutionary Sound @ Olin Concert Hall
Evening Program at Olin Concert Hall
7:30 Performance and Roundtable Discussion
Derek Kwan, Gabriel Bolaños, Takuto Fukuda, Melody Loveless, and Members of Gabi Lewis (Gabriela Baez, Matthew Weisberg, and Louis Hamilton), speakers
Derek Kwan
socketMusic: wireless
Gabriel Bolaños
The Grand Transparents
Takuto Fukuda
Super Colliders
Melody Loveless
Livecoding Improvisation
Gabi Lewis
Read the Air Choir – Playing with Voice through Evolutionary Sound
Participants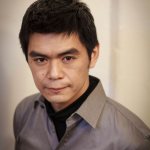 Takuto Fukuda (b.1984/Japan) is a composer, sound artist and gestural controller performer. How can music alleviate the intercultural collisions today? This question awakened him to the social significance of the concert, which provides a shared musical experience to all audience members regardless of race, religion, and nationality. In the hope of attracting more people to the concert, he has been researching the enhancement of liveness – attributes that make music live such as spontaneity, corporeality, and interactivity. His approaches encompass, among others, gestural control of music, interactive audiovisual installations and Game Pieces – compositions whose unfolding is determined in real-time according to rules, chance operations and competitive strifes between performing opponents toward a goal.
His pieces have been prized at several competitions such as Andrew Svoboda Memorial Prize (Canada), CCMC 2011 (Japan), WOCMAT 2013 (Taiwan) and Musica Nova 2010 (Czech), selected for performance at numerous music festivals in Europe, Asia, North and South America such as Ars Electronica(Austria), ISCM World Music Days 2016 (Korea) and ICMCs(Slovenia, Greece, USA), and performed at prestigious institutes such as IRCAM (France), ZKM (Germany), ina-GRM (France), CIRMMT (Canada) and CCRMA (USA). He received his first MA (Sonology/2011) from The Royal Conservatory in The Hague in The Netherlands and his second MA (Computer Music/2016) from the University of Music and Performing Arts Graz in Austria. He has been pursuing his D.Mus in composition at McGill University in Canada with Chris Paul Harman, Georgia Spiropoulos and Sean Ferguson. He has attended at private lessons with outstanding composers such as Philippe Leroux, Philippe Manoury, Isabel Mundry, Beat Furrer and Chaya Czernowin at various composition academies such as Matrix Academy (Germany), Impuls Academy (Austria) and Manifeste 2016 (France).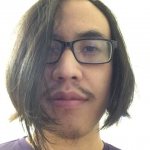 Hailing from Fresno, California, Derek Kwan is a electronic musician, percussionist, and digital artist exploring the expressive capabilities of computer technology through interactive media. His body of work includes improvisatory electronically-enabled musical environments, investigations in applications of web technology that seek to present sound in new and immersive ways, and collaborations with visual artists. He has appeared as a performer in the Bang on a Can Marathon, Make Music New York, and soundSCAPE festival and has appeared with ensembles including Raphael Mostel's Tibetan Singing Bowl Ensemble, Iktus Percussion, and Elevator Rose. He has had works featured at Bar Thalia at Symphony Space (NYC), Glasslands Gallery (Brooklyn), the New York City Electroacoustic Music Festival, and the UC Davis Shinkoskey Noon Concert series. Kwan is a passionate advocate of free- and open-source software and in 2016 alongside his project collaborators, presented documentation on their work on Pure Data's external library Cyclone at the Fifth International Pure Data Convention (PdCon16) held at New York University. Derek Kwan holds BS and BA degrees in mathematics and music performance from the University of California, Davis; an MA in percussion from CUNY Queens College; and a DMA in percussion from Stony Brook University. Most recently, he served as a temporary lecturer in electronic music at UC Davis.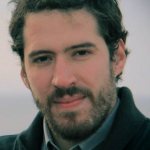 Gabriel Bolaños is a Nicaraguan-American composer of solo, chamber, orchestral and electronic music. His music has been played throughout the US, Europe, Latin America and occasionally in Asia. His work frequently explores unusual timbres and structures, and he is interested in computer-assisted-composition, the grammatology of software, auditory perception, ecological listening, and linguistics. Beyond his work as a composer of concert music, he frequently collaborates with other artists on sound installations, multimedia art, and digital media projects. Bolaños holds a PhD in Music Theory and Composition from the University of California, Davis, and is a visiting lecturer at Bates College where he teaches courses related to music theory and music technology.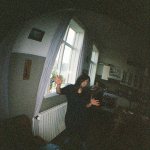 Melody Loveless (b.1989) is a digital media artist, educator, and musician based in Brooklyn, NY. Their work ranges from pieces for electronic and acoustic instruments, live coding performances, wearable game controllers, interactive media, sound installations, and more. Alongside maintaining an active practice as a technology and art educator in the New York City area, they perform often as a soloist and with Codie, a live-coding trio that performs ephemeral works by coding music and visuals live on a stage. They've had performances at Performance Space New York, the New York Hall of Science, and Eyebeam. Honors and awards include an upcoming residency at Kunstnarhuset Messen (Norway), being an Artist in Residence at Gamli Skoli (Iceland) and winning Best Short Score for their work on Maureen by the 2014 Seattle Composers Alliance Awards. They hold a M.M. in Music Composition from New York University – Steinhardt and a M.S. in Integrated Digital Media from New York University – Tandon. Their past instructors include Joan La Barbara, Jerica Oblak, Julia Wolfe, and Luke Dubois.
Gabi Lewis (Matthew Weisberg, Louis Hamilton, Gabriela Baez) is an electronic music trio based in Brooklyn, NY. Their work centers around free improvisation, listening, and communicating through music and expression. They derive their sonic materials from a variety of sources and musical influences; fusing them together in an attempt to integrate the fragmented and complex worlds they find themselves in. They have a strong interest in building community, and actively seek ways to talk about togetherness in a meaningful and impactful way, both within their music and without.