Artists at museum of art explore polar landscapes, earthen mounds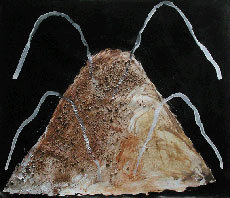 Exhibiting at the Bates College Museum of Art through Oct. 16 are Will Richard, a nature photographer from Georgetown, Maine, and Grace Knowlton, a nationally known artist whose works at Bates are inspired by earthen mounds.
The Knowlton exhibit in the museum's upper gallery, titled Dirt Piles, opens at 7 p.m. Friday, Sept. 6, with a lecture and reception. The museum, located at 75 Russell St., welcomes the public at no charge.
Richard, a Mellon Fellow in residence in the Bates environmental studies program this fall, exhibits images of the Arctic, the Antarctic and Maine in Transforming Silence/Translating Light in the lower gallery. A lecture and reception are scheduled for 7 p.m. Friday, Sept. 13.
Knowlton lives in Rockland County, N.Y., and explores a wide variety of materials and themes, with an emphasis on geometrical forms and abstractions from architecture. Although she may be best-known for her spherical sculptures, she also makes paintings and photographs, and in the latter medium has turned to the computer to combine and layer images.
Knowlton first began exploring the visual possibilities inherent in piles of earth during the 1980s. "Over the years since Knowlton discovered her first pile . . . she has tested the limits of this formless form by exploring every iteration possible," Anna Hammond writes in an essay about the Dirt Piles series. "Like the sphere, it is a metaphor for the body, for the mind, for nature, for the self, for a direct involvement with the artistic endeavor as an open system worked within somewhat formal constraints."
A student of Kenneth Noland, Knowlton began her art career in the 1960s and has shown work in more than 30 solo exhibitions and dozens of group exhibitions since the early 1970s. Her work is represented in collections including the Victoria and Albert Museum, London; the Metropolitan Museum of Art, New York City; The Corcoran Gallery of Art, Washington, D.C.; and the Yale University Museum of Art, New Haven. She has been featured in Art in America, The New Yorker, Architectural Digest, Arts Magazine, The New York Times, Sculpture Magazine and Vogue.
Wilfred E. Richard earned a Ph.D. in geography from the University of Waterloo, Ontario, Canada, and an M.A. in anthropology from the University of Massachusetts at Amherst. He is a writer, a registered Maine Guide and the owner of Outdoor Ventures North, Inc.
View Comments