Gene Clough, Emeritus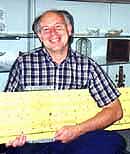 Clough, Gene A.
Lecturer Emeritus
Geology

31 Frye Street
---
When working with students, we might make our own semiconductor devices, or use math and physics to understand the earth, moon, or solar system. Space flight, for example, is a great excuse for studying just about anything!
Follow this link to find out more about my Lunar and Planetary Science course.