Meet Our Writing Tutors
Writing Tutors are Bates students just like you who specialize in assisting students with any and all writing assignments. They are trained and willing to help you with papers, essays, speeches, presentations, and group projects in any discipline. You can seek help from a writing tutor at any time during your writing process, from brainstorming to reading through drafts, incorporating instructor feedback and polishing it all up. The writing tutors' goals are to support your growth as a writer and your improvement on skills like organization, thesis statement construction, incorporation of outside sources, argumentation, and more. Drop by and see a writing tutor anytime the SWLC is open–or search Penji to find and book an appointment with the best tutor for your needs–and let them know what you would like to work on. They provide an empathetic and non-judgmental, collaborative environment that is centered around your questions and goals.
In the SWLC, we seek to foster and promote the use of diverse languages at Bates while also providing support in English to improve academic writing and speaking skills. Our Writing Tutors are trained in foundational approaches to support English Language Learners and multilingual speakers. If possible, we can arrange a one-time appointment–or regular weekly appointments–with a writing tutor who is also fluent in your first language. Please email swlc@bates.edu to get set up with a specific tutor for your English language learning needs!
If you are interested in becoming a Writing Tutor and working for the SWLC, please visit this page for information about employment with the SWLC.
Read below to find out more about our Writing Tutors.
Hi! My name is Adya Agarwal (she/her) and I am a senior from India majoring in Neuroscience and minoring in Philosophy. I am bilingual in English and Hindi. I love learning from different meaningful and dynamic conversations I have with my peers not only due to my position as a Writing Tutor for the PLC but also generally, like in Commons! These interactions along with active listening influence my writing and my interest in being a lifelong learner. These practices reflect my values as a tutor, which are curiosity, eternal growth and collaboration. A fun fact about me is that I am left handed, and the only thing I can do with my right hand is to play the guitar.
---
Hi, my name is Tife Agunloye and I'm passionate about helping others find their voice in writing. My top two values as a tutor are patience and empowerment. I believe that every writer, no matter their level, has a unique voice and story to tell. My goal is to patiently guide you in honing your skills, while also empowering you to confidently express your thoughts and ideas. I aim to be a tutor who not only provides constructive feedback but also celebrates your progress and achievements. Outside of tutoring, here's a fun fact about me: I have a twin brother who attends Bowdoin. Whether you're looking to improve your academic essays or dive into creative writing, I'm here to support and cheer you on every step of the way!
English is my primary language and I can also read and write in Spanish.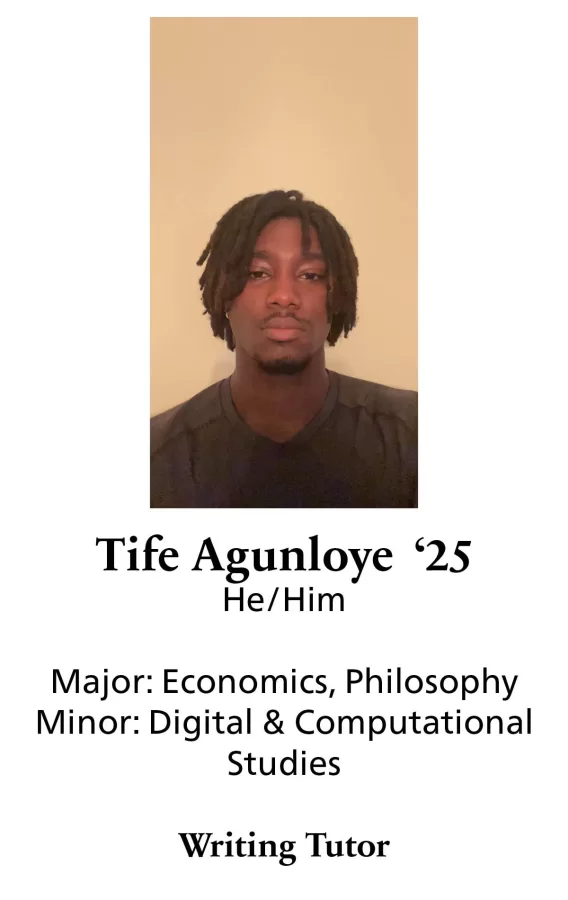 ---
As a writing tutor I want to encourage freedom and trust by encouraging the tutees to explore, experiment, and create to strengthen their voice through writing by being someone who tutees can identify to share and be vulnerable with in their writing. I am a native English and Spanish speaker. A fun fact about me is that I have a four star island on Animal Crossing.
---
Hi everyone, my name is Nick Brown and I'm a junior economics and history major! This is my second year with the SWLC and I'm looking forward to another great semester. I can assist you with English Language assignments, with a focus on social sciences and humanities. My tutoring philosophy revolves around Authenticity and Respect. I want everyone to feel comfortable being their authentic selves in my sessions, and respecting any differences in mindset. Everything discussed should be approached collaboratively and with the tutees authentic voice in mind.
---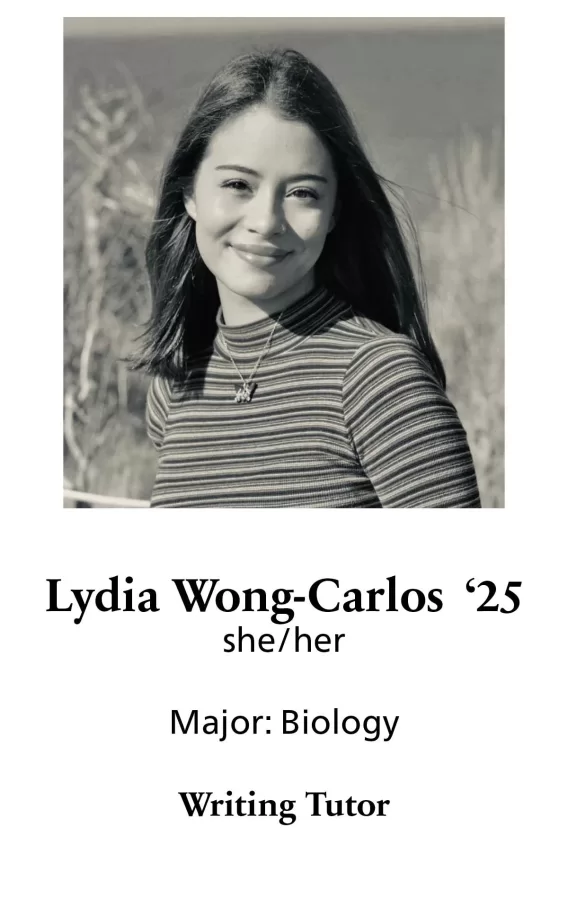 Hi! Oi! I'm Lydia (LID-DEE-YAH) and I am a junior! I am majoring in Biology with a concentration in Natural Field Studies. I speak English and Portuguese and a fun fact about myself would be that I figure skated for 9 years and my two favorite animals are a cat and a cow, oh, and my favorite colors are dark green and burnt orange. I enjoy and find it fulfilling to help others especially when I can see everything click together. I hope to be a compassionate tutor, who listens and helps organize and plan. I not only want help to navigate schoolwork but life at Bates! If you'd like to make an appointment with me or contact me you can either do that through Penji or my email: lcarlos@bates.edu 🙂
---
Hi folks! Welcome to the SWLC! My name is Caroline Cassell (they/them), I am a senior at Bates and am majoring in Gender and Sexuality Studies, Theater, and Sociology, and minoring in Educational Studies! I am fluent in English and am an Italian and Bulgarian language learner. To me, tutoring is an opportunity to get to know people as writers and thinkers outside of classroom and social settings. Thus, in my tutoring, I strive to form genuine connections by bringing curiosity, humor, and compassion to the space. When I am not in the SWLC you'll find me drinking apple cider at commons, enjoying the sun, or reading a book!! I am so excited to meet you soon!
---
Hi all. My name is Danny (he/him) and I'm a junior at Bates majoring in Biology and minoring in Educational Studies. My specialty is writing in Biology, but I can also collaborate with you on writing in general. I'm huge on planning out the writing process and breaking it up into small, manageable chunks. If you're interested in that, that's definitely something I can help you do. Outside of my time as a writing tutor, you'll find me
running, traveling, or hanging out with friends! I'm fluent in English and what I value most about peer tutoring is providing a calm, low-stakes environment while also being able to
give meaningful academic advice. As such, I aim to be a genuine, personable guy when tutoring. Also, I'm a really big fan of Taylor Swift. If I start talking to you about her and her music, I really can't stop.
---
Hello, my name is Alexis and this is my second year as a peer writing tutor. I'm a senior here at Bates and I'm majoring in Sociology with a minor in Digital and Computational Studies. In my free time, I enjoy solving puzzles, reading, and playing video games. I'm available to provide writing support at any stage of the writing process, whether it's brainstorming or the final finishing touches.
---
Hi, I'm Sacha, a senior at Bates, majoring in Political Science with a concentration in Theater. This is my third year working as a peer writing tutor. When I'm not working in the PLC, I like to write songs, listen to music, and swim. I look forward to supporting you.
---
Hi! My name is Sammy and I am a sophomore from Dallas, TX. I speak and write in English. I strive to be an empathetic tutor, who treats students with kindness, respect, and grace. I understand that coming to talk to someone about ideas or written work can be intimidating and overwhelming, so it is my job to create a safe environment for all students. I am here for students to ask questions, develop ideas, and work through the writing process as a whole. Even if a student doesn't know exactly what question they have to ask, I promise to aid in any way possible. I can't wait to work with you and see you in the PLC! Fun fact: I am on the sailing team!
---
Hello! My name is Colby, and I am a senior majoring in Psychology and minoring in Anthropology. My first (and only) language is English, and I am here to support any of your writing needs! I value adventure and empathy and hope to fully integrate these values into my tutoring practice. I'm looking forward to learning with you!
Fun Fact: I used to be named Bates, but for legal reasons, I had to change it.
---
Hi, my name is Eli. I'm a sophomore from Scarsdale NY and it is my first year as a writing tutor. I haven't decided on a major yet so I am always happy to help with any subject. I have always loved to write and I want to be able to help people with their writing because I know how stressful it can be to be stuck on an essay with other assignments piling up. I am super excited to start tutoring and I really hope I can help as many people as possible.
---
Hi! My name is Tamaki Hashiramoto and I'm a senior from Japan, majoring in Psychology and minoring in Chinese. I speak Japanese and Chinese. I studied abroad in Taiwan during the summer of my sophomore year. I don't think many people choose to do so during summer, so if you are curious about it, feel free to reach out to me! I love playing sports, cooking/baking, knitting, and most importantly napping! A fun fact about me is that after studying abroad in Taiwan, a complicated connection led me to work as a research assistant in endoscopy research at the best cancer hospital in Japan. My top two values as a tutor are collaboration and inclusion. I want to be a cooperative and respectful tutor. I would be happy if students who come to my tutor leave with more knowledge and interest in the subject than when they entered.
---
Hi! My name is Omer Kitov and I'm a writing tutor at SWLC. English is my second language (I'm a Hebrew speaker) so I care a lot about making multilingual students feel welcomed and supported. I'm here for you as a resource, so feel free to ask me anything! I'm a Psychology major but I can help with any piece of writing. I also love music (listening and playing), chocolate, and dogs.
---
Hi everyone! My name is Rachel and I'm a Senior Politics Major from Boston, Massachusetts. I've been a peer writing tutor at the SWLC for two years and I'm looking forward to connecting with more students this year! I became a tutor at the SWLC because I love writing, collaborating with students, demystifying the tutoring process, and helping students feel welcomed and supported in the writing center. I aim to be an authentic and open minded tutor in my interactions with other students and my colleagues at the SWLC. You can usually find me biking around campus, at the library, in the Fitness Center, or on the softball field:) If you would like to set up an appointment or come visit me during my office hours they are listed on my profile. You can also email me at rliazos@bates.edu if you have any questions. Hope to see you soon:)
---
My name is Peter Mason and I am a senior majoring in Politics. My pronouns are He/Him. English is my native language and I am also learning Spanish. I am from New Canaan, CT and am both an American and British citizen. In my spare time I enjoy skiing, board games with friends, and escape rooms. At the SWLC I feel it is important to be open and friendly to those who come in to work with us. In addition I believe in trusting in our peers' ability to succeed in their own ways. I hope to bring these values to the SWLC and get to know anyone who I work with.
---
Hi. My name is Julianne Massa. I am a junior at Bates, majoring in English with a concentration in creative writing and minoring in Japanese. I am passionate about writing and seek to inspire a confidence within students about their own writerly voice. One of the best things about being a peer tutor is the opportunity to engage with other students writing and experience all the ways in which people choose to express themselves. I believe writing is a process, so I emphasize a willingness to grow and develop one's ideas and language choices.
On campus, I am a dedicated member of the Bates Jazz Ensemble. I also enjoy reading, knitting, snowboarding, and drinking Earl Grey tea.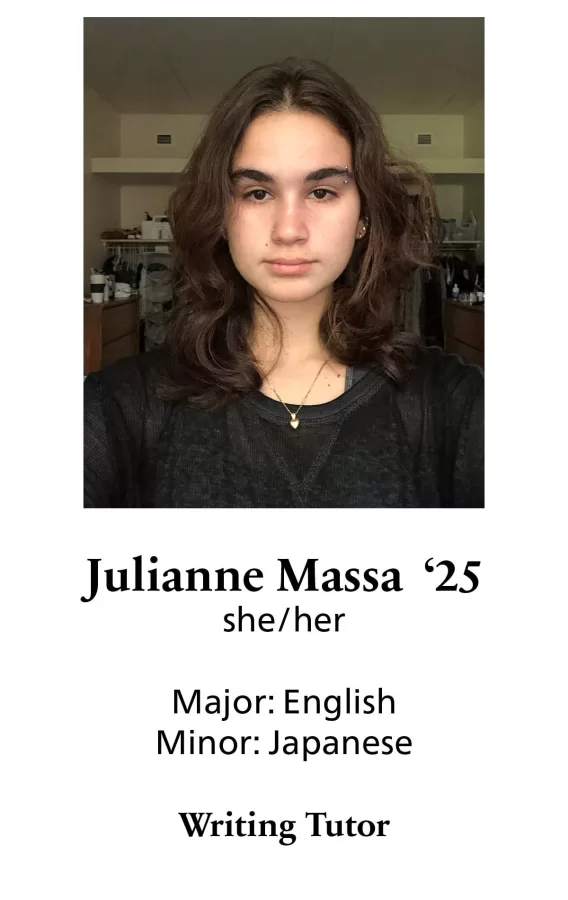 ---
Hello Everyone! My name is Avery Mathias and I am a senior majoring in Biology and Studio Art. As a Writing Tutor with experience as a Course-Attached Tutor, Writing fellow and tutee, I strive to build a relationship with my peers so that I can better understand their perspective, strengths and weaknesses, and form a strong line of communication. I hope my tutees will feel that they can confide in me so that we can establish their goals and fears about an assignment and the writing process as a whole. I will work to prioritize my tutees' needs by meeting them where they are at in the writing process and helping them to determine their measure of success. I think that it is my job as a tutor to help students develop their own skills and academic voice rather than teach them how to write. Courage and kindness are two values that are incredibly important to me as a peer and tutor. I have found that it requires a lot of courage, not just confidence, to show up as yourself in an unfamiliar space and be vulnerable or ask for help. As a tutor, I need to meet that with equivalent courage and kindness. I believe there is no situation that cannot be made better by approaching it with courage and kindness. Ultimately, I will remember that there is no correct path. No student has exactly the same needs and as a result we must cater to the goals of every individual and do our best as tutors to help them fulfill them.
---
Hi, I'm Caroline Milne! My pronouns are she/ her. I'm a senior politics major from Bethesda, Maryland. I'm a native English speaker and a Spanish language-learner and have a minor in Hispanic Studies. I love to sing, hike, ski, and spend time with dogs. Some fun facts are that I studied abroad in Valencia, Spain junior year and sing in the Bates College Choir.
My goal of a tutoring session is to have joyful and productive discussions. I value collaboration and curiosity in tutoring sessions and enjoy learning from our conversations. I am excited to meet you!
---
Hi! My name is Tong Ning, and I am from Beijing, China. I am a sophomore. I plan to major in Psychology and economics and minor in Japanese. I speak Chinese as my first language and English as my second language. I am learning Intermediate Japanese at Bates. I like to complete a jigsaw puzzle, listen to music, watch TV episodes, and sleep in my spare time.
I hope to make you more confident in your writing. Please feel free to make an appointment with me! It's my pleasure to help!
---
Hi, my name is Aidan Riano. I'm from New York City, New York and I'm a senior majoring in Art History and Criticism and double minoring in Educational Studies and Rhetoric/Film/Screen Studies. It's my first year working in the SWLC and I'm so excited to finally work in the same place that has helped me out many times in the past. I see collaborations between fellow students as our greatest strength and am looking forward to engaging in work as a team! So please feel free to come with whatever you need to talk through, or if you wanna just chat about art and movies.
---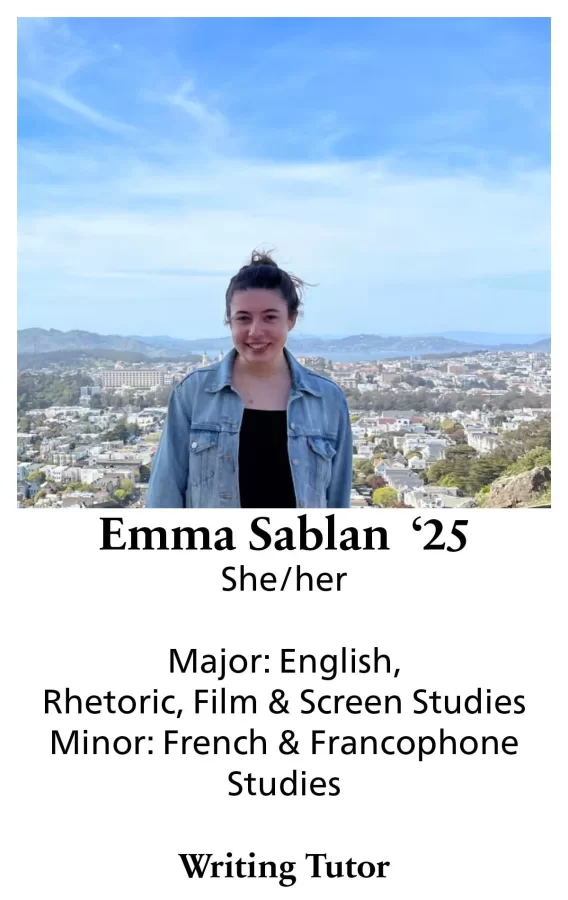 Hi! My name is Emma Sablan and I am from Norwich, VT. I'm a junior English and RFSS double major with a French minor. I love to read and be outside, whether it be mountain biking, skiing or walking my dogs. I'm looking forward to being a writing tutor this semester and working with fellow students!
---
Hey y'all! My name is Cerise (sir-eese) and I am a junior. This is my second year at the Student Writing and Language Center. I'm a Writing Fellow and have worked both as a FYS W-CAT and General Writing Tutor. As an Economics major and Earth and Climate Science minor, I can best assist writers within social and natural science disciplines, but am always happy to support fellow humanities students. I value a student-centered approach to tutoring, which emphasizes writers' agency and individuality as part of the writing process. As a peer tutor, my suggestions and support are simply meant to guide tutees as they ultimately develop a self-determined writing process.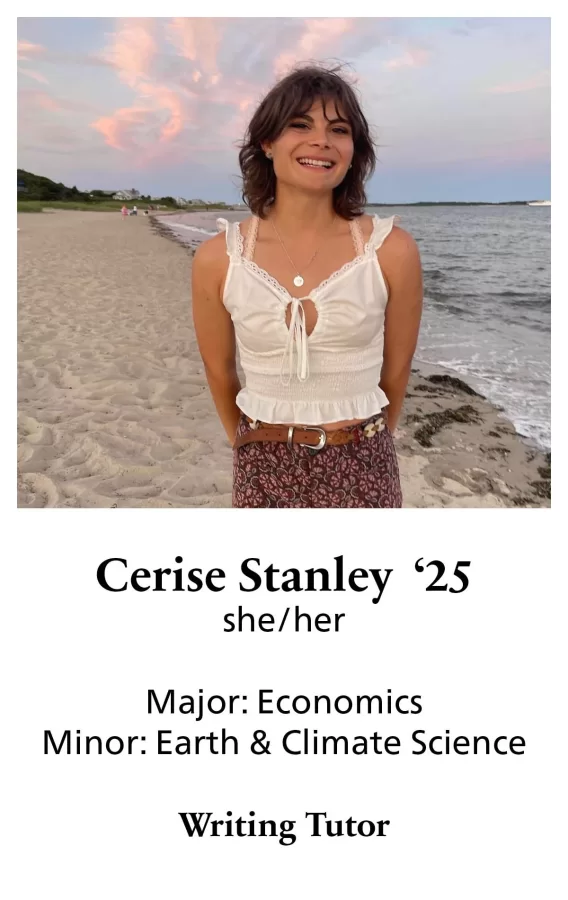 ---
Hi everyone! My name is Stella (she/her) and I am a American studies major, Hispanic studies minor, and have a GEC in Queer Studies. I am excited to write with you all and learn from each other. I am in the SWLC Monday and Wednesday from 2:30 to 4:00pm for all sorts of humanities, interdisciplinary writing, and Spanish language. (You can also email me @ sterry@bates.edu to meet). Aside from tutoring I like to pass time around Maine, enjoy nature, and do arts and crafts! -Stella
---
Hi all! I am a senior biochemistry major here at Bates, and this is my third year working in the writing center. I spend most of my time in the SWLC supporting students who are adapting to science writing conventions and generally trying to express scientific ideas in their own voices, but I have also supported peers working on projects in almost every discipline offered here. I love to learn from my fellow students and get inspired by how other people express themselves, so please drop in if you want to think through your ideas and chat about the writing process. I am on the cross country and track teams here, and in my free time I like to swim in the river or the ocean. I am looking forward to meeting you, and hopefully I can help to make your writing process as authentic and liberating as it should be!
I speak English.
---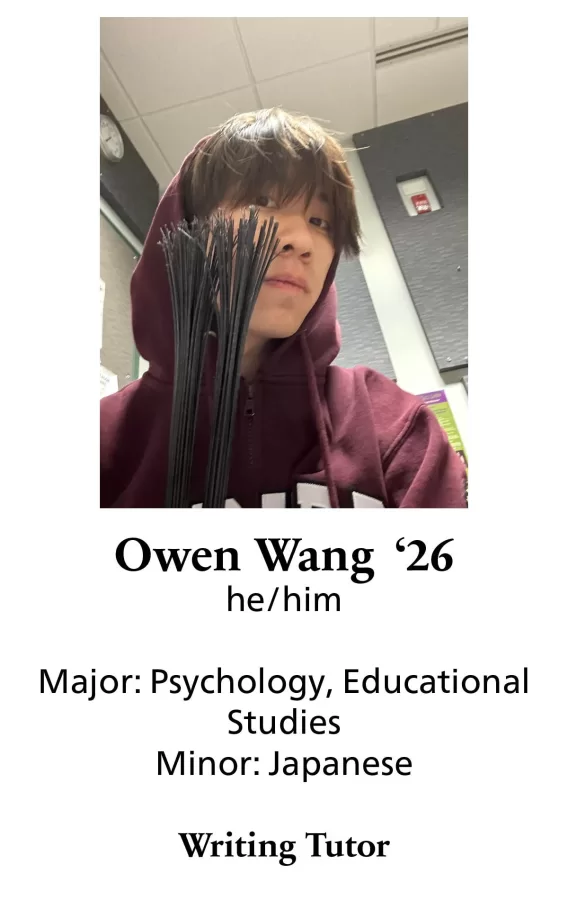 Hey guys, I am Owen Wang. I am a Sophomore coming from Beijing, China. My pronouns are he/him. I am majoring in Psychology and minoring in Education and Japanese. If you guys have any assignments related to those fields, I can help. I speak Chinese, English, and I am currently learning Japanese at Bates. So, if you want to have a tutoring session in any of those languages, I am happy to do so. In the meantime, I like music and video games. I also do drum sets and love to play sports. I am pretty chill, so come to the center and chat with me!