---
Get Involved – For Students
Students can have a big impact on making Bates a more sustainable campus. We invite you to take action – spread awareness, lead a group, get a green job… At Bates you can make a difference!

On-Campus Jobs
(Hiring takes place in the spring for the next academic year)
EcoRep program
Every year the Sustainability Office hires ten-twelve student EcoReps. In this paid position students have a chance to develop initiatives that promote energy conservation, recycling, and sustainable transportation at Bates. Students work in teams to design dynamic programs, organize events, and develop creative outreach.
EcoRep position description
EcoRep application form 
Green Bike Program Coordinator
The Sustainability Office hires one-two students to coordinate the Green Bike program. The coordinators are responsible for maintaining our fleet of 20+ green bikes, holding open shop hours at the garage for service and workshops, managing the field placement program, organizing events, and more.
Green Bike Program Coordinator position description
Green Bike Program Coordinator application form
Clean Sweep Coordinator
The Clean Sweep Coordinator is a full-time one month position (from the last week of short term through mid-June) which can count toward ES internship requirements. The coordinator works with with the Sustainability Manager to organize our Clean Sweep event from collecting donations to overseeing volunteers and organizing the logistics of sorting, cleaning, and pricing items for sale day. It's challenging and fun!
Clean Sweep Coordinator position description
Clean Sweep Coordinator application form
---
Green Certification program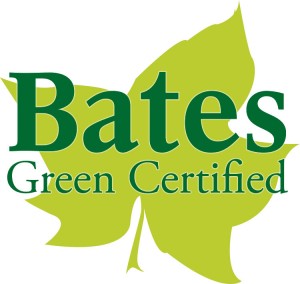 The Green Certification program challenges you to do your part. Students who commit to sustainable practices earn incentives, recognition and bragging rights. Are you certified? Get the logo! Challenge others!
---
Student Clubs
Bates Energy Action Movement (BEAM)
BEAM is dedicated to fighting global climate change through political action and promoting carbon neutrality. Students in BEAM regularly participate in both on-campus and nationwide environmental events and engage students with discussions on climate change and other pressing ecological crises.
One of the oldest outing clubs in the country, the BOC sponsors trips in the New England wilderness throughout the year and provides all kinds of gear needed for various solo and/or group outdoor excursions. As a student, you are already a member!
Sustainable Athletes 
Founded in 2012, this group's mission is to raise awareness about the ecological impacts of sports at Bates. It is clear that sports are highly valued in today's society, through this gateway we work to help make Bates athletics more sustainable while engaging the wider Bates community.

HERE is a full list of student clubs.
---
Committee Work
Bates has a number of joint faculty-staff-student committees dedicated to creative and collaborative work. Two engage specifically with sustainability issues on campus:
Energy Task force
Committee on Environmental Responsibility 
To join, email Tenzin Namdol, the VP of the BSG Committee on Committees.
---
Contact Us