Geology Lunch – Plio-Pleistocene climate and tectonic record preserved in the hyperarid forearc of southern Peru – 10-16-2018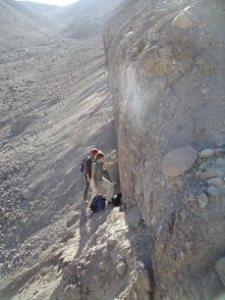 Come to GeoLunch, Tuesday 12 – 1  October 16, 2018
Carnegie 219
Pizza and cider to be served while we speak about understanding and interpreting preserved climate records.
Plio-Pleistocene climate and tectonic record preserved in the hyperarid forearc of southern Peru
With the advent of powerful chronometric methods for dating landscape features, it is possible to build a high-resolution paleoclimate record from the well-preserved geomorphic features in arid regions. The Atacama Desert of southern Peru and northern Chile is one of the driest places on Earth and is presently inhabited by >1 million people, many of whom make their living in agriculture or fishing. This region is prone to precipitation and sea surface temperature fluctuations due to ENSO cycles as well as frequent large earthquakes, tsunamis, and volcanic eruptions. Coupled with glacial chronologies from the high Andes and the offshore sediment record, the geomorphic chronology of the Peruvian forearc extends to at least ~3Ma. Beyond a climate archive, this chronology also allows for the determination of rates of Quaternary tectonic processes previously unknown for this region.