Overview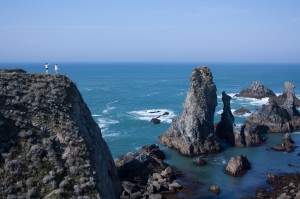 French & Francophone Studies
Courses in French and Francophone studies help students to learn basic communication skills, appreciate other cultures through language, and go beyond the study of language to achieve a deeper understanding of diverse peoples by way of their literatures and other modes of cultural production. Texts are read closely from a contemporary critical perspective with attention to their cultural and historical context. All courses are taught in French, except in the case of some courses cross-listed with other departments or programs, which may be taught in English.
French and Francophone studies aims at flexibility within a structure that affords a diversity of experience in Francophone culture and literature and continuous training in the use of the language. It provides effective preparation for graduate work but is not conceived as strictly preprofessional. The significance of French is highlighted by the College's proximity to Quebec and by the large number of Franco-Americans who live and work in northern New England. In addition to France's literary tradition, the Francophone histories and cultures of North Africa, West Africa, the Caribbean, and Quebec have produced writers and artists who have influenced the world broadly with their cultural and artistic dynamism and insight, making French and Francophone cultural production truly rich and varied.
Language host of Bates International Poetry Festival.
---