Paul St. John Frisoli '02
Paul St. John Frisoli
Class of 2002
Major: Francophone Studies Minor: Economics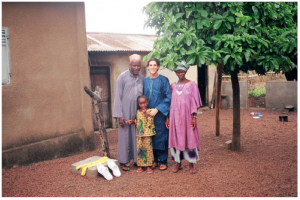 Armed with a dangerous guttural "r" and a quick draw of the cigarette lighter, I graduated from Bates College in 2002 with a major in Francophone Studies and a secondary concentration in Economics. The former, French language and francophone cultures have been a life long passion, while the latter appeased my parents' endless question of "What are you going to do with a French degree?" I'd like to think that they've eaten their words a bit in the last 5 years or so. I'll tell you why.
A month after I graduate from Bates, I became a Peace Corps Volunteer in the Fouta Djallon which is a region of Guinea, West Africa. Nestled in Timbo, a mountain village in a valley, I taught middle school Math (in French of course) while I also worked with the village youth group to spark HIV/AIDS awareness amongst their peers. Living without running water, electricity, and a computer was a bit of a stretch for me, but I learned to go to bed when the sun went down and get up at the 5am prayer call. From 2002 – 2004, I felt a bit disjointed from home life, but I cherish the adventures, life lessons, and people that I met because they have helped me find a big part of who I am. I resided in Guinea for another year where I was fortunate enough to work at the Institut National de Recherche et d'Action Pédagogique (INRAP), a branch of the Guinean Ministry of Education. I jumped right into the use of radio and other media for educational purposes where I worked with a training team of highly skilled Guinean educators. We toured the country training school administrators and teachers on the use of student-centered learning and teaching techniques along with how to adapt radio and audio media into the classroom.
After hundreds of hours on bumpy dirt roads and sleeping with mosquitoes, I trekked back to the States to "settle down." Equipped with an "r" that rolled like the hills of the Fouta Djallon and an endless supply of friendly greetings, I enrolled in the Master's of Education program at the Center for International Education (CIE) at the University of Massachusetts – Amherst. I wanted to study the theory and practices of the types of development work that I had been doing in the Peace Corps. Somehow the travel bug still fluttered inside me. CIE sent me to Madagascar and the Comoro Islands in the Spring of 2007 to work on a radio education project. Chaotic as it was, I simultaneously helped write radio scripts while I also finished my master's thesis.
Currently, I'm pursuing my doctorate at CIE/UMass where I'm studying, teaching, recruiting for the Peace Corps, and more. This year, I'll be working in Senegal on a CIE project called LIRE (Learning Initiatives for Rural Education) where I'll be collaborating with teachers in local schools in Senegal who teach multi-grade levels. My academic interests are extremely varied, but I plan to focus on issues surrounding technology in French speaking Africa. This includes the ways that youth are using computers and cameras for non-formal educational and employment opportunities, the meanings that youth attach to these media, and how power, agency, and creativity interplay in the use of technology. My dissertation research will be done in Guinea, where I will get the chance to reconnect and reminisce with old friends and family.
Needless to say, my family is somewhat speechless. I am an "exemple" of what you can do with a degree in French. Take your language skills into an interdisciplinary field. Trust me, you'll have too many options from which to choose and too much to do! Good luck!