Garnet Gateway Timesheets
In order to get paid, student workers must record the hours they work on an electronic time sheet located on Garnet Gateway.
**Students must submit their time sheet by 2:59PM on Sunday, the day after the of the pay period.**
Electronic Timesheet:
Below are directions for students to input the hours they have worked on their electronic time sheet.
1. LOG IN TO GARNET GATEWAY. 
2. SELECT EMPLOYEE MENU on the main menu bar.
3. SELECT TIMESHEET.  The job title or titles of the position(s) you work will be listed.
4. SELECT THE POSITION you would like to enter hours for.
5. CLICK ON THE TIMESHEET button below. You will now see your electronic timesheet on the screen. Please Note: The first week of the pay period will show up first. You can enter the hours you worked for the second week of the pay period by selecting Next.
6. CLICK ON THE ENTER HOURS button to enter the hours you worked on each given day of the pay period. If you did not work on a given day, leave the day blank (you do not have to type in a zero).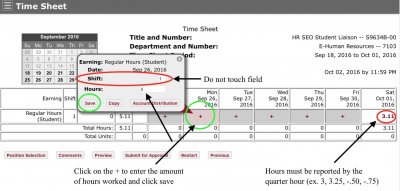 7. SAVE CHANGES once you have entered your hours for a given day.
8. SUBMIT YOUR TIMESHEET by clicking Submit for Approval after the end of the two-week pay period. Please Note: Do not submit your timesheet until you have finished working throughout the two-week pay period. Once submitted, you cannot access/edit your timesheet.
9. REVIEW YOUR HOURS.  Make sure that you submit your hours correctly because your supervisors will review your timesheet.
10. GET PAID. If you have recorded the correct amount of hours for the work period, your supervisor/approver will approve your timesheet and submit it to the Payroll Office for you to be paid. Your pay will be directly deposited into your bank account. Visit Direct Deposit for more information.
The student payroll is on a bi-weekly schedule. Visit the 2023 Student Payroll Calendar for a list of this year's pay periods.