In "fake news" fight, Facebook makes big change for Page admins
In order to combat the scourge of real "fake news," Facebook is implementing a change to its API (application program interface) where non-publisher pages (publisher = verified news media, sports and entertainment) including Bates will NOT be able to edit the metadata of the links they post to their Facebook page.
Why is this so important?
The ability to edit the metadata has been primarily useful to social managers to shorten and spice up headlines that might be a bit dry for social, shorten sub-heads so they end within the post and to replace the normally linked "key photo" with a photo more optimized for social.
For a headline example, our campus construction update articles have the name of the series and the date of publishing in the headline. Under the previous regime we could revise the "Campus Construction Update: June 23, 2017" headline with a more engaging hook.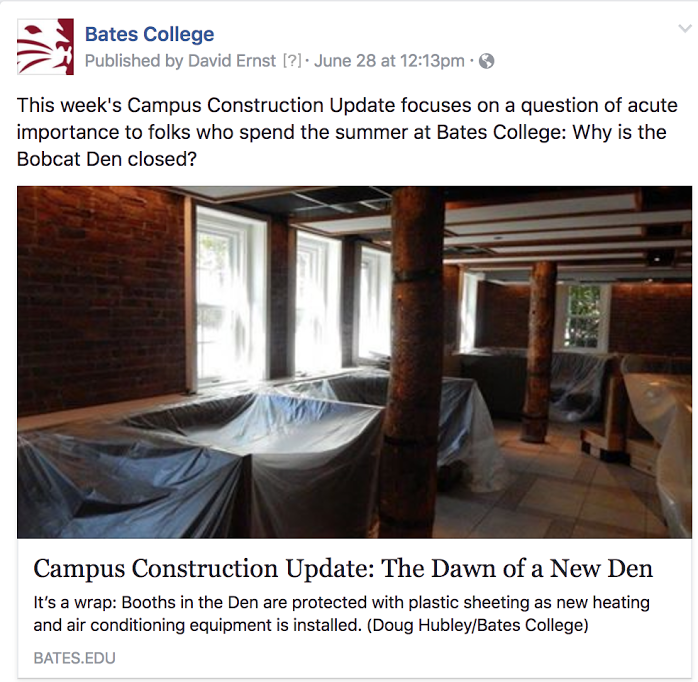 For a photo example, for the Bates News webpage, collage photos often don't read very well as the key photo with the headline text overlay, so clear single shots are usually chosen for the headline photo. Our sports maven Aaron Morse created a great 7-image collage of the Top 7 Moments in Bates Sports this year and this was the perfect photo to "force upload" to the social post.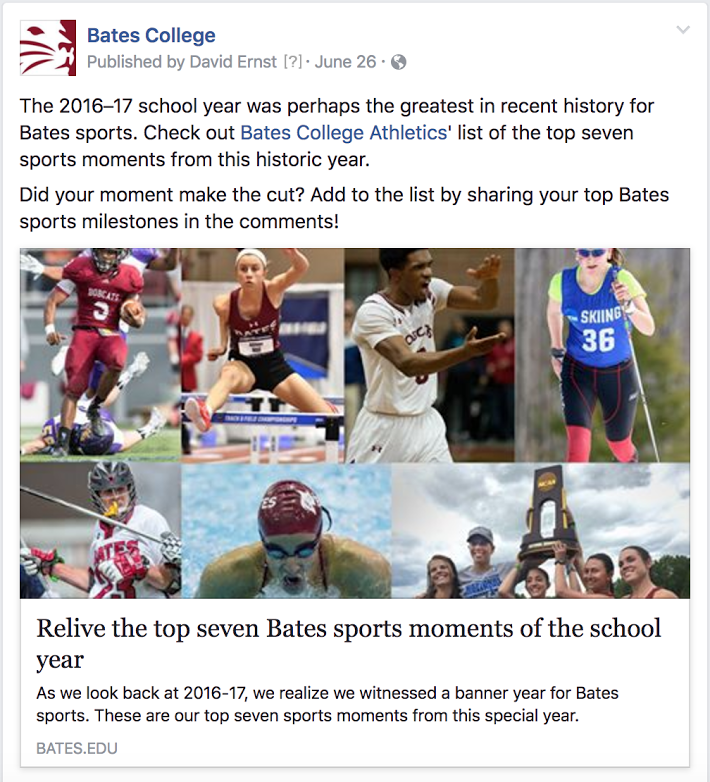 Facebook is working with its partners who wish to continue this editing feature. Bates College will be applying for an exemption to the rule, but note that these waivers are granted on a per-page basis, so feel free to contact me with any questions if you wish to apply for a waiver for your page.
Even for the verified Bates College page, there is no guarantee that Facebook will grant us a waiver, so we'll have to work even closer than ever with our web and editorial partners to make sure headlines, photos and sub-heads are as optimized for social as they can be moving forward. That means no sharing link posts with no photos!
Sincerely,
Dave