Overhauling the Editor: A New Way to Use WordPress
So what's the problem? And what's a block?
One of the things you hear a lot about during discussions of Gutenberg are blocks. These blocks are a unified way to style content that currently requires shortcodes, embeds, widgets, post formats, custom post types, theme options, meta-boxes, and other formatting elements. By allowing rich customization without deep knowledge of code, blocks make good on the promise of WordPress: broad functionality with a clear, consistent user experience.
The Gutenberg editor uses blocks to create all types of content, replacing a half-dozen inconsistent ways of customizing WordPress, bringing it in line with modern coding standards, and aligning with open web initiatives. These content blocks transform how users, developers, and hosts interact with WordPress to make building rich web content easier and more intuitive, democratizing publishing — and work — for everyone, regardless of technical ability.
Evaluating the Block Editor for Higher Education
In the months and years preceding Bates decision to network activate the Block Editor, WordPress had been clear: The new editing experience of the Block Editor is the future of WordPress. At the same time, the Block Editor represented a complete overhaul of the editing experience. We wanted to embrace the future but we also wanted continuity of user experience and functionality. On behalf of Bates, we needed to evaluate various adoption timelines and their downstream effects. Would an early adoption be too disruptive for our site managers and development team? Would a late adoption buy us time only to prolong the inevitable? With 400 active users, 170 sites, and 20,000 pages the stakes were high and we wanted to make the right decision.
The Choice of Early Adoption
We made the decision as a web team to dive into the Block Editor as quickly as possible. Our adoption roadmap had three stages:
Learn and test the Block Editor
Convert existing custom elements into Blocks
Provide our web community with the choice of early adoption
A January 2019 Email to our WordPress Users
Hi Everyone,
We're back with another WordPress gathering: 10 a.m. Feb. 7 in Pettengill 3rd-floor computer lab.
Changes to WordPress?
WordPress is ready with version 5.0: a major upgrade that changes the look and feel of features you've become accustomed to. Maybe you can't wait to play with it. Or maybe, if you're like most people, the prospect of yet another unsolicited WordPress upgrade is a bit bothersome!
In next Thursday's gathering, Senior Web Developer/Designer Jake Paris will walk through the new features of version 5.0 and explain how you can gain access to 5.0 on your sites.
Importantly, since 5.0 is a big change from prior versions of WordPress, opting in to the upgrade is your choice. If you want your WordPress editing experience to remain the same, then it will. And if you want to upgrade to the improved 5.0 editor, we can help you get there.
Either way, I encourage you to join us on Thursday for a first look at the future of WordPress.
Sincerely,
Nick & Web Team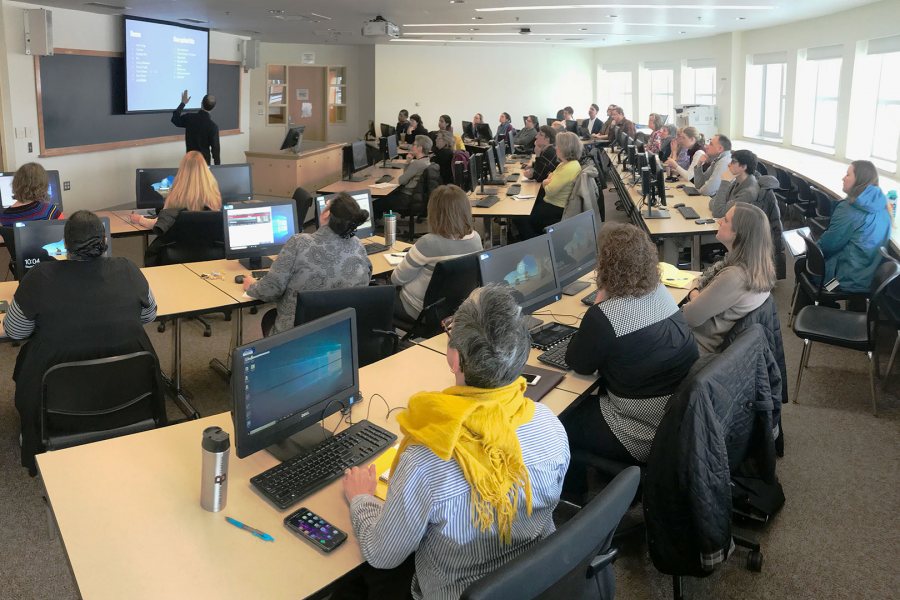 The Transition Timeline
| Date | Milestone |
| --- | --- |
| September 2017 | The WordPress development team starts building Block functionality into the Gutenberg plugin. |
| August 2018 | The Bates web team starts researching and testing the Gutenberg 3.4 plugin on development instances. |
| October 2018 | The Bates web team finishes migration of top shortcodes and other formatting elements into Blocks. |
| November 2018 | Bates web team student workers work individually with WordPress site managers to provide instruction and to collect feedback on Blocks. |
| December 2018 | WordPress 5.0 with native Block Editor support is released. |
| January 2019 | Bates launches WordPress 5.0 on production with Classic Editor plugin activated. |
| February 2019 | After initial campus announcement and training, 42% of websites have opted in to using the Block Editor. |
| February 2020 | After one year of successful partial adoption of the Block Editor, continued community training, and iterative improvements drawing from community feedback, the Block Editor becomes the network default editor. |
The Pleasant Surprise of Usability
To my surprise, the transition to the Block Editor has been welcomed by our Bates WordPress community. Within the first 3 weeks of offering the Block Editor as an option, nearly half of our 170 websites had switched from the Classic Editor to the Block Editor. And while the Block Editor did represent a complete overhaul of the editing experience, our site managers actually appreciated its more visual editing experience. Rather than navigating between screens of custom fields, widgets, and shortcode documentation, now site managers have quick, visual access to more functionality through Blocks. And by continuously working one-on-one with site managers for training and to collect feedback, our web team has been able to build and refine Block functionality tailored to our top use cases and best practices. We like to say that a website is never finished but in this case our transition to the Block Editor is. I'm happy to have been pleasantly surprised by the Block Editor's usability.