Thomas Wenzel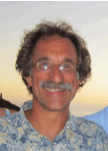 Charles A. Dana Professor Emeritus
Associations
Chemistry and Biochemistry
twenzel@bates.edu
---
About
Ph. D., University of Colorado, 1981 ; B.S., Northeastern University, 1976
Research Interests
Research interests include the development of chiral NMR shift reagents, the utilization of lanthanide ions as fluorescent chromophores for liquid chromatographic detection; and the synthesis of metal chelate polymers and their applications as selective sorbents and gas chromatographic phases.
Curricular Interests
Curricular interests include the development of active learning strategies for the introductory and analytical chemistry curriculum. These involve the use of group-learning in class and project-based laboratory experiences.
Major Awards and Honors
American Chemical Society National Awards

George C. Pimentel Award in Chemical Education – 2020
Award for Research at an Undergraduate Institution – 2010
The Analytical Scientist 2023 Power List – 2023

One of the 100 most influential people in analytical science over the past decade.
Ranked #3 among top 25 educators.

American Chemical Society Fellow – 2016
Camille and Henry Dreyfus Scholar – 2003-2005, 1990-1991
Council on Undergraduate Research Fellows Award – 2002

First chemist recognized with this award.

Analytical Division, American Chemical Society

J. Calvin Giddings Award for Excellence in Education – 1999

Carnegie Foundation Professor of the Year – State of Maine – 1997
Links