Literary Arts Live
Literary Arts Live celebrates the diverse vitalities of contemporary literature.
Bates has a long tradition of welcoming poets and authors to read from their work. In 1932 William Butler Yeats read from his poetry in the Chapel. From the 50s through the 80s, Bates professor-poet John Tagliabue brought many distinguished writers to campus, including Allen Ginsberg and Gwendolyn Brooks. First established as Language Arts Live in 1991 by senior lecturer emeritus Robert Farnsworth, the series has now hosted readings, class visits, and residencies by over 100 authors, among them Nobel Laureates Seamus Heaney and Derek Walcott, and Pulitzer Prize winners Richard Ford, Tyehimba Jess, Donald Justice, Yusef Komunyakaa, Paul Muldoon, Richard Russo, Tracy K. Smith, Elizabeth Strout, and Colson Whitehead. Recent Bates alums have also returned to read from their prize-winning books: Jessica Anthony, Christian Barter, Christina Chiu, Gabriel Fried, and Craig Teicher.
Upcoming Reading
Ed Roberson
September 22, 2022
7-8pm in PGILL G52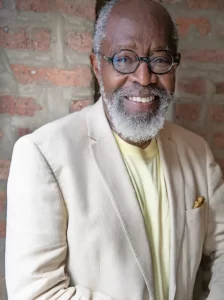 Ed Roberson is the author of twelve books of poetry, most recently MPH and Other Road Poems (Verge Books, 2021) and Asked What Has Changed (Wesleyan University Press, 2021). A former special programs administrator at Rutgers University's Cook Campus, Roberson has lived in Chicago since 2004 and is an emeritus professor in Northwestern University's MFA creative writing program. He has also held posts at the University of Chicago, Columbia College, the University of California, Berkeley, and the Cave Canem retreat for black writers. His honors include the Jackson Poetry Prize, the Shelley Memorial Award, the Ruth Lilly Poetry Prize, the Lila Wallace-Reader's Digest Writers' Award, and the African American Literature and Culture Association's Stephen Henderson Critics Award. Born and raised in Pittsburgh, Roberson has worked as a limnologist's assistant (conducting research on inland and coastal fresh water systems in Alaska's Aleutian Islands and in Bermuda), as a diver for the Pittsburgh Aquazoo, in an advertising graphics agency, and in the Pittsburgh steel mills.
Literary Arts Live events are made possible from the generous support of the English Department, the John Tagliabue Fund, and the Learning Associates Fund. All events are wheelchair accessible, open to the public, and free of charge. For questions about our series, please contact Deb Cutten at dcutten@bates.edu.