#12 — January's Gathering
When, where
January 28, 2:00-3:00pm, Commons 226
Recap
Style Audit
The Style Audit is a collection of visual enhancements aimed at

1) Improving the user experience of our website

2) Bringing more consistency across sites to strengthen the brand

Launched December 16, 2015

Overall, launch went well

Outstanding issues

Larger dropdown menus can appear offscreen
Browser Support
As of January 12, 2016, Microsoft stopped supporting IE 8, 9, and 10.

They announced this 18 months ago.

The older versions still work, but won't receive bug fixes or other security patches.

BCO no longer designs for IE 8 or older.

Less than 1% of our audience uses IE 8 or older

The site is still functional in IE8, it just doesn't look as nice.

Use whatbrowser.org to stay up to date
Browser Trends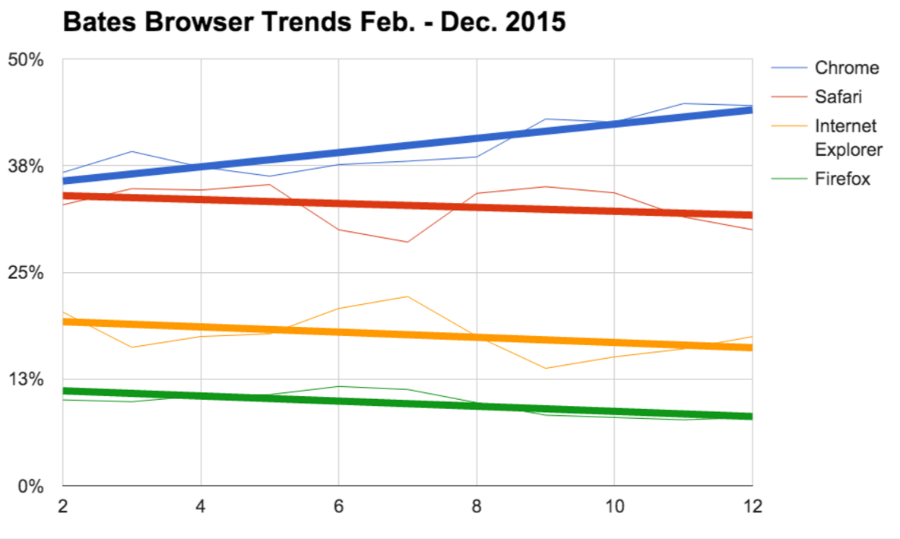 Featurettes (formerly "Sliders")
Featurettes content type found in left admin menu

Activate homepage presentation by having at least 3

Can be edited from the front-end
Shortcodes
Updated Shortcode Reference on bates.edu/wordpress

New "foldaway" shortcode for hiding/showing content

Examples

Use sparingly.
Annual events pages
What should I do with pages that are only relevant for a portion of the year?
Examples:

Orientation schedule, Admission Open House schedule, Reunion, Commencement, MLK Day, etc.

Recommendation:

Keep annual recurring events pages up year round.

Rather than taking the page down in the offseason,




update the copy to keep audience informed. Include dates for last year's and next year's events.
Archiving content
WordPress is primarily a platform for publishing current information

While WordPress does have some archiving functionality (pages can be unpublished and kept as drafts; previous versions of pages are available in revision history; b

ackups are kept for security and college records), serious a

rchiving of information should be done outside of WordPress (Google Drive, network storage, etc.).
Download