Your Place in Maine
The Thousand Words Project, Pamela Damon, Auburn Middle School

Intro:
Intended for rural Maine students, this lesson explores art and artists that practice capturing New England landscapes. Students are learning about personal writing, painting, and connection to place within the context of this lesson.
Time: 6-80 minute class periods
Objectives:
Students will develop descriptive language for concepts of place.
Students will explore the concept of place and environment within visual and written imagery.
Students will explore culturally relevant artists and visual art examples.
Students will practice appropriate critique vocabulary and practice.
Students will demonstrate knowledge of art elements (line, shape, color, texture, value, space,    and form.)
Students will develop and practice personal expression in visual and written contexts.
Common Core Standards for English Language Arts:
R.CCR.4 Interpret words and phrases as they are used in a text, including determining technical, connotative, and figurative meanings, and analyze how specific word choices shape meaning or tone.
L.CCR.3 Apply knowledge of language to understand how language functions in different contexts to make effective choices for meaning or style, and to comprehend more fully when reading or listening.
L.CCR.6 Acquire and use accurately a range of general academic and domain-specific words and phrases sufficient for reading, writing, speaking, and listening at the college and career readiness level; demonstrate independence in gathering vocabulary knowledge when considering a word or phrase important to comprehension or expression.
W.CCR.6 Use technology, including the Internet, to produce and publish writing and to interact and collaborate with others.
Common Core Standards for Visual and Performing Arts:
Maine Learning Results: A: Disciplinary Literacy: 1-3
Maine Learning Results: B: Creation, Performance, and Expression: 1-3
Maine Learning Results: C: Creative Problem Solving: 1
Maine Learning Results: D: Aesthetics and Criticism
Maine Learning Results: E: Visual and Performing Arts Connections: 2-5
Segment Vocabulary:
place, environment, space, and value
Materials and Resources:
Materials:
pencils
lined paper
watercolor paper (or canvas paper if possible)
brushes
paint: gauche, acrylic, or watersoluble oils
water cups
paper towels
Resources:
1:1 computers
Google Docs
Teacher computer
Projector
Ladibug (document camera)
Teach It:
Day 1
Objective: Students will be viewing artwork that is culturally relevant and viewing videos that will help prepare them for their own writing and art creation.
Topic Questions:
Can people make art their career in Maine?
What are visual images that represent Maine?
What are locations that are special to you?
What is a significant place?
What defines a significant place?
Procedure:
30 minutes: Class should be opened by showing the images and asking students the topic questions. It is helpful to have a the questions on a sheet of paper for the students so they can visually see the images and have them in front of them when viewing the work. A class conversation should occur where students are talking about what artists they are familiar with in Maine, have the attended galleries, and what forms can professional artists take.
Images Shown: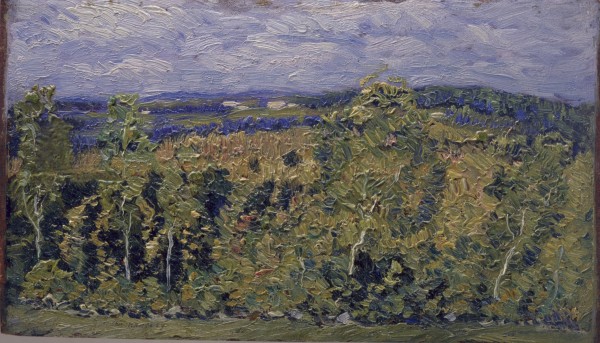 Marsden Hartley: Pallid Spring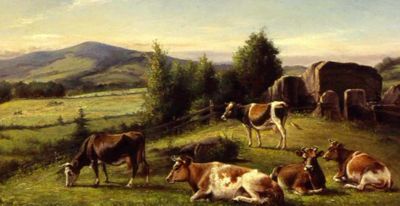 Dana Delbert Coombs: The Watering Place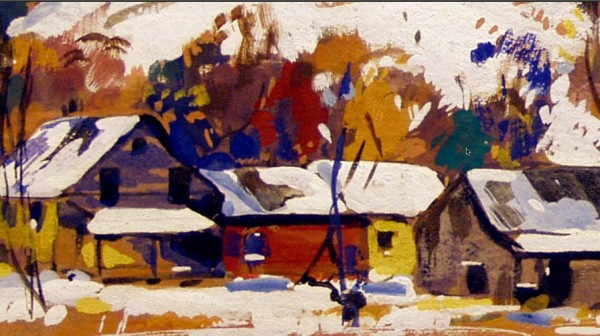 Jay Connaway: Dorset, Vermont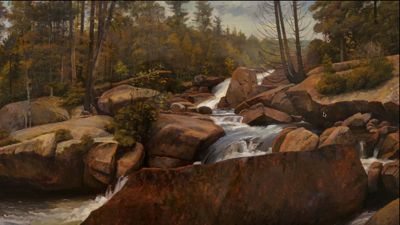 Joel Babb: Falls on Nesowadnehunk Stream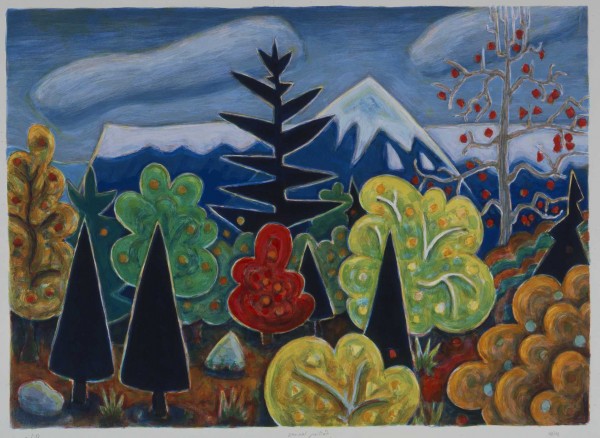 Philip Barter, Falling Leaves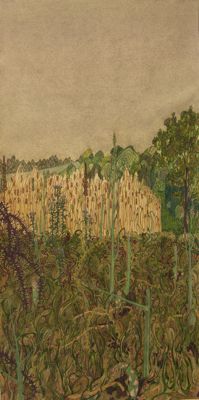 Crystal Nicholas: Last Asparagus
40 minutes: Transition to having students think about a place or space that is important to them. Is there a story that accompanies that location, or what story would you share about the place?
Video Shown: (3:10 minutes)
Colors and Vocabulary
http://www.thousandwordsproject.org/color.shtml
 Assignment: Students are writing a short story, a poem, or other writing that describes their place.
10 minutes: Wrap class up with questions/comments. Homework: Students are to photograph their place. They should take multiple different angle shots to get a full perspective.
Day 2
Objective: Students are reviewing how to work with paint and creating their own painting of their "place".
Topic Questions:
What are the steps to painting?
What information was necessary to be in your painting about you place?
Why is your place important to you?
Procedure:
5 minutes: Check in with students about having their images with them, and that they are able to get them onto their laptops. Their images need to be up so that they can draw out their image on their paper.
15 minutes: The teacher shows the next video, and then demonstrates how the image should be transferred to the paper, mixing paint, and working on developing layers of color towards a final painting.
Video Shown: (3:13)
Brush Strokes and Words
http://www.thousandwordsproject.org/brushstrokes.shtml
50 minutes: Students are given work time, while the teacher walks around and gives advice where needed.
10 minutes: Clean-up time.
Day 3:
80 minute Work Day: Painting
Day 4:
80 minute Work Day: Painting
Day 5:
Objective: This is a wrap up day for students to make sure their paintings are complete and to go back to their writing.
Topic Questions:
What about the text needs revisions?
What do others need to know about the place to demonstrate its personal significance?
What final touches need to occur in the painting?
Does the painting convey the intended message about the place?
Procedure:
Students are asked to start by working on their written text, they should make revisions in their Google Docs, and then have a friend peer review for them. The rest of class is dedicated to finishing up the painting and making any corrections to their text.
Day 6
Objective: Students are learning how text and imagery can work cohesively together to tell a complete story.
Topic Questions:
How can text and imagery work together?
What can text and visual imagery convey on their own?
What messages about place are given from peers?
What seems to be missing?
Procedure:
60 minutes: All student work is hung up in the room. Each student shares their art piece and reads their text to the class. When the student is done sharing, the floor is opened so that the rest of the students are given the opportunity to ask questions and give comments. The teacher should act as a facilitator throughout the class conversation to help give direction in conversation and redirecting conversation when needed.
15 minutes: Students are asked to write a short reflection about the process as a means to debrief from the exercise.
Questions for Students:
What was the most difficult about this project?
What was the easiest about this project?
What did you lean about place?
How did other people's interpretation of place influence you?
What suggestions would you give about this project?
Did you learn anything about yourself from this?
5 minutes: Students should take down their images and hand in all work.