General Public & Community Organization Resources
The public is welcome to view our exhibitions, free of charge. Parking is available nearby. When planning your visit, please check our Exhibitions page to learn more about what will be on view. Groups of 10 or more are encouraged to schedule their visit with the Education Curator.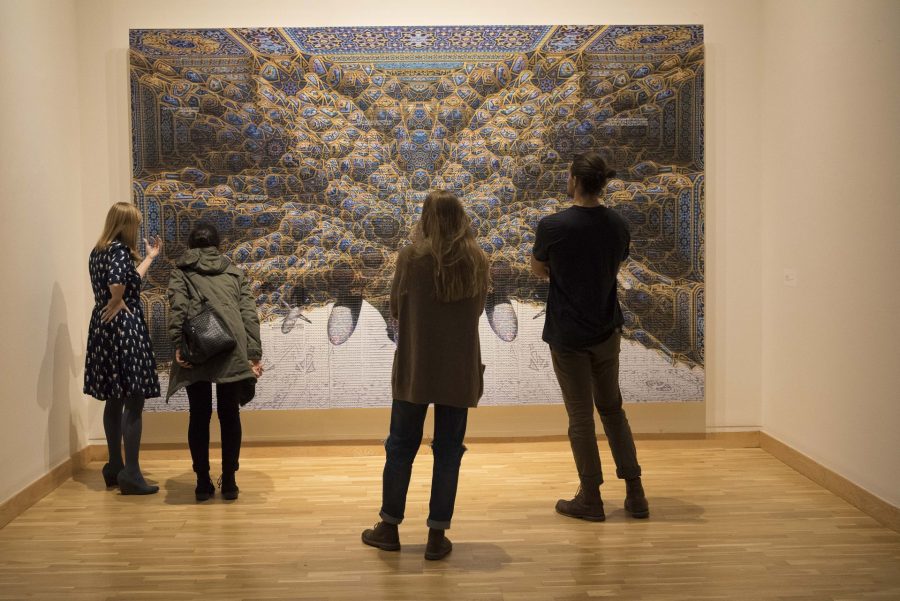 We invite you to attend and participate in the lectures, workshops, tours, receptions, film screenings, and other public events we schedule each year. Museum programming is an integral part of the academic, cultural, and social life of campus and surrounding communities.
Our program of events is developed to complement exhibitions and the collection, and is developed collaboratively with faculty in support of the curriculum. We also host campus and community events and collaborate with local community organizations. With few exceptions, our events are free and open to the public.
Explore our schedule of events
Local organizations and clubs can propose to hold an event at the museum. Some examples of this type of program are: a poetry reading and reception, a lecture, or a board meeting. Contact the Education Curator to discuss you idea.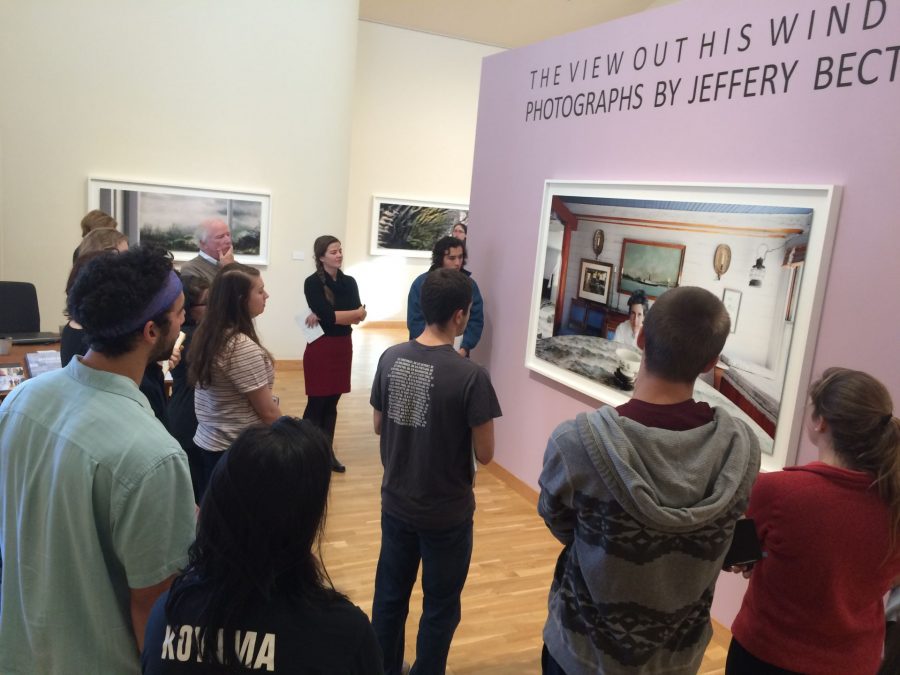 Tours of exhibitions led by a museum educator are available to clubs, schools, group homes and senior living centers, and nonprofit organizations. To assist you, the Education Curator will need your name; the organization you represent; the exhibition/s you would like to explore; the number, age, any special needs your group might have; and the dates and time of day you are most interest in. Contact the Education Curator now to begin planning your visit.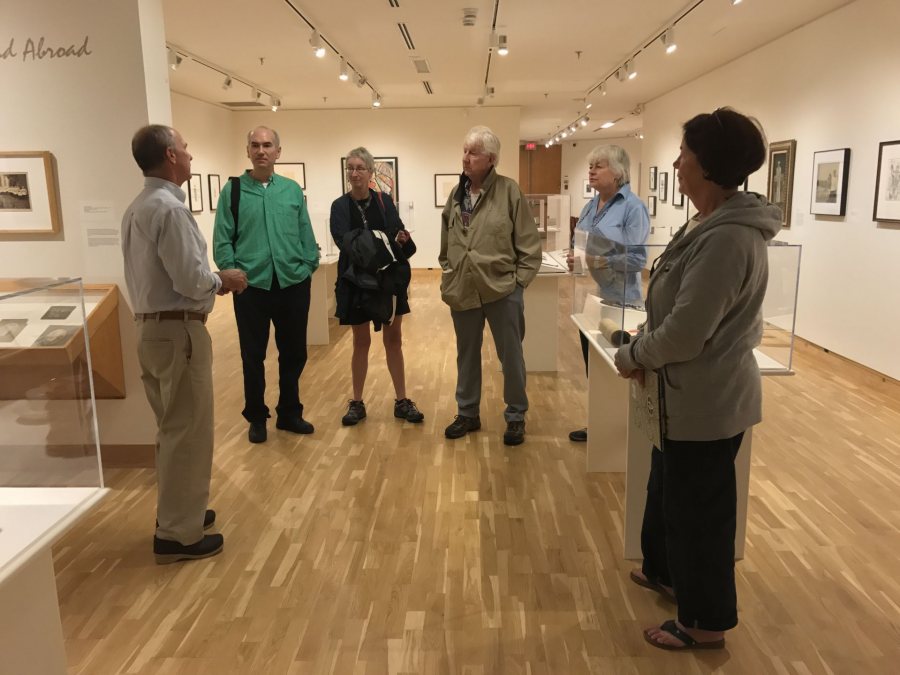 Did you know that the collection includes noted 21st century artists, and also works by Marsden Hartley; Cézanne; Dürer; Kollwitz; Picasso; Pre-Columbian, African, and Asian art; and more? Being able to see artworks up close can be a dynamic complement to both your coursework and your extracurricular interests. The museum's education staff can be on-hand to lead discussion about the objects in our collection or to merely present them, at your preference. To support teaching and learning at Bates, the Museum of Art's permanent collection of over 8,000 objects is now available and searchable online. Please keep in mind, the database is not complete; it is an ongoing project.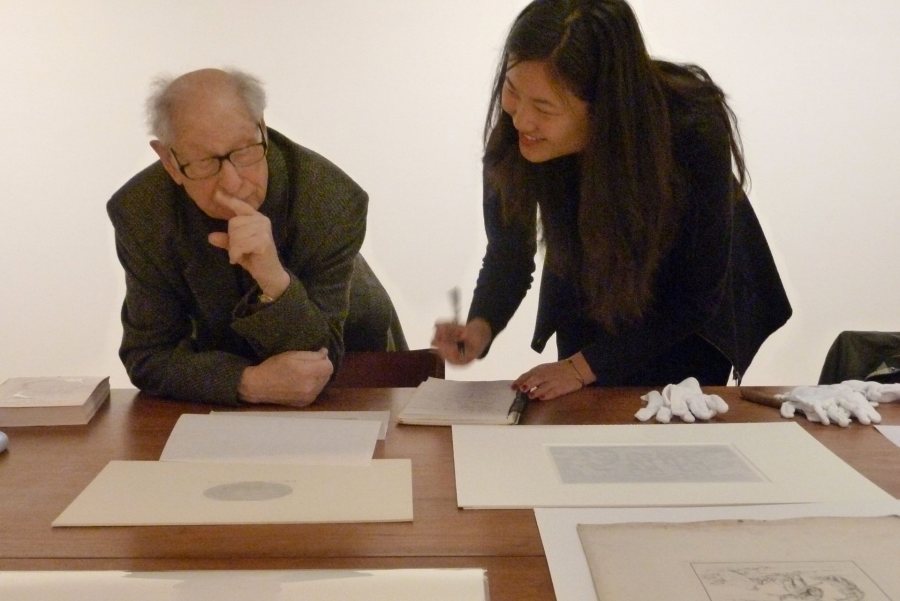 Unless otherwise specified, photography without a flash is allowed in the museum, and food and drink are not allowed. Visitors are asked to leave bags and other large items with the gallery attendant.
The museum reserves the right to dismiss anyone who its staff deem are being disruptive or who are endangering the safety of other guests, the staff, or the artwork. Parents and guardians of young children are expected to help their children act appropriately in the museum.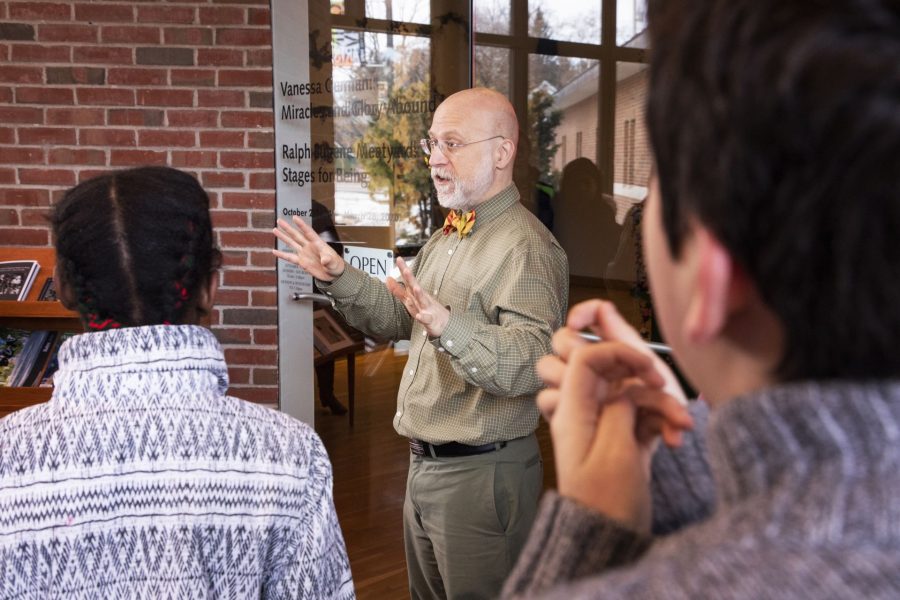 VISIT
No, the museum is free and open to everyone.
Contact us at museum@bates.edu to inquire about tours (type "Tours" in the subject). Guided group tours are available by appointment.
No. Food and beverages are allowed in the atrium, but not in the galleries.
Yes. We encourage families to visit!
PHOTOGRAPHY
Visitors are allowed to take non-flash photographs. On occasion certain exhibitions have photography restrictions, which are identified on wall labels and at the visitors' service desk. Photography for commercial use or distribution is prohibited.
Professional photography requests
Exhibitions: To request a professional shoot for press or educational purposes, or to request high resolution art and exhibition images, contact museum@bates.edu (type "Exhibition Photography Request" in the subject).
Collections: To request a digital image of a work in permanent collection, contact museum@bates.edu (type "Collections Photography Request" in the subject).
ACCESSIBILITY
Yes. Please inquire at the Front Desk in person or at 207-786-6158.
Yes, there are accessible parking spots off of the circle in front of the Olin Arts Center/Museum entrance.
In accordance with titles II and III of the ADA, the Museum welcomes service dogs only. Service dogs must be housebroken as well as harnessed, leashed, or tethered to their accompanying individual.
ART SERVICES
The Museum cannot endorse specific conservators. Excellent information about selecting a conservator is available on the American Institute for Conservation's website. To learn about what questions to ask regarding the most current conservation methods, click here.
There are many matting and framing businesses in Maine from which to choose. We cannot recommend any specific one but if you wish to search for one, type "Maine Framers" in a web browser. To learn about framing and art care, click here.
Moving large works of art is best handled by an experienced fine art shipper.
For crating or shipping in Maine, search "Maine Fine Art Shipping" on the web.
For crating or shipping in New England, consult the New England Marketplace.
For national/international services, consult the American Alliance of Museums Marketplace. The Museum does not endorse specific art handling and shipping companies.
EXHIBITIONS AT THE MUSEUM
Yes. Each year, the Museum collaborates with the Art & Visual Culture department to present the Annual Senior Thesis Exhibition. Click here for a link to a recent thesis exhibition.
Thank you for your interest in the Museum. While we welcome submissions for consideration, we recommend that prior to submitting you consider the Museum's mission, educational programming, and current and past exhibitions in order to determine whether your submission is a match with our program. Museum exhibitions are closely tied to Bates College's curriculum and education needs, and are typically planned several years in advance. Most exhibitions are curated by Museum staff or invited guest curators, and being a small museum, we seldom have available slots to entertain unsolicitated submissions. Because of the volume of unsolicitated proposals we receive, the Museum cannot return artists' materials.
The Museum will not accept actual works of art for consideration.
Thank you for your interest in the Museum. We recommend that you visit the Museum's website and review the Collection, Exhibition, and Programming pages in order to determine whether your collection is a match with our program. Then contact the director or curator at museum@bates.edu with information about your collection, so they may be informed about your collection prior to contacting you.
COLLECTIONS
The Bates Museum of Art continues to strengthen its collections through select purchases and gifts of works of art. The director and curatorial staff regularly review collections and set priorities for acquisitions. The Museum buys art from galleries, dealers and auction houses, and occasionally from individuals, and rarely makes purchases from unsolicited proposals. If you are considering sending a purchase proposal, we recommend that you first visit the Museum's website and review the Collection, Exhibition, and Programming pages to familiarize yourself with the Museum. Purchase offers should be addressed to the attention of the director or curator at museum@bates.edu.
The Museum's staff is small, but curators are happy to answer questions about the collection, donations of works of art, and other topics related to the Museum's holdings and exhibitions. Please contact us first by email at museum@bates.edu.
The Museum welcomes all offers of gifts of works of art. Potential donors may contact the director or curatorial staff about their intentions to offer a gift. If the potential gift matches collection needs, we may ask the prospective donor to provide information about the work or works being offered, as well as images (digital .jpg images or snapshots are fine). The staff will consider, among other criteria, quality, and whether each work of art is appropriate for the collection. If the gift is accepted, the donor will be asked to fill out a deed of gift, to transfer ownership. For appraisals of charitable donations of works of art, check with your tax preparer or accountant for the proper procedure and paperwork required by the IRS, and refer to the Appraiser question under Art Services. If the work being offered does not fit the Museum's collecting needs, the gift will be declined.