Kate Gilmore: In Your Way
June 9 – October 7, 2017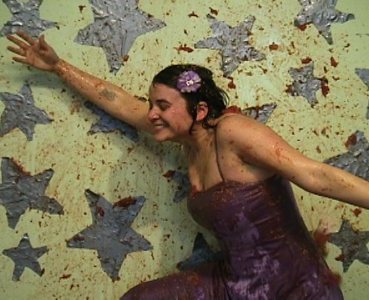 Kate Gilmore '97 is an artist who synthesizes multiple mediums including performance, video, sculpture, and painting. Kate Gilmore: In Your Way features eight performances—seven video and one live commissioned by the Bates College Museum of Art. Her videos focus on women, usually herself or a small group of women, wearing stereotypical feminine clothing and footwear while persistently performing difficult, labor-intensive tasks within self-constructed spaces. These works explore feminist themes, modern and contemporary art tropes, and relentless determination.
The videos in this exhibition include her performance My Love is an Anchor (2004), which features Gilmore struggling to remove her foot from a bucket filled with cooling plaster, Standing Here (2010), which features her trying to climb out of a tall narrow column of plaster, and Like This Before (2013), in which she carries white paint-filled vases up a large black structure with troughs, then kicks the vessels over to create an expressionistic, striped painting object. The Bates performance, which is under development, will take place at scheduled times throughout the exhibition. Gilmore's performances often combine minimalist structures with the performance of difficult actions such as the destruction of paint-filled objects. The spilling and splattering from her work are an ode to Abstract Expressionism or 1950s stripe paintings. Her works are mischievous and political, as well as humorous and critical of the heroic language and absence of women in these artistic movements. The physical situations and actions Gilmore creates for herself and her performers are metaphors for challenges women face culturally and socially.
Kate Gilmore was born in Washington, DC in 1975 and currently lives and works in New York City. She graduated from Bates College in 1997 and the received her MFA from the School of Visual Arts, New York in 2002. Gilmore is trained as a sculptor, but began working in performance when she observed that studio visitors were interested in her process and materials as much as the work. Gilmore is currently an Associate Professor of Art and Design at Purchase College, SUNY, Purchase, NY. She has had solo exhibitions at numerous institutions including Bryant Park/Public Art Fund, New York, Institute of Contemporary Art, Philadelphia, Parasol Unit, London, and Rose Art Museum, Brandeis University, Boston. Gilmore has participated in many acclaimed exhibitions including the 2010 Whitney Biennial, Whitney Museum of American Art, New York, Who's Afraid of Performance Art?, Fonds d'art contemporain de la Ville de Genève, Geneva, Hothouse Video: Harder, Glorious, Washington Project for the Arts, Washington, D.C, and the 2011 Moscow Biennial, Moscow. Her numerous awards include the Rome Prize (2007), and Louis Comfort Tiffany Foundation Award (2009), Rauschenberg Residency Award (2013) and Art Prize (2015). For more: www.kategilmore.com
Museum Intern Margaret DiRuggiero '18 is curatorial assistant for this exhibition, under the direction of Dan Mills, director.