Bobcat Express Service Learning Shuttle
Bobcat Express – Service Learning Shuttle (SLS)
*During the academic semesters, the weekday mission of Bobcat Express is giving priority to assist students with providing transportation to their "Service Learning" and "Community Engagement" commitments which are a part of their academic experience and sponsored by the college. Bobcat Express does not provide services for convenience or leisure shopping during the academic weekday until after 5:00p and we recommend that you seek an alternative ride service for those interests. It is recommended for those who desire a ride for shopping interests to become familiarized with the citylink public bus services (which do pick up and drop off at locations on campus), or seek a ride with hired services such as Lyft, Uber, or other taxi.
Community-Engaged Learning Shuttle Information

Regular Schedule 
Monday – Friday 7:30 a.m.- 5:00 p.m.
Students who need transportation to off-campus sites for academic extension student engaged service learning, internships, and community service commitments can also use one of our two shuttle services; one operating on a regular schedule  going to the Lewiston area schools and the other providing a "taxi service" going to Auburn schools and other service learning locations outside the published "shuttle van" route.
Scheduled Shuttles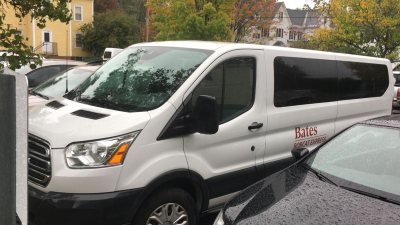 The van shuttle operates on two staggered loops which go in opposite directions of Lewiston during the school day. Each loop requires almost a half hour to travel, and run once each hour, on the hour and on the half hour. These loops  depart from the area of Franklin St and Campus Ave (the side street running between Chu Hall and Kalperis Hall – students can wait in the lobby areas of these buildings if necessary during inclement weather).
The 1st loop departs on the half hour, beginning at 8:30 am, and stops at Connors, Lewiston High School,  and Farwell. (Students going to downtown locations such as Tree Street, Root Cellar, St.Mary's Nutrition Center, and Trinity Jubilee can get a ride with the van on this loop leaving at half past the hour if there is open seating availability).
The second loop, departs on the hour, beginning at 9:00 am, stops at McMahon, Montello, and Geiger. In the afternoon, starting at 3:00 pm, this shuttle will break away from the fixed loops and make its rounds to Tree Street and the Lewiston Public Library. Please click here to download a copy of the current CEL shuttle schedule. It is important to coordinate assigned student teaching roles to work with the established loop schedules in order to best assure arriving at these appointments on time. * When the van is out traveling the route on one side of the city it cannot respond to meet requests on the opposite side. Although there generally is another vehicle operating in service, it is often performing other transport services, and cannot be expected to respond immediately to an unscheduled "off-cycle" request. Students setting up their teaching internships should acquaint themselves with the transport schedule, and make every attempt to synchronize with it.
Taxi Shuttle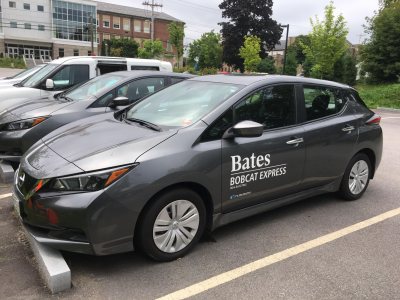 If a student is going to a location for an academic or college sponsored engagement that is not included on one of the established SLS routes, or if the shuttle arrives but is full, he/she may call our other community-engaged learning shuttle (786-8300). Our "taxi" shuttle is a service that runs from 7:30 am to 5:30 pm Monday to Friday taking students to community placements in Lewiston and Auburn.  Requests are made through student dispatchers and radioed on a "first-come, first-serve" basis to the driver of the car. Shuttle drivers know directions to all schools and most community agencies if you have the correct name. This shuttle service also is used to transport students having medical or therapy appointments, either emergency or by advance reservation, so it may be unavailable (or may have a significant wait time) for those who either miss or fail to set their schedules to work with the schedule of the van servicing the schools.
To request a taxi shuttle, you should call (786-8300) and speak with a student dispatcher who can contact the driver and relay any information of expectation. The Bobcat Express will pick you up in the vicinity of Chu Hall and Kalperis Hall as soon as possible. You must be prepared to wait as long as 30 minutes for a ride depending on where the vehicle is when you call. The shuttle cannot take advance calls which put it on "hold" and out of service for others. You must be at the pick up location when you need the ride.
When you are ready to return, call (207) 786-8300. It will help everyone use the shuttle more efficiently if you coordinate with other students going to the same location and make one call to the shuttle.
Shuttle drivers may leave if you are not in a visible location when they arrive to pick you up, and that will quite likely result in an extended time of waiting before another can make a return. The Bobcat Express does not function as a personal "Uber" type of service catering to the individual, but operates more from a holistic model with view of the overall objective accomplishment; often incorporating several pick ups and drop offs along the course of a route.
If you have any concerns about the shuttle service, including extended—over 30 minute—waits, they should be emailed to the Transportation Coordinator. Concerns are monitored and efforts are made to address them. Thank you for your cooperation.