Students and Alumni
Alumni make 'huge impact' at international gathering of ocean researchers  
Taken from a story by Jay Burns. Published on March 25, 2014. Visit https://www.bates.edu/news/2014/03/25/ocean-sciences-meeting-austin/
Attending an international ocean science conference last month, Professor of Chemistry Rachel Narehood Austin emailed us to say she was "stunned" by what she was seeing.  No, the source of great wonder wasn't her surroundings (the conference was held in Hawaii) but, as she wrote, "the impact that Bates alumni are having at this meeting."  Held at the end of February, the Ocean Sciences Meeting is the world's largest gathering of ocean scientists, engineers, students, educators, policy makers and other stakeholders.  Against the backdrop of global climate change, the meeting is an especially critical venue for scientific exchange among the world's leading scientific minds.
Bates chemistry alumni at the meeting were:
Erin Bertrand '05
Erin Bertrand co-chaired a session on vitamin micronutrients and their impact on marine microbes.  She also presented findings from an experiment conducted in Antarctica's Ross Sea in 2013, in which researchers looked at how changes in water temperature, carbon dioxide and iron availability affect phytoplankton.
Kneeling on sea ice in the Ross Sea, Erin Bertrand '05 prepares to take a 1,000-liter sample of seawater as part of a 2013 study of whether the phytoplankton and bacteria in the seawater are starved for iron. (Photo by Jeff McQuaid)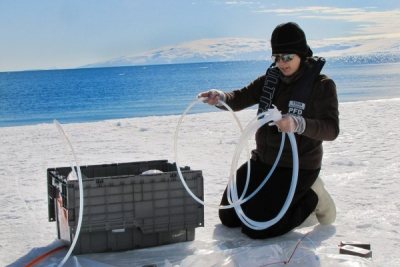 Phytoplankton carry out photosynthesis, and iron, as a trace element, is necessary for this process, explains Bertrand. "This experiment will help us predict how climate change is going to impact the amount of photosynthesis happening in the Southern Ocean," she says.
"This is particularly important because the Southern Ocean plays a large role in determining the relationship between the world's oceans and atmospheric CO2concentrations," she adds. "Change in Antarctic phytoplankton growth in response to a warming ocean has the potential to profoundly influence that relationship."
When she starts her position at Dalhousie, Bertrand will be nominated for a Canadian Research Chair, a $300 million Canadian program to attract and retain the world's most accomplished and promising minds.
 Claire Parker '11
Claire Parker gave what Austin called a "wonderful talk" on three metals — scandium, yttrium and lanthanum — and their distributions in the ocean. Her thesis adviser, Ken Bruland, is an expert in the interaction of trace metals with biotic (living) and abiotic (nonliving) aquatic ecosystems.
Parker is doing research that's part of the Geotraces project, an international effort to measure the concentrations of trace metals in the world's oceans.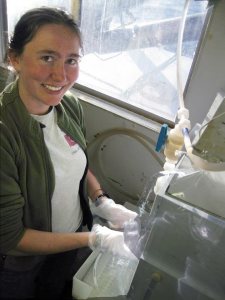 Parker's work is part of the Geotraces project, an international effort to measure the concentrations of trace metals throughout the world ocean in order to better understand key biological, chemical, and physical processes.
Parker enjoys her work because there's no limit to where the study of trace metals might take her.
"Studying trace metals is surprisingly applicable to almost everything else in the ocean."
For example, some metals are necessary nutrients for plants, and plants are at the base of the ocean food chain.
Some pollutants can be tracked with trace metals. And undersea hydrothermal vents release "huge concentrations of many metals in a plume that can be detected a thousand miles away."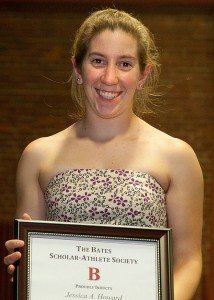 Howard '12 is proof that science internships pay, chemistry journal says
Taken from a report by Jay Burns. Published on October 17, 2012. Visit https://www.bates.edu/news/2012/10/17/internships-science-majors-howard/
Biochemistry major Jessica Howard '12 was also a three-year letter winner on the women's swim team who was inducted into the Bates Scholar-Athlete Society as a senior. Photograph by Rene Minnis.
The journal Chemistry and Engineering News says Jessica Howard '12 is a prime example of how science majors can use research internships to leverage job prospects.
A chemistry major, Howard is now a research scientist working on a drug discovery project at Albany Molecular Research Inc. in Indianapolis. She had considered graduate school, but "loves the hands-on" aspect of work in the private sector.
Her internship, the summer before senior year, was at Cubist Pharmaceuticals (whose CEO is Mike Bonney '80, chair of the Bates College Board of Trustees).
"I loved my experience there — the people, the work environment, and seeing the impact of my work by producing drug candidates," Howard tells reporter Emily Bones.
Howard also gained lab experience at Bates, including a yearlong thesis in analytical chemistry under Dana Professor of Chemistry Tom Wenzel. "Being able to form a relationship with a professor who knew me both in the lab and as a student, that gave me a leg up in my [job] interviews," Howard says.
View story in Chemical and Engineering News, Sept. 10, 2012
NOVA intern Sarah Charley '11 starts with a joke
By Jay Burns. Published on October 18, 2011 Visit: https://www.bates.edu/news/2011/10/18/nova-blogger-sarah-charley-11/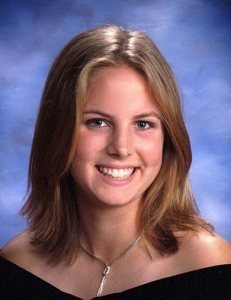 In her debut blog post as an intern for NOVA, Sarah Charley '11 explains the Heisenberg uncertainty principle using an old joke and a few apt similes that explain how an electron can sometimes be like a "sheet crumpled into a ball" and other times like a "quilt spread across a bed."
Here's the joke. Professor Werner Heisenberg is speeding down the highway when a cop pulls him over. The cop walks up to his car and asks, "Excuse me sir, do you know how fast you were going?" And Heisenberg responds, "No, but I know exactly where I am!" Entering the field of science journalism has been Charley's career goal for some time. For her chemistry senior thesis last year, Charley produced a full-length magazine about the faculty and student research happenings in the chemistry department. And last winter, she gamely used a snow sculpture to explain the concepts of potential barriers and quantum tunneling.
Where Bates Graduates go:
Recent chemistry graduates have gone on to Ph.D. programs at the following institutions:
Yale University
Cornell University
University of California, Santa Clara
University of Wisconsin, Madison
University of Texas, Austin
University of Vermont
Harvard University
Recent students have earned degrees in the health sciences:
Tufts University
Philadelphia College of Medicine
Massachusetts College of Pharmacy
University of New England
NYU College of Dentistry
Massachusetts General Hospital School of Nursing
Recent students have obtained laboratory or clinical research or consulting positions:
North Shore LIJ Health System
Boehringer Ingelheim
Massachusetts General Hospital
Elevance Pharmaceuticals
McKinsey and Company
Harvard Medical School
Albany Molecular Research
Renewable Energy Group
Rapid Micro Biosystems