A Brief Look at Marina Abramovic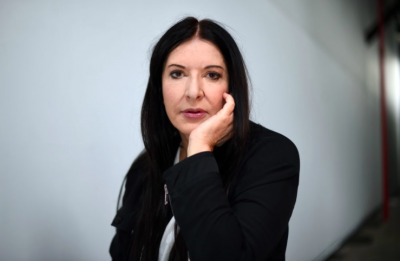 As a curatorial intern in the Bates College Museum of Art, my main task thus far has been to research female performance artists to use as background for an upcoming exhibition by Kate Gilmore. Gilmore, a Bates grad of 97', has gone on to become a wonderful and successful feminist performance artist. Her videos focus on women, usually herself or a small group of women, wearing stereotypical feminine clothing while doing incredible difficult, labor-intensive tasks. These works are meant to draw attention to the struggles many women encounter in society today, where, although we have made progress towards gender equality, there is still a lot more that can be done.
Before this internship, I knew one, maybe two female performance artists, and even then I knew very little about them and their backstory. As I delved into my research, I found that these artists and their ideas came up in my daily life ever more frequently. What has inspired me to write this blog post is an article from the daily email I received from Artnet News this morning (side note- everyone reading this should sign up for these daily emails because the articles are interesting, diverse and include information about every aspect of the art world today). In today's email, I was drawn to an article about Marina Abramovic's newly released memoir, Walk Through Walls, titled "5 Powerful Things We Learned From Marina Abramovic's Memoir."
Abramovic, one of the women I have been researching, is commonly referred to as the "grandmother of performance art." She is one of the first women to introduce the idea of an artist connecting and communicating with the audience in a very real and literal way. Her performance piece, Rhythm 0, involves her on a stage with a table of 72 different objects and an audience. In it she becomes a passive member of the performance, while the audience interacts with her and can pick any object from the table and use it on her. Another famous performance, The Artist is Present, was performed from March until May at the Museum of Modern Art in New York City. Throughout the three months, Marina sat in front of a table silent and motionless while members of the audience walked up and sat in front of her. Although she did not speak, Marina maintained eye contact with each audience member, thus bringing the audience into the performance with her. This piece brings to the forefront the importance of an artist to the performance itself. We often see pieces of art (photography, sculpture, etc.) but seldom the artist.
In the Artnet News article, the main thing that jumped out at me was when Marina described the moment she knew she wanted to make performance art her focus. At the Academy of Fine Arts in Belgrade, she was working on a piece called Cloud With Its Shadows and placed a peanut on the wall as part of the piece. As she analyzed the shadows the nut made, she realized that she did not want to just paint dreams, she wanted to create and interact with them. This very much defines Marina to me.
By,
Margaret DiRuggiero
Art History