Trying New Things
Going into this internship, I didn't quite know what to expect. I could assume, I could hope, I could believe that I wasn't going to be in over my head. But what I really didn't expect… was hitting my head. Getting a concussion three weeks into the semester was definitely not in the plan, and significantly affected my intern experience.
In my first few weeks I was doing what I had expected, I was checking and re-organizing the files on each piece of art in the Museum's collection. There are few things that make me feel both relaxed and intrigued as organizing. It was great to take a break from class or schoolwork and work on something that I was really passionate about, and felt as if I was making a difference in. At this time I also was working on cataloging a new set of African and Vietnamese pieces from a generous donor. I particularly enjoyed working with these pieces, as I was able to look at them, hold them, and in turn connect with the people who have done the same over the years. For example, I cataloged a stool (shaped like some sort of hybrid animal) and by handling the work, I understood how it was used, observe every strain on the legs, the wear in the seat, and I can feel what it meant to someone. My favorite moment was when I visited the Guggenheim Museum in New York City over winter break, where I was taking in Danh Vo's exhibition "Take my Breath Away", in which he used found objects to illustrate history and how time passes. I moved up the spiral gallery and was meandering around at one of the top levels, waiting for my friends, when I stumbled upon a vase that I swear I had just worked on in the museum a week ago. They may have come from the same place, they may have not, but the fact that there could be a connection, and that there was a connection in me, is what art history is all about.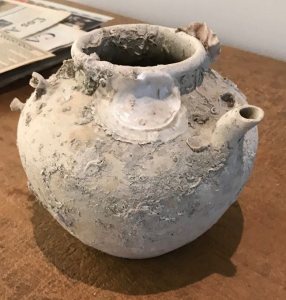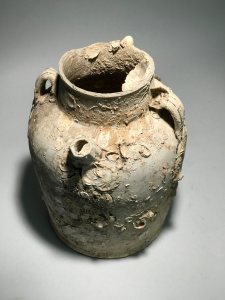 Most likely ancient Vietnamese ceramic works recovered from the ocean.
(left image) from the Solomon R. Guggenheim Museum
(right image) from the Bates College Museum of Art, Gift of Mark Rapoport, MD and Jane C. Hughes, 2017.1.32
Post-concussion, I took a couple weeks off and other collections interns finished cataloging the rest of this particular donation. When I got back, I started work on a new project, and that was comparing the museum records with those of another artist (and donor); Claire Van Vliet. This was special for me as I got to sit in on a lecture by her earlier on in the semester, and now I was getting to work with the very pieces she was talking about. As any artist knows, you put a little bit of yourself into every work, and by handling and spending time with many of Van Vliet's pieces I felt as if I started to get to know her. No matter that her lithographs and woodcuts were mostly based in landscapes, her sweeping use of color and shading carries weight and I loved working with every single one.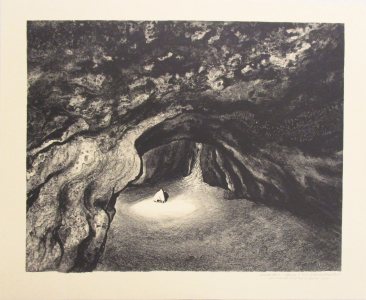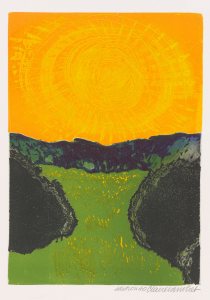 (left image)
Claire Van Vliet
Windcave – Uluru II (2003)
lithograph on BG rives
Bates College Museum of Art, Gift of the Artist, 2013.1.55
(right image)
Claire Van Vliet
Spring Sunset (1965)
intaglio on rives paper
Bates College Museum of Art, Gift of the Artist, 2013.1.58
The reason that I love art is because of how people connect to it. This internship has allowed me to connect with new pieces in mediums that I probably wouldn't have looked at twice on the average visit to a larger museum. And above everything else, this internship has allowed me to connect, more than anything, with people. Whether it be the curators of the Museum, my supervisor/superstar registrar, or the other interns – collection objects or otherwise – I learned so much and got to hear so many different stories and viewpoints, and formed relationships with intelligent people that I really enjoy. I hope to be an intern again over the course of my Bates career and hopefully land at a museum doing similar work someday.
Hannah Palacios, '21
AVC/Rhetoric Major