Peter Turnley Photographs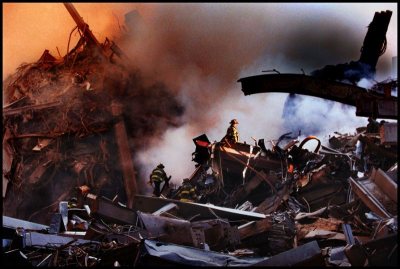 Peter Turnley (American, b. June 22, 1955)
New York, 9-11-01, 2001, 2001
Archival Pigment Print
20 x 24 1/8 inches
Bates College Museum of Art, Gift of John and Claudia McIntyre
This is my second semester working in the Bates Art Museum as the Collections Management Intern. I spend my time cataloging new acquisitions, which allows me to see all of the wonderful pieces in the Museum's collection. Through the helpful guidance of Corie Audette, Assistant Collections Manager/Registrar, I have been able to determine the area of Museum work that is most interesting to me.  As a senior, I have decided to apply to graduate school for Art Conservation, and the Bates Museum has been instrumental in helping me come to this decision.
Throughout my work I catalogued a series of photographs by Peter Turnley. One photograph that stood out to me is entitled, "New York, 9-11-01, 2001." Taken at Ground Zero, it shows firefighters climbing through the wreckage of a building to look for survivors. The image struck me because it shows the enormity of the work of the first responders. The photograph shows a massive pile of twisted metal, with smoke rising above it. Despite this, the firefighters proceeded without hesitation. There is an orange/red color to the background on the left side of the painting, presumably from the sun. In the middle the white smoke billows around, and on the right side of the painting there is a hint of something blue. This composition reminded me of the American flag, and the sense of nationalism and community that arose out of the tragedies of that day.
Peter Turnley also created a series of images about refugees and the struggles they face. These images are currently exhibited in the Museum from October 27, 2018 – March 23, 2019. His images show everything from the conditions of the camps to hundreds of people standing in line with their suitcases. One particular image shows a small child looking out the window of a train. It is entitled, "Refugees from Kosovo, Albania." Both the child and their mother are looking at the audience, but the child's face is the one in focus. What the audience sees is a wide-eyed child, fearful of the unknown before her. Small patches of dirt cover the child's face, and it is clear that the conditions of their travel have been harsh. All of Turnley's exhibited images remind the audience of the situations people experience around the world, and the struggles they face while trying to bring their families to safety.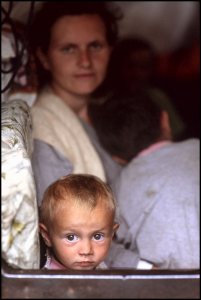 Peter Turnley (American, b. June 22, 1955)
Refugees from Kosovo, Albania, 1999
Archival Pigment Print
24 x 20 inches
Bates College Museum of Art, Gift of Chris and Whitney Campbell
Lindsay Ryder, '19
Classical and Medieval Studies Major

Anthropology and US History Minor