Oh Dear! (My Experiences with Deer Woman)
As a Collections Management Intern with the Bates College Museum of Art, I examine works of art that the museum has acquired quite closely, and I get to see a lot of interesting things. Recently, I have been working with a large gift of drawings and paintings by Swedish-American artist Carl Sprinchorn (1887-1971), a close friend of Lewiston, Maine native Marsden Hartley. This gift of over ninety works was donated to the museum in 2018 by the Carl Sprinchorn Admiration Society.
One day, when cataloguing some of Sprinchorn's works, I came across an odd drawing of his. At first glance, it seemed just your typical nude study of a figure in motion, but upon closer examination I noted that the figure was in fact not human! And the background was not some nondescript amalgamation of green shades, but a forest. I opened up the preliminary file on the drawing in the museum's collection database, EmbARK and, with my mouth agape and eyes wide, read the title: Deer Woman!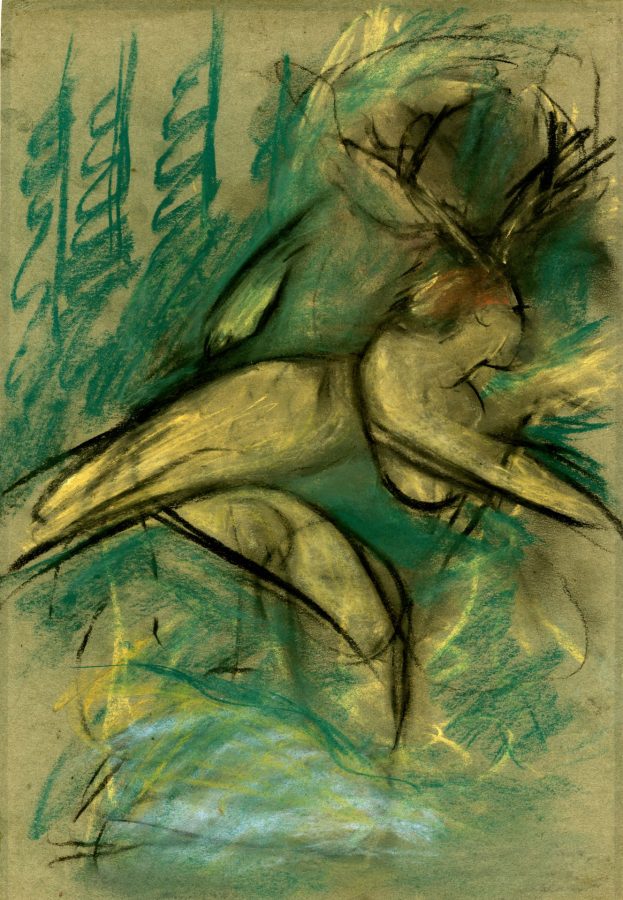 While Sprinchorn's subject matter typically ranged from mountain landscapes to lumberjacks at work, it was quite surprising to me to see a forest animal and woman blended together. What possibly could have been going through his mind when he sketched this? Was it a dream? A nightmare? I hypothesized about this for another 20 minutes or so, querying Curator Bill Low and Collections Manager Corie Audette about it ­­­constantly.
While I still may not know the exact reasoning for this peculiar forest creature, I love that I had the opportunity to inspect this unusual artwork up close and to try to assemble its story. Take a look at the image yourself and see what I mean. Working as an intern in the museum for the first time this past semester has certainly caught me in the headlights, and I'm hanging on for deer life, but I wouldn't have it any other way!
Bridget Thompson '22
Art & Visual Culture and History Major