Looking at Maine Landscapes from Tennessee
When I was creating my presentation for Rollin' to Olin, a program the museum offers annually for all Lewiston 4th-graders, I came across an amazing painting. I was in awe of its composition, subject matter, and angle. In this painting Joel Babb focused on the cityscape of Lewiston, Maine. When I presented Androscoggin Aerial: Powers on the River at Rollin' to Olin, it was a wonderful piece to get the students excited, connected, and engaged with art. Babb paints both cityscapes and landscapes. I was fortunate to interview him about his life, work, and involvement in the museum.
Joel Babb is not only an accomplished artist but also an active presence in the Bates art community. Babb, who received his degree in art history from Princeton, has worked in or taught through museums throughout his life. He completed his MFA in Boston at the Museum School and Tufts, and then he taught for the Boston Museum's Education Department, next for the Museum School, and later for Harvard University Extension. Babb was first introduced to The Bates Museum of Art through his friend and Boston Museum of Fine Arts coworker, Katherine Lattanzi,who had come to Bates to direct the Treat Gallery, which later grew. Babb also claims that one of the friendships that he's made was with the previous Dean of the Faculty, Carl Straub. Babb often attends the Wednesday life drawing sessions hosted by the museum and has participated since the program first started. He states that he has enjoyed interacting with artists at Bates and in the community through these sessions.
Joel Babb, who is now a painterly realist, was an Abstract Expressionist as a young man. He accredits his studies of art history at Princeton aided him in expanding his appreciation of art from all over the world. Babb changed his view of art after living abroad in Rome.
Being able to spend time in Rome after graduation, I was deeply affected by the cultural richness there, and the narrative of the classical world returning to life in the Renaissance. It was difficult to feel like starting over. Then I realized every artist is starting anew, learning from nature and culture both. Maine is a good place to live, we are still close to nature.
Now, Babb mostly paints natural or urban landscapes. He gains inspiration from his home in Sumner, Maine. Beautiful farmland and tall trees make up the landscape. There he is surrounded by nature and undisrupted.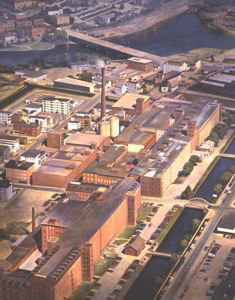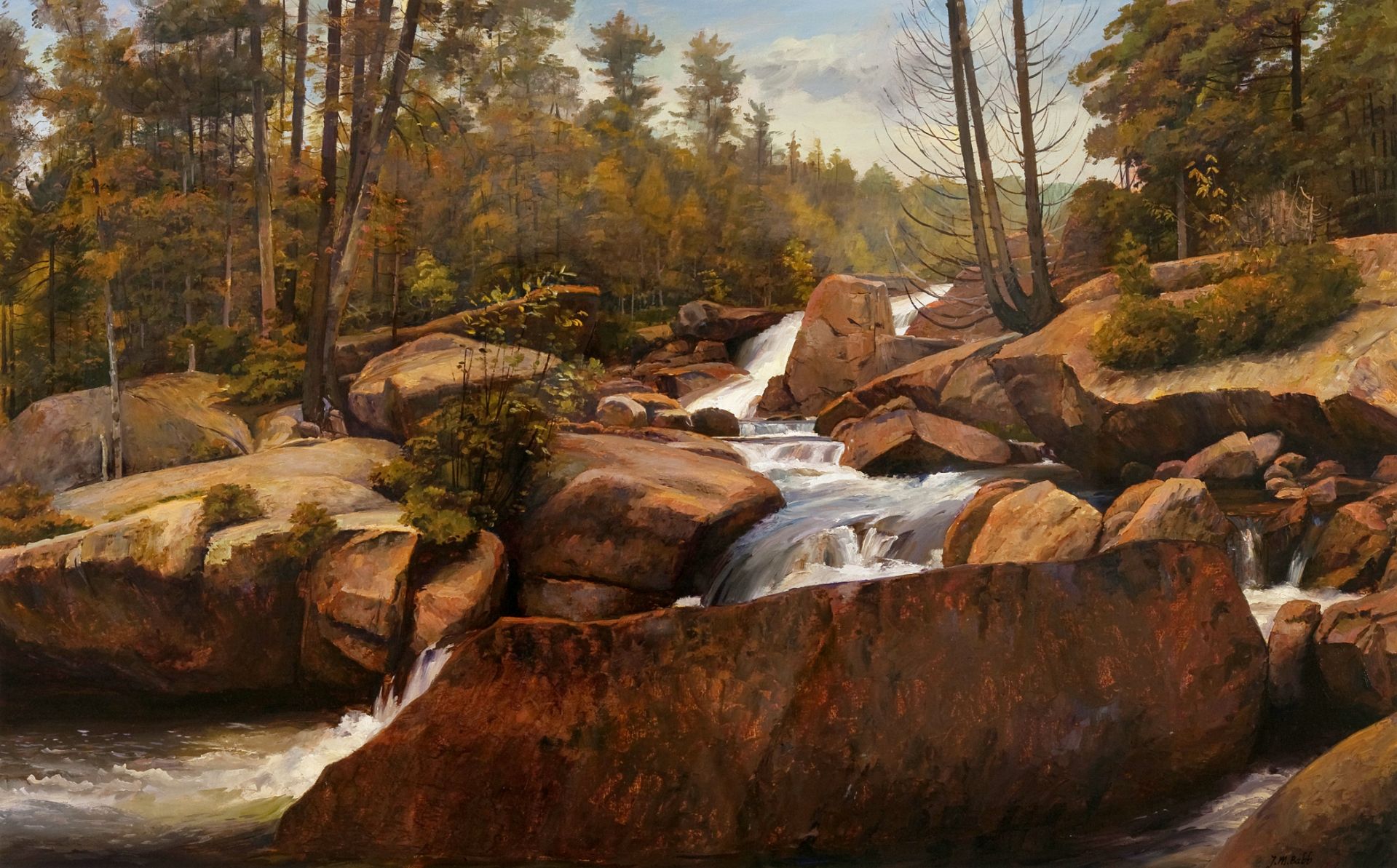 These are my two favorite pieces of Joel Babb's that are in the Bates Collection. I love the first painting, Androscoggin Aerial: Powers on the River, and how it visualizes a place to which I am deeply attached. I have loved visiting local restaurants in Lewiston and driving over the bridge. I also enjoy the aerial view because it helps me better understand the geographic locations of key structural features in Lewiston better than any map. The idea behind this painting really strikes me as innovative. Next, Falls on Nesowadnehunk Stream (Baxter State Park), exhibits the beauty of nature in Maine. I think the colors work well together and I like the subtleness of the sky. The front rock is a great composition choice and highlights the flowing water and other features in the painting.
Despite meeting Babb through the life drawing sessions, I did not realize he was an artist I featured in my presentation for Rollin' to Olin until I was in Tennessee, isolating from the pandemic with my family. Since I started writing this article I have been in contact with Babb, who is so kind and knowledgeable. I look forward to seeing him at the life drawing sessions once school starts next semester. Babb has had many exhibitions at Bates, with his first predating the construction of the Olin Arts Center and the Museum of Art. In 2002, while she was the museum's director, Genetta McLean curated a show of Babb's paintings of Maine entitled "Intimate Wilderness: The Maine Paintings of Joel Babb." In 2005, the museum had a show highlighting the Olivia and Ellwood Straub Collection which included works by Babb. From 2009-2010 in the downstairs gallery the museum featured, Joel M. Babb: The Process Revealed, an exhibition of large paintings and the drawings and studies which led to their creation. In 2019 a large drawing, a study for one of his Boston commissions was in Uncovered: Selected works from the Collection. When interviewing Babb, he said "Looking back, I realize I've had a long relationship with the Bates Museum."
Helen Pandey '22
Art & Visual Culture Major with a double minor in Education and History