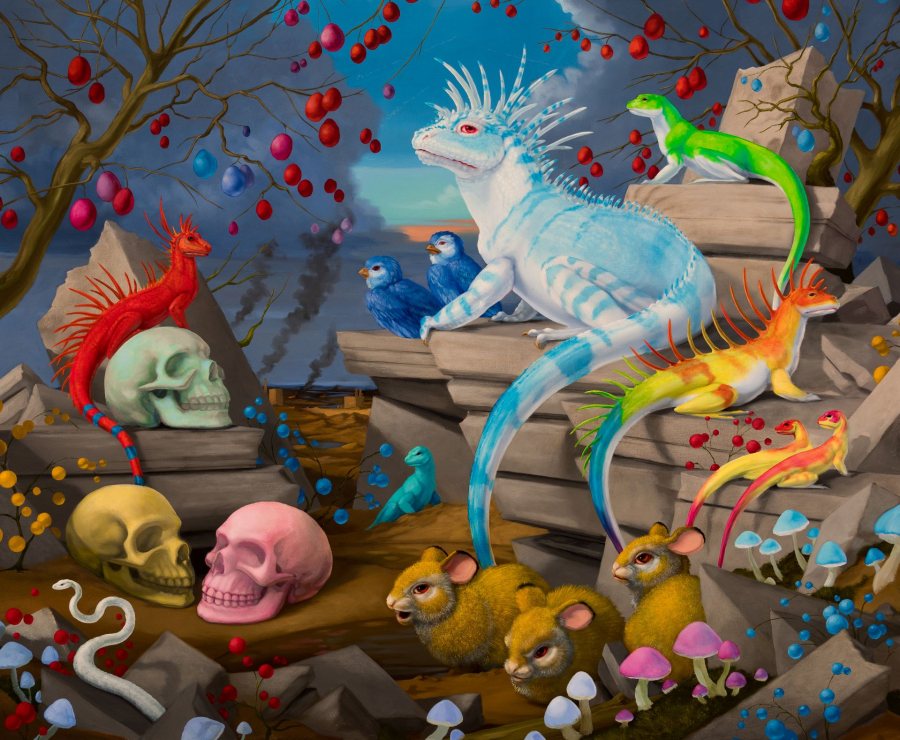 Artist's Talk by Laurie Hogin
Monday, March 4, 2019 — 7:00pm

Olin Arts Center
,
Room 104
75 Russell Street
Lewiston
,
Maine
04240
show map
My color palette has acquired the Day-Glo intensity of contemporary media landscapes; I revel in its visuality and vulgar seductiveness as much as cast a critical eye. Narratives and stories—from fiction, myth, doctrine, and propaganda, to news items, ad slogans, and song lyrics—articulate human experiences. Our current cultural context is one in which free markets promise stories, experiences, images and commodities to fill every conceivable human need and desire, from the most basic to the weirdest and darkest. – Laurie Hogin
Laurie Hogin's sumptuously painted allegories, such as the two in the exhibition, teem with mutant plants
and animals set in languishing, overgrown landscapes.
Hogin looks to the rich history of representational painting, although unlike most, rather than being there for
the human gaze, her animals look back at the viewer. Her paintings incorporate tropes from contemporary visual culture from sources including advertising, food photography, movies, fashion and pornography, to create narrative allegories about our time. The Anthropocene has been a topic of interest for her for many years, and she has investigated the human impact on the natural world in paintings exploring subjects including the effects of war, hypercapitalism, leeching pharmaceuticals, and the post-human landscape.
Laurie Hogin received a B.F.A. from Cornell University in 1985, and M.F.A. from The School of the Art Institute of Chicago in 1989. She has exhibited extensively, including solo shows at Cedar Rapids Museum of Art; Koplin Del Rio, Los Angeles; Littlejohn Contemporary, New York; Peter Miller Gallery, Chicago; Mint Museum of Art, Charlotte, North Carolina; Momenta Art, Brooklyn; and Schroeder Romero Gallery, New York; and group exhibitions at Addison Gallery of American Art, Andover, Massachusetts; Contemporary Art Center, New Orleans; DeCordova Museum; Delaware Center for Contemporary Art, Wilmington; Museum of Contemporary Art, Chicago; Norton Museum of Art, Palm Beach, Florida; and Opus Art, Newcastle, England. Hogin is Professor and Chair of Painting and Sculpture, University of Illinois at Urbana-Champaign.
More on the artist: http://lauriehogin.com/
In conjunction with the Anthropocenic: Art About the Natural World in the Human Era exhibition Hogin will be on campus as a visiting artist for several days, meeting with classes and students and performing critiques with Art & Visual Culture senior thesis students.
Funded in part by the Bates Learning Associates Program