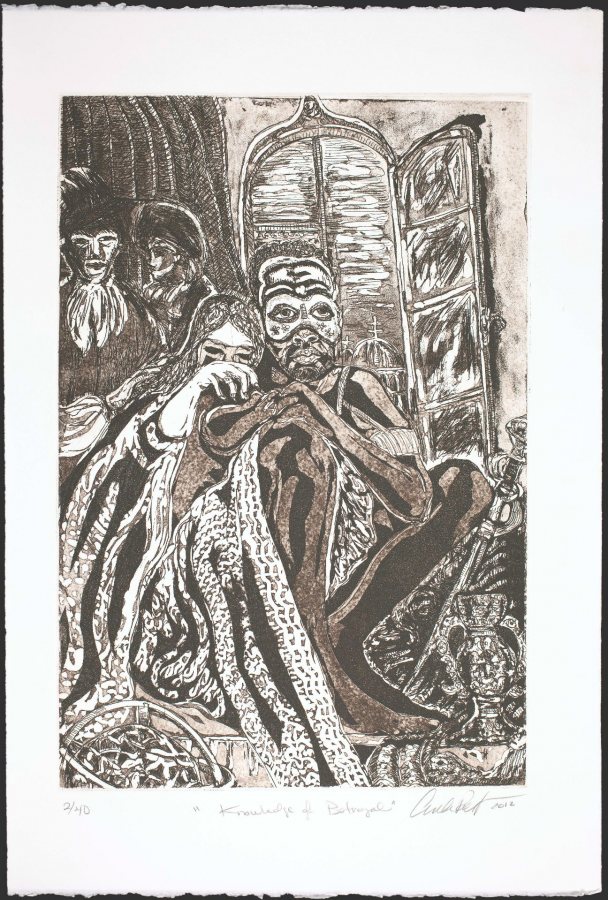 Gallery Talk: Curlee Raven Holton and Re-Imagining Othello in Sepia
Monday, January 15, 2018 — 2:00pm

Olin Arts Center
,
Lower Level of the Museum
75 Russell Street
Lewiston
,
ME
show map
As part of the college's Martin Luther King Day events, the Museum of Art proposes to bring noted African American artist Curlee Raven Holton to Bates for a Gallery Talk. Holton is currently represented in the Literary exhibition with the portfolio Re-Imagining Othello in Sepia.
This portfolio of ten sepia colored etchings from the permanent collection explores the complex emotional and cultural life of a noble but beleaguered military hero. Nowhere is this more evident than in Othello's bodily depiction, a choice that revises conventional ideas of military valor tied to limited notions of physical perfection. Holton raises questions concerning the ways in which race, so relentlessly coded to the body, has been culturally constructed as a form of social and psychological impairment. Holton reveals how historical notions of otherness and "Black Foreignness" have remained codified in world culture as well public life, at home and abroad. What lies beneath cultural facades is often a reality that counters and undermines the deception and invention designed to assert and sustain authority and power.
Holton will discuss the work, and lead a conversation on reimagining and thereby reclaiming the story of Othello, and about the voice of the African American artist in contemporary art. All are welcome to meet artist Curlee Raven Holton and join in the conversation.
Curlee Raven Holton is a printmaker and painter whose work has ​had over 30 ​solo ​exhibitions and more than 80 groups shows​, including​ Egypt's 7th International Biennale, Taller de arts Plasticas Rufino Tamayo in Oaxaca, Mexico, the Cleveland Museum of Art, and the Whitney Museum of American Art.  ​
Holton received his BFA from Cleveland State University and his MFA with honors from Kent State University. From 1989 until 1991 he had a Fellowship with Robert Blackburn's Printmaking Workshop in New York City. From 1991 until his retirement from the Lafayette College in 2017 he taught printmaking and African American Art History there. While at Lafayette he founded the Experimental Printmaking Institute.
Holton's work is in many private and public collections including the Cleveland Museum of Art, Yale University Art Gallery, Pennsylvania Academy of the Fine Arts, and the Library of Congress. He lectures extensively on the subjects of his work, African American art, and contemporary printmaking, and is a frequent artist-in-residence. He is Executive Director of the David C. Driskell Center for the Study of the Visual Arts and Culture of African Americans and the African Diaspora, and Distinguished Artist in Residence, Department of Art, at the University of Maryland.