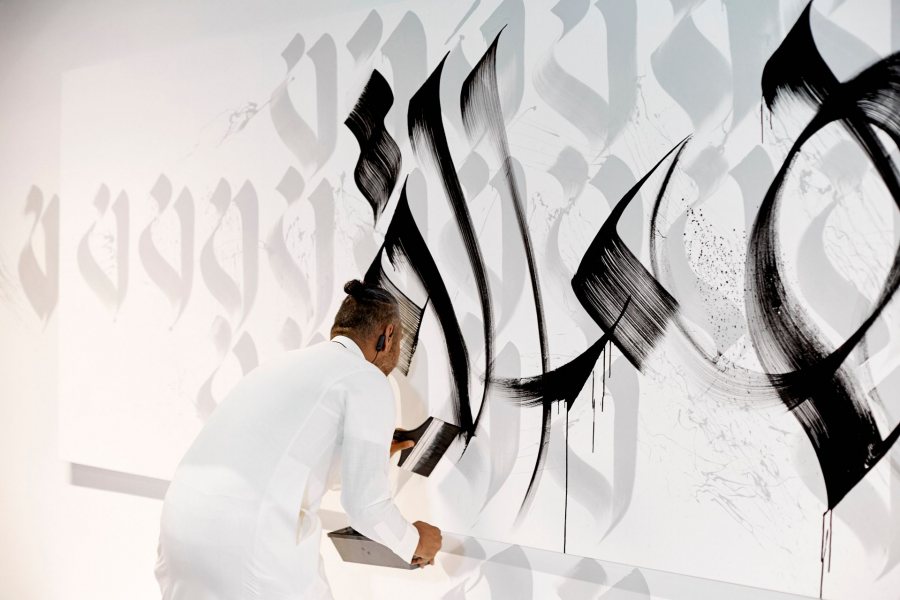 Performance and Exhibition by Calligraffitti Artist Nugamshi
Monday, January 23, 2017 — 6:00pm

268 Lisbon Street
Lewiston
,
ME
04240
show map
As part of the programming surrounding Phantom Punch: Contemporary Art from Saudi Arabia in Lewiston, noted Saudi Calligraphy artist Nugamshi will perform and exhibit work made as an artist-in-residence. Nugamshi will paint live, and present his work in the studio where he has been artist-in-residence in downtown Lewiston.
*****************************************************************************************
Artist-in-Residence with Saudi Calligraffitti Artist Nugamshi
When:  January 19 – 27, 2017
Where:  Bates College and downtown Lewiston
A prominent proponent of the "calligraffiti" movement, Nugamshi makes innovate use of Arabic calligraphy, transforming this traditional art form into an expressive contemporary vehicle. While his work is firmly rooted in the spiritual essence of the Arabic language, he also incorporates Japanese and Chinese calligraphic techniques into his work. He paints with acrylic and crude oil.
As a performer, Nugamshi sees his role as instigator, provoking dialogue between viewers and the words they see. "With each performance," he explains, "I bring new emotions, new stories, and a new understanding. My art practice forces me to develop a relationship between myself and the chosen word. Thinking in Arabic and surrounded by English or Arabic speakers does not affect how I am connected with the wall in front of me. Instead, in every performance, a new facet of my understanding is reflected in the speed and rhythm of my hands. One day I find myself pressing hard into the wall and the other I am lightly gliding my hand across it."
Nugamshi currently lives in Riyadh and is a Gharem Studio artist. He trained as a graphic designer specializing in branding and type design; he currently works as a graphic designer for a local bank in Riyadh, focusing on its print and web design. Nugamshi has taught workshops on basic training techniques and history of calligraffiti at YourAOK art organization in Kuwait and has presented performances and staged exhibitions in Saudi Arabia, Kuwait, Bahrain, Jordan and the US. Most recently, he presented his video works in the 2016 Sharjah Calligraphy Biennial.
Supported by the Museum Synergy Fund