Andrew and Jamie Wyeth: Selections from the Private Collection of Victoria Browning Wyeth
June 10 – October 2, 2011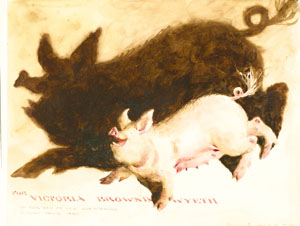 Jamie Wyeth, Christening Celebration, 1980, watercolor on paper, 11×14 in
This exhibition features drawings and watercolors from the personal collection of Victoria Wyeth (Bates '01), many of which have never before been exhibited. Works include portraits of family members and neighbors who have become well known as models for Andrew Wyeth, Maine and Pennsylvania landscapes, plus sketchbooks and preliminary studies for well-known paintings that provide insights into Andrew Wyeth's working process.
The artworks reflect the intimacy between members of one of America's most prominent artist families, which is further explored by the inclusion of illustrated personal correspondence between Ms. Wyeth, her uncle and her grandfather.
This exhibition is generously supported by the Mr. and Mrs. Raymond J. Horowitz Foundation for the Arts.
View the press release.
Victoria Browning Wyeth '01 will speak on the artwork of her grandfather, Andrew Wyeth and her uncle, Jamie Wyeth, with a focus on the exhibition on view in the Museum of Art on Saturday, June 11 at 3:30pm in the Olin Arts Center Concert Hall.
Also, Victoria Wyeth will give a personal tour of the exhibition on Sunday, June 12 at 11:30 p.m. See article by Bates View.
Press:
Portland Sunday Telegram, July 24, 2011
Art Review: Wyeths, women at Bates illustrate power of drawin
Boston Globe, July 17, 2011
Exhibits offer window into Wyeth's world