Emerging Dis/Order: Drawings by Amy Stacey Curtis, Alison Hildreth, and Andrea Sulzer
June 10 – September 10, 2011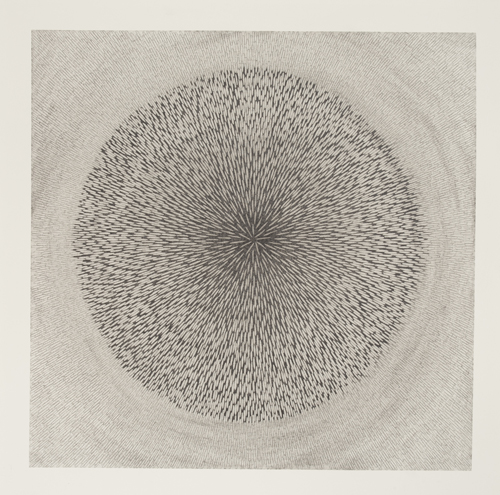 Throughout the 2011 calendar year, approximately 20 museums and art institutions across the state of Maine will feature special exhibitions and installations focused on the medium of drawing. This groundbreaking collaboration, Where to Draw the Line: The Maine Drawing Project, is the result of several years of planning by the Maine Curators Group and will highlight the work of Maine artists and drawing collections statewide.
Emerging Dis/Order, one of the more ambitious exhibition projects within the Drawing Project, will be installed in the Bates College Museum of Art between June 10 and September 11, 2011. Amy Stacey Curtis, Alison Hildreth, and Andrea Sulzer will complete ambitious new and site specific works exploring themes in their artwork through the medium of drawing. All three are respected Maine artists whose works share themes of memory and loss, order and chaos, and emerging and converging human behavior and activity.
Amy Stacey Curtis, best known for her interactive, 'solo-biennial' installations in mill spaces throughout the state of Maine has historically used drawings as a way to support her themed installation projects such as Change (2004), Sound(2006), Light (2008), and Time (2010). More recently, however, Curtis has been exploring drawing as a medium apart from its role in supporting her biennials. Curtis has become fascinated with the possibilities of drawing as a medium and her work has expanded and evolved in profound ways.
Alison Hildreth, who is also well known as a painter and printmaker explores themes of "interconnections between species, and the intersection of art and science. The theme of connectedness, an imprint we carry from generation to generation, also holds within it fears of disconnection." Alison is less known for her remarkable drawings, such as her Forthrights and Meanders, which combine narrative and journey. "Making art is my journal, a record of what compels and absorbs me. It is a method of questioning, investigating and discovering."
Andrea Sulzer is, alternatively, best known for her exceptionally detailed drawings which combine dense, repetitive mark making with areas of emptiness to create a "vertiginous, unsettling sense of space." Sulzer is interested in the "way memory fractures, distorts, and collapses time and, in particular how modern-memory is overwhelmed by fragments that are impossible to ground in personal experience."
This exhibition is being generously supported by the Elizabeth Firestone Graham Foundation.
Press:
Portland Phoenix, December 21, 2011
Memories from a year in art shows, by Nicholas Schroeder
Emerging Dis/Order show called fantastic as part of the Maine Drawing Project.
Boston Globe, August 19, 2011
Artists lay it on the line – Forms, multiply, divide, and coalesce in contemporary drawing show, by Sebastian Smee
Portland Phoenix, June 29, 2011
Three artists converge at Bates, a review of Emerging Dis/Order, by Britta Konau
Artscope, July/August, 2011
Emerging Dis/Order: Drawings by Amy Stacy Curtis, Alison Hildreth, and Andrea Sulzer, by Taryn Plumb