Convergence: Jazz, Films, and the Visual Arts
June 6 – December 13, 2014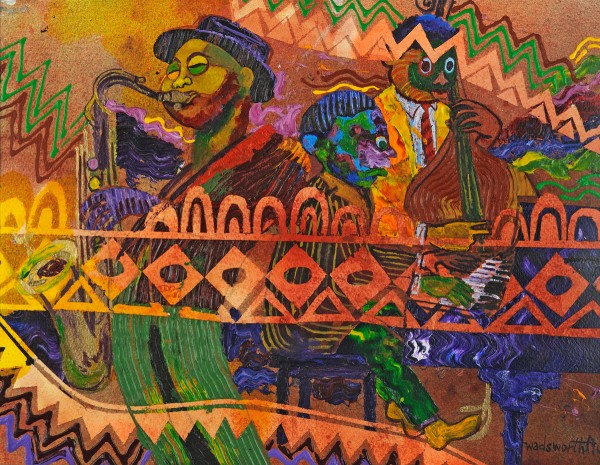 PDF of Convergence Gallery Guide
Jazz, art, and film, and the dynamic and energetic interplay between them intersect in Convergence: Jazz, Films, and the Visual Arts. This exhibition features works by many innovative artists and filmmakers, mostly African Americans, whose art depicts, is influenced by, or visually parallels jazz music and culture. The array of styles and imagery on view varies greatly, ranging from realistic depictions of specific jazz musicians and ensembles to abstract visualizations of rhythms, melodies, harmonies, and improvisation. Convergence explores the abundant contributions to American visual culture by African American artists whose work is in tune with jazz.
More than fifty works of art have been selected for the exhibition from the collections of the Driskell Center, the American Jazz Museum, and select private collectors. Additionally, films from the American Jazz Museum's prestigious John Baker Film Collection will be presented during fall semester as part of the Convergence Film Series. At Bates, with our students, faculty, staff, and alumni, and audiences from Lewiston/Auburn and surrounding communities, we will draw attention to the artistic spaces between jazz and the visual arts with a robust schedule of programming including films, lectures, panels, live music, and collaborations across departments and disciplines. (For more on programming, see the exhibition announcement or visit our website, bates.edu/museum.)
Gregory Carroll of the American Jazz Museum, and the Driskell Center's Curlee Raven Holton state, "Jazz represents the colors, textures, and patterns of the life and experiences of African Americans, and it represents the first authentic American music to be born of the creolized reality of the American cultural dynamic. Both have been profoundly motivated to capture the spirit of our humanity and its potential, as well as the joy, pain, and conflict of our shared human existence – not to mention, has shown us how to touch our most inner soul".
Bringing Convergence to Bates College—the only other institution participating in the exhibition tour—is the result of a wonderful collaboration between the Driskell Center, American Jazz Museum, and Museum of Art. Thank you to Robert E. Steele, Curlee Raven Holton, and Sonié Joi Ruffin-Thompson, for their ongoing support of this project, and a special thanks to Dorit Yaron for her fine work on all matters pertaining to traveling the exhibition.
Convergence is organized by the The David C. Driskell Center for the Study of the Visual Arts and Culture of African Americans and the African Diaspora at the University of Maryland. It was curated by Dr. Robert E. Steele and Dorit Yaron, the Driskell Center's former Executive Director and Deputy Director, respectively, and Sonié Joi Ruffin-Thompson, Visiting Curator at the American Jazz Museum.
This exhibition and programming are made possible with the support of the Bates Department of African American and American Cultural Studies, in recognition of the their 25th anniversary, the Department of Music, and the Office of College Advancement.
Press:
Maine Sunday Telegram, November 23, 2014
Jazzed about harmonic 'Convergence'