Directors' Cut: Selections from the Maine Art Museum Trail at the Portland Museum of Art
May 21, 2015 to September 20, 2015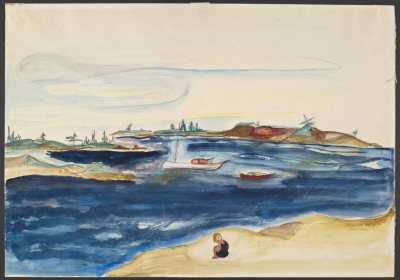 Directors' Cut: Selections from the Maine Art Museum Trail at the Portland Museum of Art presents highlights from Maine's most-renowned museums—bringing the best art Maine has to offer together for the first time.
The Bates Museum of Art exhibition includes three groups: three photographs of Marsden Hartley; works from his artistic circle including Berenice Abbott, Peggy Bacon, Chenoweth Hall, John Marin, Carl Sprinchorn, Mark Tobey, and Marguerite and William Zorach; and works by prominent contemporary artists who live in or are connected to Maine including Dozier Bell, Robert Feintuch, and Robert S. Neuman.
This exhibition is a companion exhibition to three on view at the Bates Museum of Art:
The Painter of Maine: Photographs of Marsden Hartley and Points of View, both of which are on view June 12 – October 24, and Maine Collected, June 12 – March 26, 2016. For more, visit exhibition pages.
The Maine Art Museum Trail was founded in 1997 by a group of art museum directors under the auspices of the Maine Arts Commission and with the Maine Office of Tourism to develop a collaborative educational and marketing strategy that would enable the museums to share their resources with Maine residents and visitors. For more: The Maine Art Museum Trail.