Recent Acquisitions: Martin Puryear, Prints
January 13 – March 18, 2017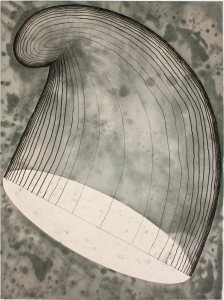 Martin Puryear is internationally known for his sculptures, which resist easy identification. Working in materials including wood, stone, metal, and mesh, he investigates history, identity, and culture. His sculptures appear abstract, but reference recognizable shapes such as the human head, caps, carriages, and architectural structures. He utilizes various techniques that demonstrate his carefulness and attention to detail. The sculptures often involve woodworking and depict shapes inspired by nature. As a young man, Puryear volunteered with the Peace Corps in West Africa, where he learned about the region's indigenous crafts. This knowledge, in addition to modernist abstraction, clearly influence his sculptural work.
Puryear has been making prints throughout his career. This exhibition features a small group of etchings and woodcuts recently added to our collection. Like his sculptures, his prints combine forms, processes and a meditative approach. Puryear explores a wide range of techniques in these prints, creating work that is organic, reductive, referential, and often geometric.
Martin Puryear was born in 1941 in Washington, D.C., and was educated at Catholic University, the Royal Swedish Academy of Arts in Stockholm, and Yale University. His work has been included in numerous prestigious exhibitions throughout the US and abroad, including the Whitney Biennial (1989, 1981, 1979), and Venice Biennale (1993). Puryear represented the US at the São Paulo Biennale (1989) and was awarded the Grand Prize. The Museum of Modern Art organized a retrospective of his work in 2007, which traveled to the National Gallery of Art, the San Francisco Museum of Modern Art, and Modern Art Museum of Fort Worth. His works on paper were the focus of an exhibition organized by the Art Institute of Chicago in 2015, which later opened at the Morgan Library and Museum.
The Martin Puryear prints are a  museum purchase made possible by the Synergy Fund Collections Diversity Acquisition Program.
Museum Intern Emerson Krull '19 is curatorial assistant for this exhibition, under the direction of Dan Mills, director.